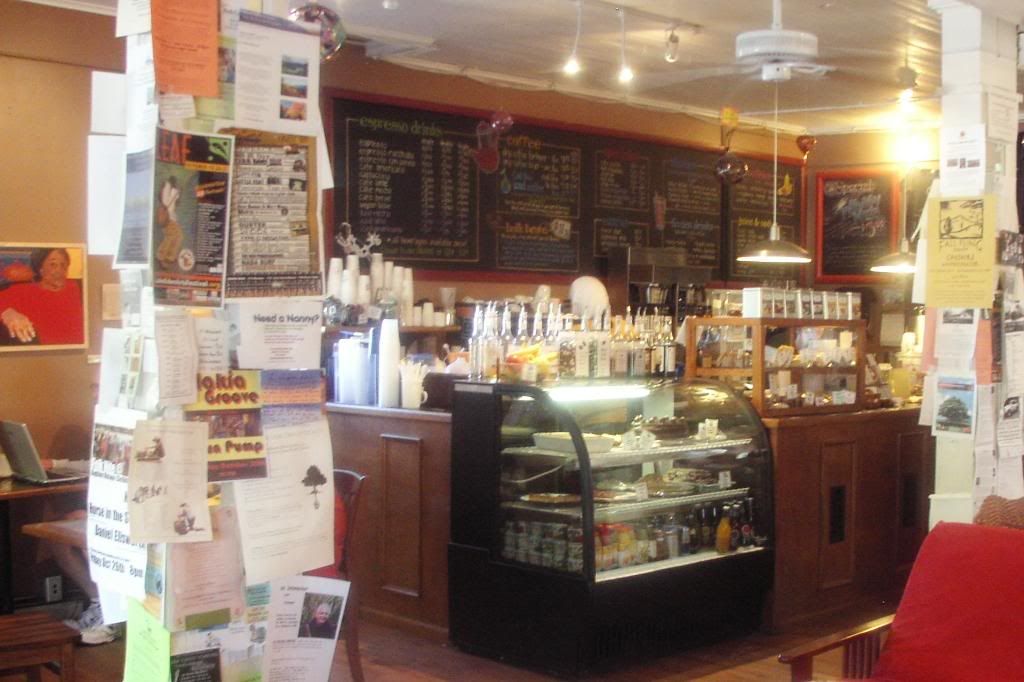 Some Saturdays, usually during the cooler months, I spend an hour and a half at the Dripolator waiting for a family member who volunteers weekly at Animal Haven, out on Lower Grassy Branch Rd. I hadn't been to the Dripolator in a while and was happy to see that the place had undergone a face lift. The old sofas had lots of character, but I'm not sorry to see them go.
There's usually a pretty good group of regulars there on Saturday mornings, but this weekend the regulars were joined by lots of visitors. October is a big month for visitors anyway, but this weekend was especially busy because of the LEAF Festival.
The LEAF Festival (Lake Eden Arts Festival), is held at Camp Rockmont in Black Mountain. LEAF is a non-profit organization established to build community and enrich lives with fine arts through festivals, events, mentoring, and educational programs, locally and globally.
Luckily, a table was open so I could set up my laptop and take advantage of the free wi-fi. I was sorry to hear that coffee was only being served in "to go" cups as I enjoy the weight and look of Dripolator's cups with a well done rosetta on top. It's all part of the experience doncha know.
My double latte ($3.00) was up to the Dripolators usual great standards; hot, great crema on top, full to the top of the cup. The good sized, triangular apricot scone ($1.75) was baked to a crusty outside with a nice crumbly texture inside that was still moist enough that I didn't have to take a drink after every bite. This was the type of scone I love rather than the mass-produced type that tends to be doughier. And by the way, all prices at the Dripolator include tax!
Once I saw the sheer volume of customers the Dripolator was handling, the paper cups were understandable. Most of the time I was there, the line went from the counter at one end of the shop to the door at the other end and some of those people were ordering multiple drinks.
After hearing some negative comments about rude baristas at the Dripolator, I was interested in watching their behavior as they handled non-stop orders. Happily, because I didn't want to be disappointed in the place, I can report a quickly moving line and polite service throughout the morning.
Some quick tid-bits:
All pastries at the Dripolator are made locally, some I'm told, by the owner's mother.

You can sit on sofas, comfortable chairs, at tables or at the counter by the front window and watch the comings and goings along the street.
There are two large posts covered top to bottom in fliers for everything you can imagine.
Seating is plentiful under normal circumstances.