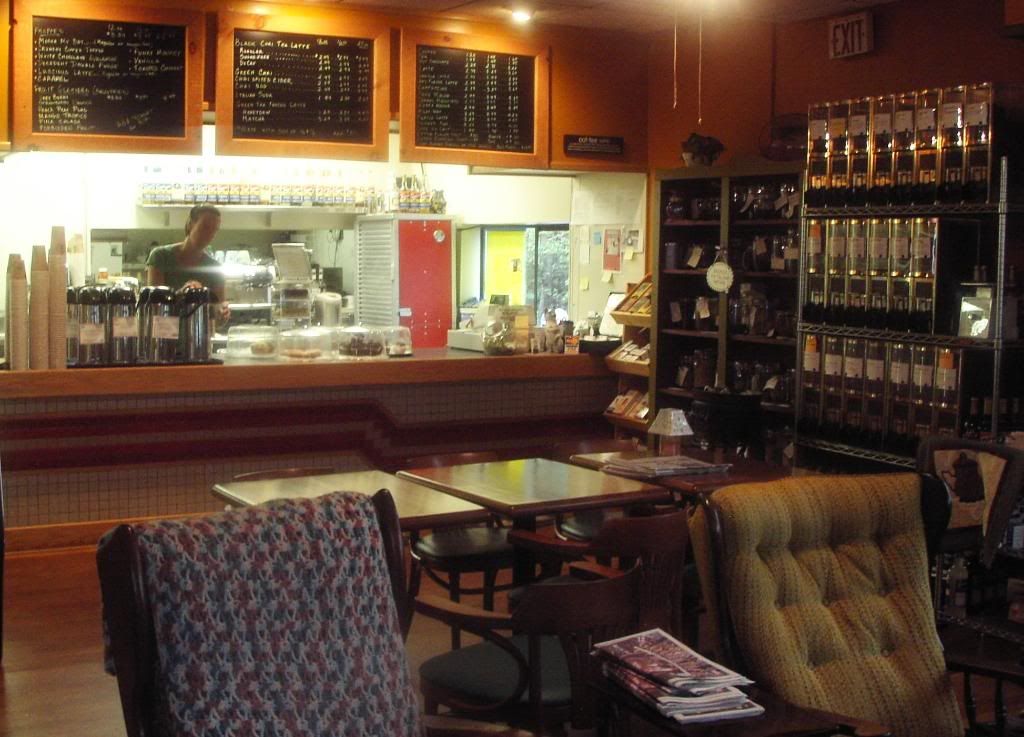 The Ugly Mug – Map
Meet me at the Mug! The Ugly Mug, that is.
For the longest time, I thought I'd discovered a great new coffee shop, only to find that The Ugly Mug had been in business for some time – across the highway from where they are now! How had I missed THAT? They moved to their current location, 2024 Asheville Hwy, Hendersonville, this past February, installing a large enough sign out by the highway so that even blind people like me can see it.
Wanting to stop in for a latte and snack, I pulled in to the parking lot, only to get one of the last spaces available near the Mug's end of the building. Unfortunately, I arrived after the morning rush, so the pastries were a little depleted. I chose a blueberry muffin and took it, along with my 16oz latte (totaling $5.11), to one of the wing-back chairs that had a small table next to it.
This is the kind of coffee shop that is fun to spend time in; a place where you're as likely to run into people you know as you are to make new friends. Almost everyone who came in was greeted by name. Where does that happen anymore?
Sitting at one of the booths, along the front window, were three people who had come in separately and were having a business meeting, discussing the spread of papers on their table. In a space (almost an alcove) on the other side of the Mug, just big enough to hold a medium sized round table and chairs, sat two men having a quiet discussion. At another table, someone was working away on their laptop.
Then it happened – a group of six men came in, one after the other. They were boisterously greeting each other, slapping each other on the back – "haven't seen you in how long?"- laughing and joking. After getting their drinks and pastries, they chose a table close to where I was sitting. Luckily, I was reading the paper, so I could divert my eyes and hide my smile when the biggest joker among them turned around to see if I was looking, and then lowered his voice to tell a story that was just slightly "off-color".
Owner, Leatha Schultz, agrees with me that it's much more fun to bake than make dinner every night. She is the person to thank for the home-made baked goods at the Mug.
In addition to a variety of coffee beans, mugs and gift items for sale at the Mug, you will find a very nice selection of loose teas and tea-related items. Good news for all of us tea lovers.
The Mug offers free Wi-Fi and there is a conveniently located drive-up window on the Southern side of the building, to the right as you face the front of the building.
The Ugly Mug
2024 Asheville Hwy
Hendersonville, NC
(828) 693-9999