BLT – not only an acronym for a great sandwich, but also for Brevard Little Theater (bet they're tired of hearing that). This past Sunday, December 23rd, our family thoroughly enjoyed a fine performance of A Christmas Carol by BLT at the Morrison Playhouse in Brevard College's Porter Center. Before attending this performance we hadn't realized that during the 2007-2008 season, BLT performances were held at the Transylvania County Courthouse and the Cherokee Room Theater at Connestee Falls Clubhouse as well as Brevard College and that BLT is the official community theater of Transylvania County.
Our "home from college for the holidays" son was given the honor of choosing the cuisine for dinner following the play. As soon as the play ended he turned and said, "Mexican". We all looked back and said in unison, Papas and Beer"!
Almost any time you drive by Papas and Beer in Hendersoonville, especially on a weekend, the parking lot is just about full. This night it was overflowing. Entering the restaurant, you first pass through an enclosed porch-type area that seats about 30 before getting to the large main seating area.
"You unlock this door with the key of imagination. Beyond it is another dimension – a dimension of sound, a dimension of sight, a dimension of mind. You're moving into a land of both shadow and substance, of things and ideas. You've just crossed over into the Twilight Zone. Nee nee nee nee nee nee nee nee………." We had pulled right into a parking spot that had just become available. Then we were seated immediately after walking in the door at a table that had just become available. Thank you Rod Serling.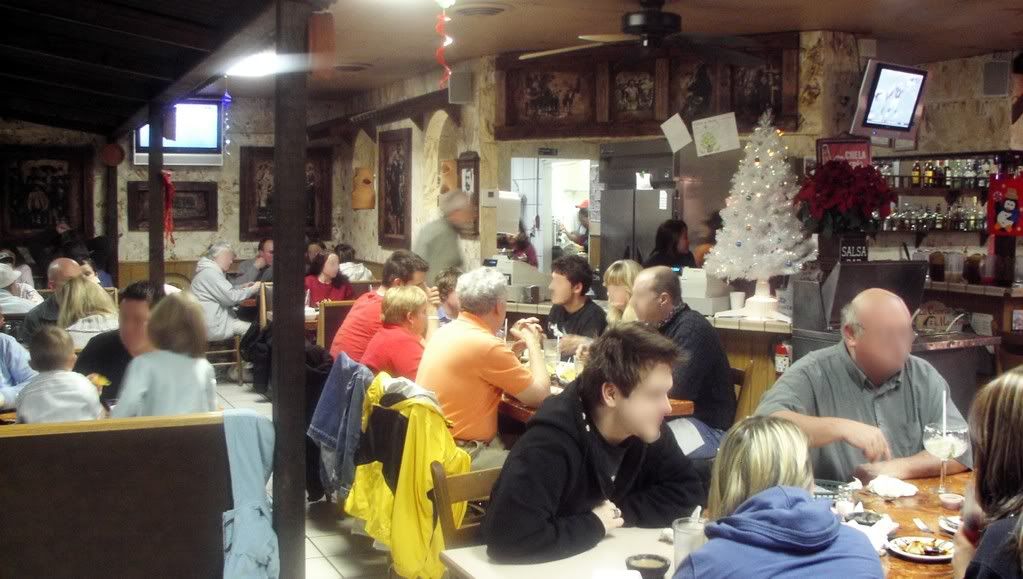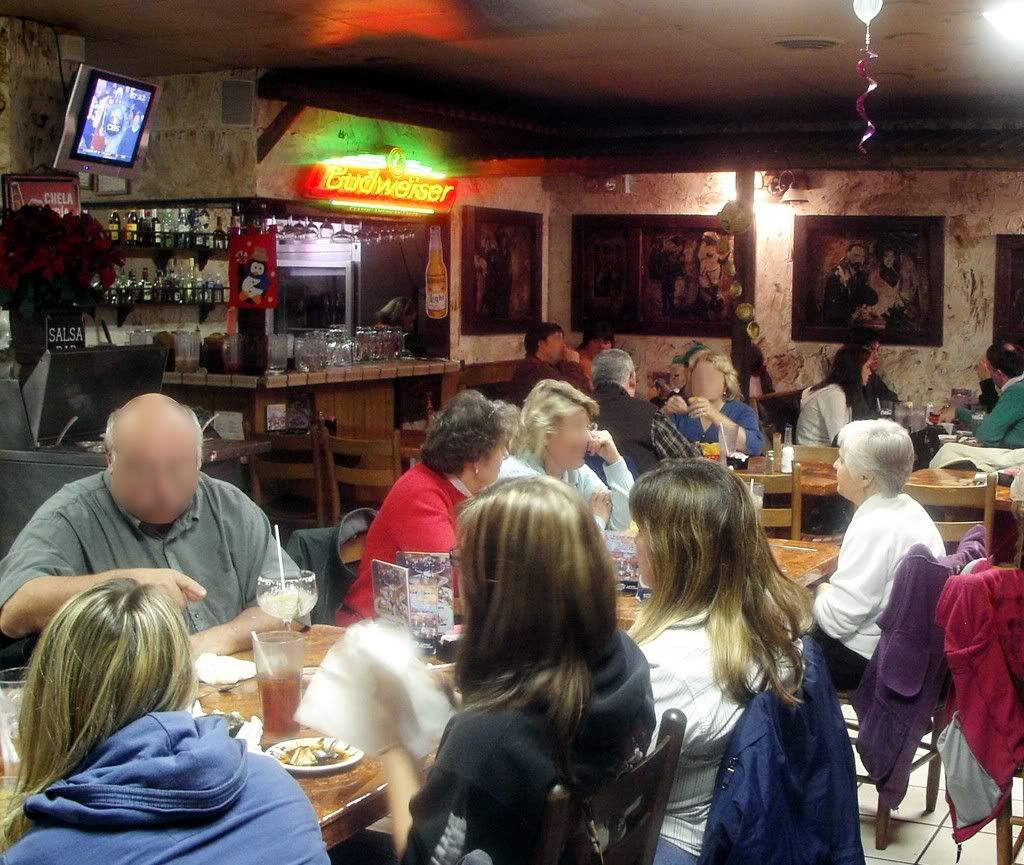 As soon as we sat down our server arrived to give us recently redesigned menus (slick and attractive/same great items) and take our drink orders. If this had been another place, I'd have been worried because the joint was hopping – completely full. This might mean frazzled servers, mixed up orders, slow service, food not up to par, etc, but not at Papas and Beer. All the servers I oberved, along with ours, were actually having a pretty good time, laughing among themselves and with customers while checking tables and taking and delivering orders.

While we looked over the menu, chips arrived with salsa and bean dip (a favorite of ours). We also asked for an order of guacamole, which was especially fresh and tasty. To supplement the usual salsa, Papas has a self-serve sauce bar with a half dozen or so sauces including a cheese sauce and (guessing after a taste) a Pipian Sauce: similar to a mole, made from ground pepitas (squash seeds or pumpkin seeds), other nuts and various ingredients.
Between the five of us we ordered:
Arroz Con Pollo – Charbroiled Chicken topped with ranchero sauce and cheese served with rice, beans and a small salad ($8.99).
Chicken Flautas served with rice, beans, lettuce, pico de gallo, sour cream and guacamole ($7.99).
Papa's Beer Combo – Cheese Nachos with salsa, beans, two potato chimichangas and two taquitos served with sour cream, guacamole and pico de gallo ($7.99).
Enchiladas Mexicanas – Filled with beef, cheese and topped with sauce, beans, cheese, sour cream, guacamole and pico de gallo served with rice, beans and small salad ($7.99).
Beef Taco Salad – A flour shell filled with Caesar dressing, beef, lettuce, Monterey Jack cheese, pico de gallo and sour cream ($6.99).
All of our dinners were up to the usual Papas and Beer high quality and taste standards, but there was a noticeable scarcity of refried beans on each of our plates. The only reason for this I can come up with is they were so slammed they were beginning to run out and were trying to make them last the night. This was also noticeable at the sauce bar where some of the containers were empty and not being refilled.

For dessert, our party had one Flan ($2.50), one Banana Bar – a wonderful concoction of three deep fried tortillas filled with bananas and strawberries and topped with a chocolate sauce ($2.50) and three orders of Deep Fried Ice Cream ($2.99). I've made flan using a friend's recipe brought with her from her original home in Mexico. This Flan tasted very much like my friend's – made from scratch using a truly authentic Mexican recipe.
There's something about Papas and Beer that just lends itself to relaxing, enjoying the food and the company you're with. Thinking about it, the expression "comfort food" comes to mind.
Papas and Beer
1821 Asheville Hwy
Hendersonville, NC
(828) 692-9915