Do you remember your first date with your spouse? Is it a fond memory or one you'd like to forget? Do you celebrate the anniversary of that date? February 13th is the anniversary of the long ago first date I had with my husband.
I'll never forget that date. I was nervous, anticipating, self-conscious, intrigued and by the end, exhilarated. It went off with one or two minor hitches that make for funny stories now, but at the time…….
Celebrating our first-date-anniversary on February 13th every year gives us a chance to go out on a special date before the Valentines rush. This year we went to Season's at Highland Lake Inn for the Sunday brunch buffet ($23.95). For those of you who don't miss a thing, yes we went a couple of days before our actual anniversary so we could catch the Sunday buffet.
Season's restaurant is located on the Highland Lake Inn's 26 acre property in Flat Rock. The setting is reminiscent of a mix between a movie-set-perfect summer camp and a mountain resort set on a beautiful lake in the woods. Click on these links to see photos of the Highland Lake Inn property and the Inn's interesting history, including many incarnations as summer camps.
The hostess took us to a choice corner table on the "small porch" which was flanked by large plate glass windows. A nice touch to the table setting were the two fresh pink carnations in a small vase. The view included parking lots, but was pleasant nonetheless because of the many trees left on the property and lovely landscaping.
Our server was never far away and after bringing coffee and ice water, directed us to the buffet. He was attentive during the meal, removing dishes as soon as we were finished with them and refilling our coffee regularly. Although the buffet items change from week to week, the use of fresh garden-to-table produce from Season's own 2 acre organic garden remains constant.
This weeks entrees were:
Carved to order Smoked Sea Salt crusted Grilled Flank Steak accompanied by fresh Oregano Chimichurri (a sauce made of chopped oregano usually seasoned with garlic, pepper, and herbs and bound with oil and vinegar) and Horseradish Chive cream.
Jerk seasoned Pork Loin with a Worcestershire, Crimini Mushroom and fine julienne of Red Onion Jus (French for juice)
Seafood and Chicken Saffron Paella, featuring Tiger Shrimp, Calamari and baby Octopus.
Perale Sole served upon a mantle of Broccoli Raab (a plant related to the turnip and grown for its pungent leafy shoots) crema and a fine julienne of Fennel. The spelling on the menu was "Perale" Sole, which I'm guessing was meant to be "Petrale Sole" – highly prized for its excellent flavor and fine-textured low fat flesh.
Rather than go into all of the sides, salads, etc, I'll give you a general overview of our impressions. Entering the room where the buffet is set up, we began to our right, where the plates were placed, then moved on to soup, salads, cheeses and crackers, breads, breakfast items, seafood, pork and beef dishes and finally dessert. It's a good idea to walk through the line before selecting any items, especially if you have a smaller appetite.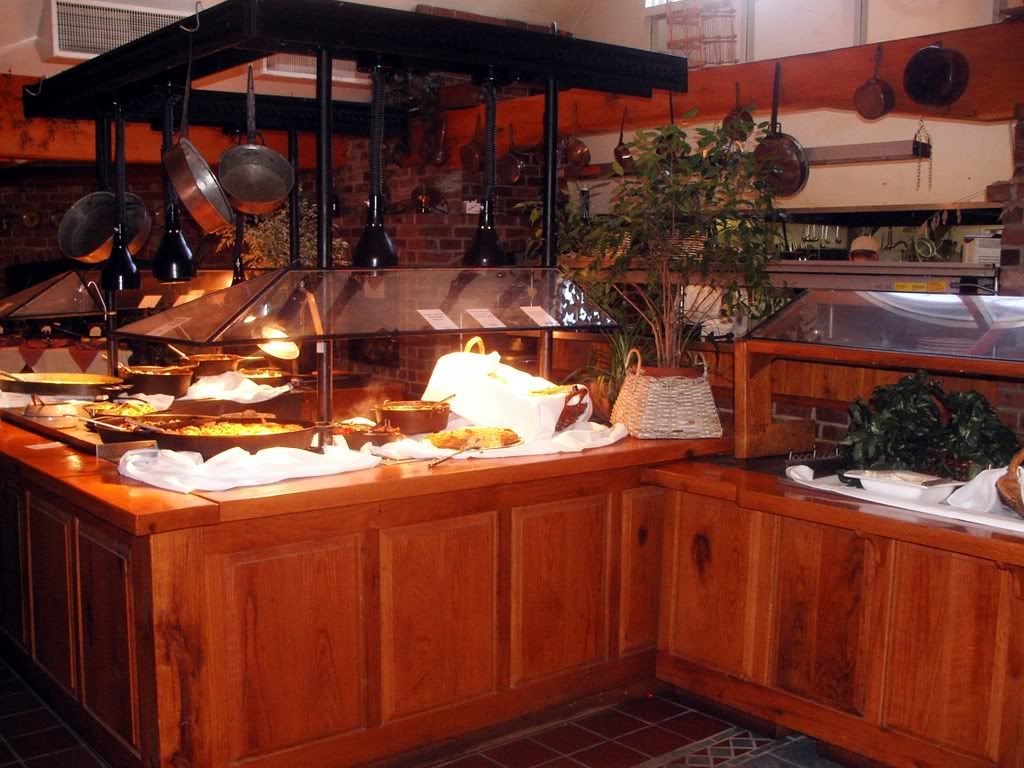 The buffet was geared more toward lunch type foods rather than breakfast items. Breakfast items included waffle quarters, bacon (very good), biscuits, cheese grits (average) and a Frittata(average).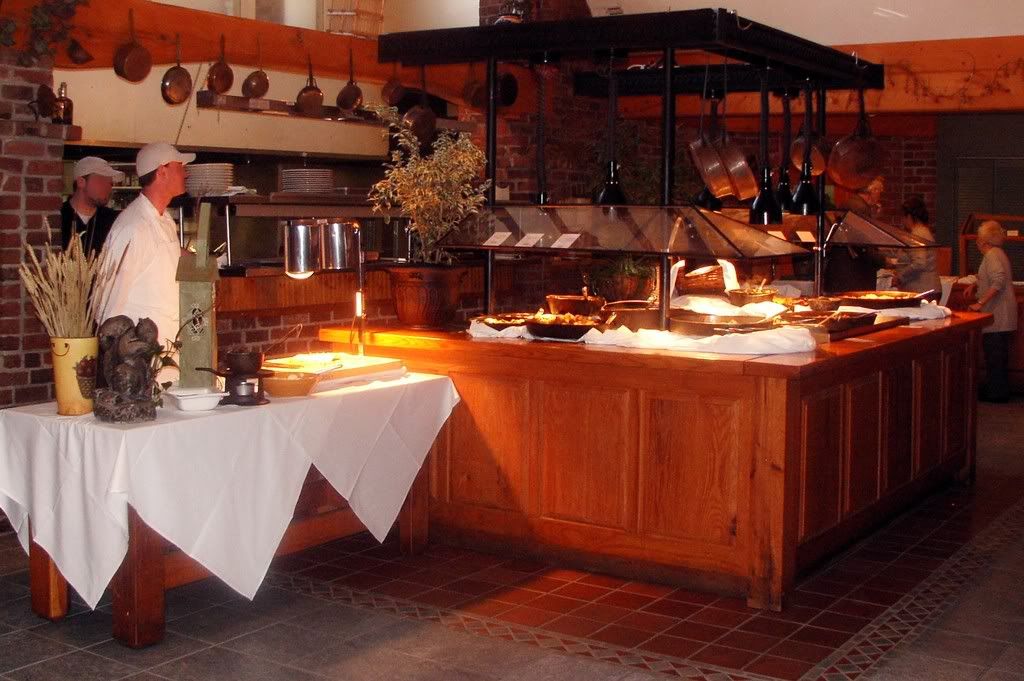 All of the items we tried (between the two of us we had a taste of just about everything) were good, but there were a few standouts: the Cream of Broccoli Soup, Penne Salad with Dried Sweet Cherries and Scallions, Turnip Greens with Bacon, Lemon Cheesecake and Lavender Scented Pear Tart with Cranberries and Almonds.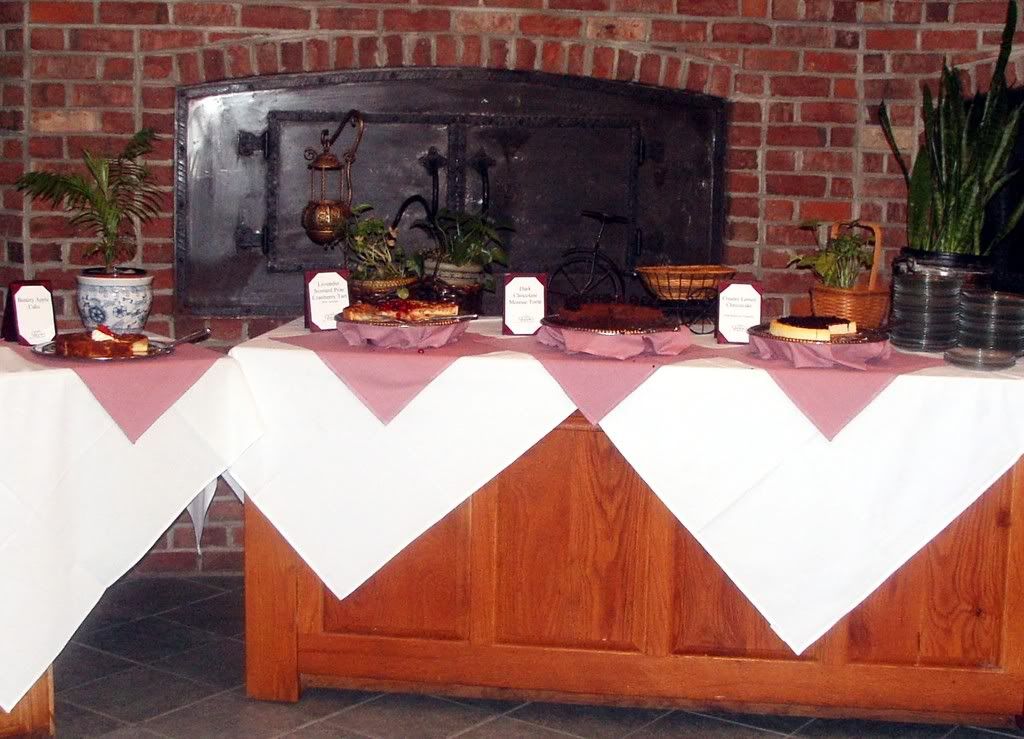 My two personal favorites were the Penne Salad and the Pear Tart. The salad was fresh and light with perfectly cooked penne pasta. The sweet cherries blended unusually well with the scallions – that was a surprise. The Pear Tart was incredible. Taking a bite of that was like tasting nectar on pastry, cranberries mixed with very thinly sliced sweet pears, layered on a not too thick crust and topped with sliced almonds. I'm not sure, but there might have been some almond paste in there, too.
Overall, I'd say that Sunday brunch buffet at Season's is a place to go when you want a special meal or you are especially hungry because at $23.95 (Update 2/13/09 – Sunday Brunch Buffet is now $19.99 per person) per person you're not only paying for the food, but for the service and ambiance as well.
Season's at Highland Lake Inn
86 Lilly Pad Lane
Flat Rock, NC
(828)693-6812
(800)635-5101