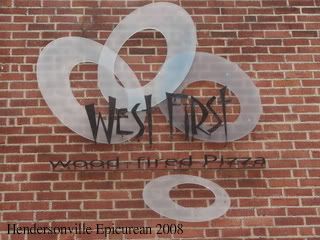 Not your ordinary pizza place – no TV screens, no video games, no fountain drinks (just name-brand bottled soda) where pizza is best as part of your meal – not the entire meal. West First Wood-Fired Pizza is where you must go for the food-lovers version of "the pie".
Other things that set West First apart are: their pasta is "hand-made using organic grains" and gluten free pasta is available if you ask for it, soups are "hand-made from scratch daily", bread is baked fresh daily, and you can order scratch chunky marinara or roasted garlic from the Starter section of the menu.
Just inside West First's door are the front desk and a waiting area that can get crowded fast, especially during popular dinner hours. There's a small play spot behind the sofa, under the stairs in the waiting area where parents can keep toddlers distracted while waiting to be seated. That being said, it's not the first place I'd choose to bring young children for dinner. It's mostly frequented by adults and has a cosmopolitan ambiance.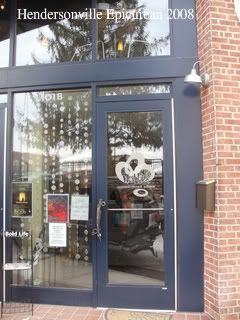 Downstairs features a semi-circular bar arching into the dining space from the right side of the room, straight ahead against the back wall, you'll see a roaring fire in the beautifully constructed, mosaic-covered, wood-fired oven in an open-kitchen work area. On the left wall are two huge original portraits, a man and a woman, who seem like they've just stepped out of a Diego Rivera mural.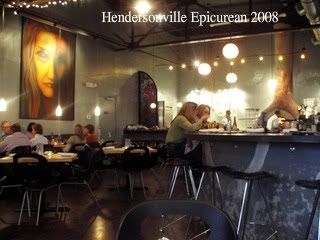 Of the two distinct dining areas, I prefer the downstairs' feel. On all previous visits, we'd been seated upstairs in the loft area. While it's perfectly fine and comfortable upstairs, we felt a little like we were at the kid's table for Thanksgiving dinner – out of the way and not part of the action. Realizing that getting the most seating out of limited space is a good thing, I would definitely choose to eat upstairs at West First than not eat there at all.
Here's why I suggest West First's pizza is best as part of a meal, not the entire meal. All pizzas at West First are just 13 inches in size, made in the very thin-crusted artisan style and toppings are not piled high as in the Uno's (Chicago pizza) tradition.
Really, they're almost works of art, each being built on "hand-made organic wheat crust(s)…topped with freshly-grated Romano". They remind me of the flat bread pizzas first made by peasants in Naples, Italy in the 1700′s, and still being made that way in Italy today.
There are 11 pizzas you can choose from, ranging from basic Cheese (crushed tomato sauce and mozzarella $9) to Goat Cheese (fresh basil pesto with spinach, marinated artichoke hearts, sundried tomatoes and goat cheese $12.25) to Potato (thinly sliced new potatoes with fresh rosemary, gorgonzola cheese, carmelized red onion and walnuts $11.75).
On this visit, I specifically asked for main floor seating so we could get a real feel for the place – completely different from the loft area.
For the three of us, we ordered a Pepperoni (which was advertised as locally produced) pizza and a Potato pizza.
When I asked our server where the pepperoni was produced, thinking she'd say by a WNC butcher, she said, "I'm not sure, maybe Raleigh". Still have to check that one out.
Good news: both pizzas were crispy-crusted delicious. The Potato pizza was not only beautiful to look at, topped with whole fresh arugula leaves, it was a standout of creativity and subtle flavors.
Bad news: 1. Three of us were seated at a 4-top, giving us extra room at the fourth place. Even so, when the pizzas were placed on the table, we didn't have enough room for our small plates. My son had to actually eat over one of the pizzas. What would have happened if there had been four of us?? 2. Big mistake not ordering a starter or salad to round out our meal. As soon as we got home, I made my son a large turkey sandwich with an entire sliced apple and a drink. My daughter snacked on raw baby carrots while she did homework.
West First has a nice wine and beer selection as well as non-alcoholic carbonated juices in addition to the bottled soda.
Prices are very reasonable and the food is intentionally interesting both in presentation and flavor combinations.
4/17/08 – Another View
After reading this review, a friend mentioned a few things I thought worth adding:
1. She had always been seated downstairs and found it hard to have a conversation if more than a couple people were in her group, because of noise. So, she likes sitting up in the loft sometimes, because it's quieter.
2. Each table gets a bottle of cold water so refilling water glasses is do-it-yourself without having to flag down a server. The bottle, similar to a wine bottle, doesn't take up much real estate on the table – a good thing.
3. Definitely go to West First for the pizza. Just know if you are going to share the pizza and you're all hungry, ordering a salad or side is a good idea.
4. One last thing – she says the pasta is excellent!
West First Wood-Fired Pizza
101 First Ave West
Hendersonville, NC
(828) 693-1080