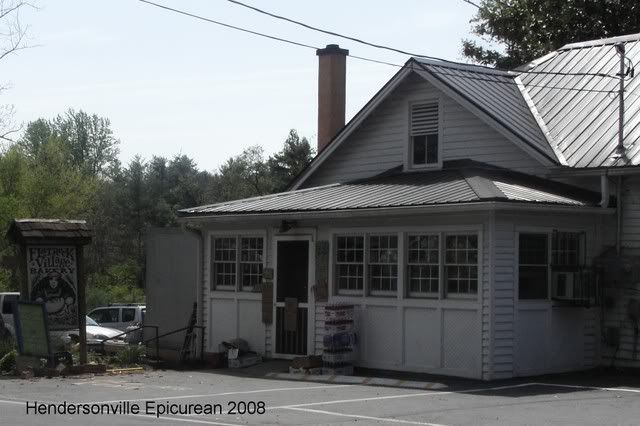 Where better to have lunch on a hot day than on an expansive deck, in the shade of a beautiful Magnolia tree?
Flat Rock Village Bakery has such a deck. It's a good thing, too, because the bakery is in the back/side (depending on how you look at it) of a retail gift shop and their inside dining space is limited to three or four small tables
One time we stopped by the Bakery for lunch and walked in to find a sea of red-hatted ladies forming lines in two different directions. Talk about excited confusion in a tight space! We decided to just get the heck out'a the way and browse in the attached shop, The Wrinkled Egg, until the ladies had ordered and taken their seats outside.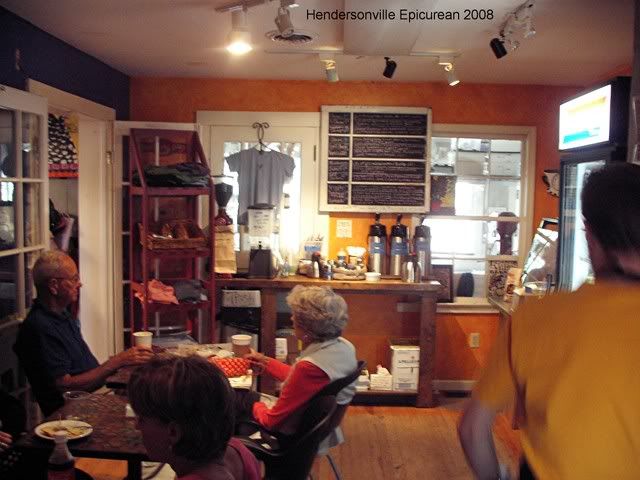 This time, the line was manageable. Judging by the number of people who arrived after we ordered, we just missed the lunch rush. The "MO" at Flat Rock Bakery is to order at the counter, pay and go to your table. They'll bring your order to you.
PIC (Partner in Crime) ordered a turkey sandwich with romaine, tomato, cheese and what I think was a sauce or vinaigrette on sourdough ($6.50 to $7.50?). Sorry to say I didn't think to write down all the exact ingredients this time, or the price! Yikes, better watch that – having a good time getting in the way of note-taking. According to PIC, the sandwich was very tasty and the bread – especially wonderful.
My choice was a terrific grilled vegetable panini. Described on the menu as: "portabello, roasted red peppers, fresh spinach and balsamic vinaigrette grilled on sourdough or focaccia with provolone and creamy herbed goat cheese ($7.25).
The panini was rustic-looking and delicious – served hot, it was crunchy on the outside – veggies which still had color and texture (not overcooked) on the inside. Half of the panini did have to make the trip back to our kitchen fridge. This is most likely the fault of the beautiful to look at and completely wonderful tasting salad that came with both our sandwiches. It was a perfect mix of texture and flavor served on a bed of fresh local organic greens from Oliver Organics of Hendersonville.
Bread for sandwiches as well as thin wheat pizza crusts at the bakery are hand-made, organic and made in their wood-fired brick oven.
Flat Rock Village Bakery
2710 Greenville Highway
(Inside The Wrinkled Egg)
Flat Rock, NC
(828) 693-1313