A "good" fresh seafood market-restaurant in the mountains of Western North Carolina? Don't be ridiculous!
Is Blue Water a seafood market? A wine shop? A restaurant? The answer is – "yes".
Recently, owners Tracy and David Griffin took Blue Water to the next level by expanding seating (existing seating was limited downstairs and on the covered, enclosable front porch) into the upstairs of their 1935 building, adding a cute second-story deck, hiring a new Head Chef (Chambli Stuber) and opening for dinner.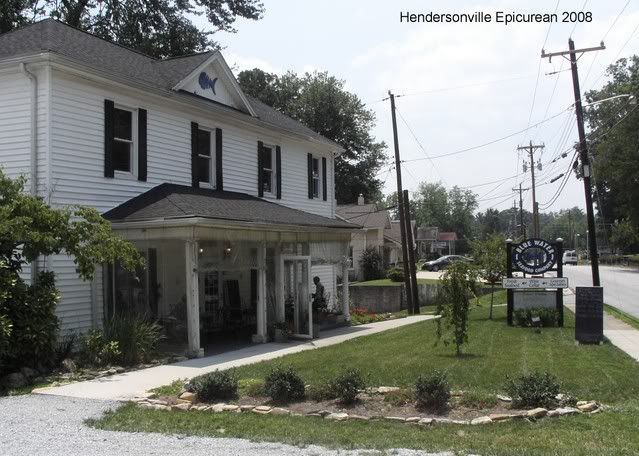 PIC and I had been planning dinner at Blue Water so we could check out the new chef's cuisine as well as the new seating areas, but as it turned out, we ended up at Blue Water for lunch with friends first.
Our lunch experience was a good one, so I wanted to share it with you and plan a follow-up dinner visit.
We decided to try out the new deck. To get to it, we went through the newly added second story dining area.
Not large, with room for four tables, the Blue Water deck would be a great spot for smaller parties or one party of 16, plus or minus. During daylight hours, Hendersonville's Court House dome is visible through the tree-tops. Not sure what night time city lights would be like from this spot. Perhaps some string or rope lights under the umbrellas or around the deck railing would create even more evening atmosphere?
Remembering that Lobster Roll was posted on Blue Water's website lunch menu, and in the Roll mood, one of our party was saddened to see it wasn't on the current menu. Take this as a reminder that on-line menus are not always up to date.
To his credit, Chef agreed to make a Lobster Roll. Kudos to him for sending the server back to get the price okayed first, and according to our "intimate with Lobster Rolls" friend, producing a good Lobster Roll. Her comment at the time was, "Typically Lobster Rolls have larger chunks of lobster, this is more chopped, but is still good."
Speaking of "sending the server back", it seemed the service station upstairs was not used as efficiently as it could have been. Our server would leave (for a water pitcher for instance) and end up taking care of downstairs tables or something and not reappear for long periods of time. Hopefully this is a kink that will be worked out, if it hasn't been already.
PIC (Partner In Crime) ordered the SBLT – Salmon, bacon, lettuce tomato on sourdough Texas toast with tartar sauce, served with one side item ($7.95). His evaluation went something like this, "This is really good." From this and other comments PIC made, I got the impression the salmon was cooked to perfection: flaky and moist.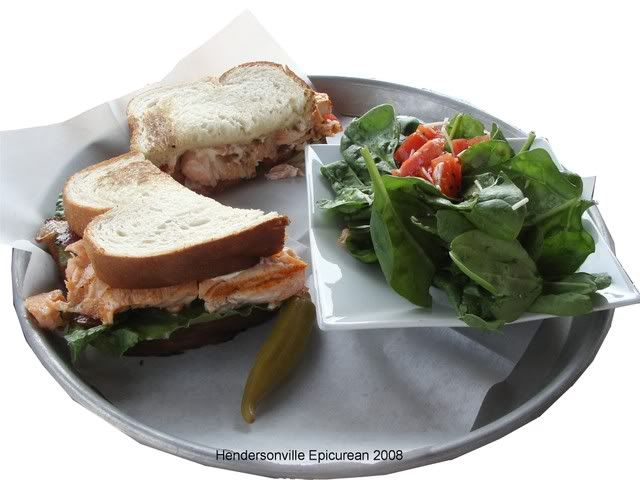 Crispy Crab Cake on a kaiser roll with remoulade, lettuce and tomato, served with one side ($8.95) had my name on it. It was indeed crispy on the outside, nicely cooked on the inside and very flavorful. There were what may have been little pieces of cartilage in two or three bites, though. This was enough to detract from what I thought was a good crab cake, but not enough to keep me from ordering it again.
As you can see, both PIC and I chose the Spinach Salad as our side. Neither of us realized the salad would be dressed only in oil, with an optional vinaigrette available on request. After a couple of bites each, the vinaigrette was requested.
We didn't have wine with our lunch, but were impressed by the extensive list and option of ordering from the wine shop's additional 300 bottles for a reasonable $10 corkage fee.
Another new feature at Blue Water is an Oyster Bar set up each evening at the downstairs fresh market counter area.
Need seafood for a special event or meal you're preparing? You can call ahead and ask them to get it for you.
Maybe we should move up the date for dinner at Blue Water. Thinking about a fresh fish dinner on the deck one of these nice summer evenings is making me hungry.