This one's for you, Martha!
Hendersonville's restaurant scene is about more than Main Street. Just outside the southern end of downtown, Spartanburg and Greenville Highways branch off; one toward (you guessed it) Spartanburg, SC and the other toward Greenville, SC.
Both highways are interesting to travel, with Spartanburg Hwy (US 176) being my favorite for scenery. On your way south, this road takes you on winding, decending curves through Saluda, Tryon and into SC via Landrum. If you have time, there are two waterfalls each in Saluda and Tryon, with Pearson's Falls being a short drive off US 176. Click this link for a great listing and info on area waterfalls
I digress….back to Hendersonville restaurants!
Located at 1053 Spartanburg Hwy, is Janitzio Mexican Restaurant. This was my lunch target earlier this week.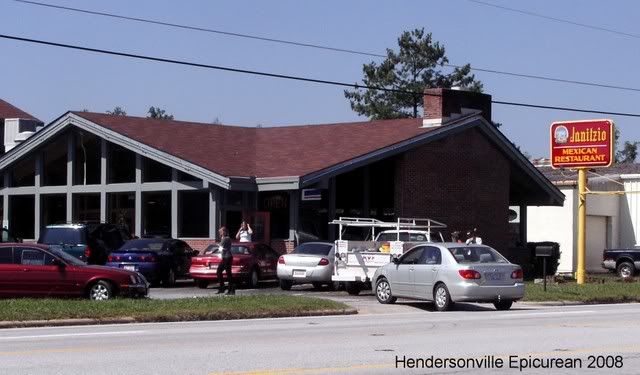 When planning a lunch review, I try to time my arrival for right after opening so there are fewer people around for surreptitious photo taking.
So minutes after Janitzio's doors opened at 11:00AM, I was seated. It's a good thing, too, because they quickly filled up with a healthy cross-section of diners; office workers, a group of plumbers in matching shirts-cute, families, retirees, pretty much all local.
Even though the interior of Janitzio's is rather cavernous, it felt like a neighborhood hangout. The dining area was clean and bright.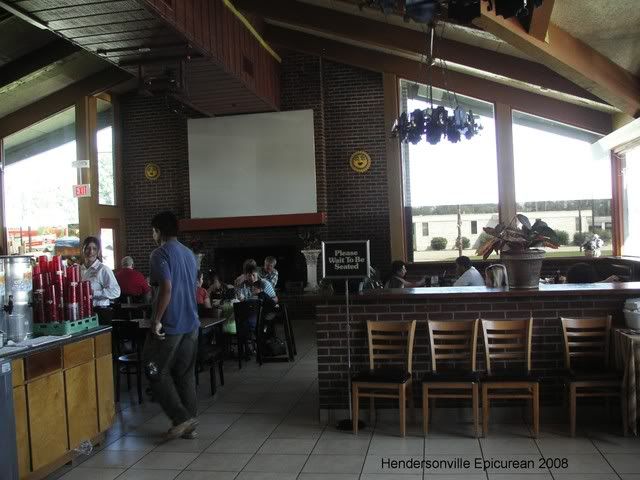 Really, no one should have this much fun at work. Not understanding most of what they were saying (Hablo muy poco español), it was obvious Janitzio's staff was having a good time. Of course this was at the beginning of their shift, so attitude changes later in the lunch rush wouldn't have been surprising. Didn't happen. My server, Daniel, was especially friendly and chipper.
One server (Latino) was sweetly patient with a boy of about 8 or 9 years old (non Latino) who wanted to practice his Spanish.
It took quite a while to read through Janitzio's extensive menu. Settling on one of the 21 lunch specials (from $4.50 to $4.75), I chose #13 – One beef or chicken chimichanga, rice or beans and salad ($4.50).
The Chimi was a little different and a little smaller than I'm used to, but it was chock full of very good chicken and for the price? Can't beat it! The rice was nicely moist and you could actually taste the peas and carrots. Something else a little different was the flavor and texture of the guacamole. It had a pureed – no chunks – texture and hints of light citrus flavor. Liked it.
A diner at the next booth ordered the Guisado de Puerco – Fried pork tips in a green sauce, potatoes, served with rice, beans and tortillas ($8.95). Talking to her table-mate she said, "This pork is just delicious. There must be a pound and a half of pork here."
For dessert, flan ($1.95). Janitzio's makes their flan on-site. I could see my server, Daniel, trying to get the flan out of the dish it was baked in. Have you ever tried to do that? Or get jello out of a mold without melting it or messing up the design? It took him four tries of banging and shaking the upside down dish onto a plate. Very entertaining.
Although the flan had good flavor, the texture was a bit thick/dense for my taste.
Janitzio's is a place to put on your "go to regularly" list. This is not a "dining experience" type of place, just good basic Mexican food served to regulars by people who enjoy what they're doing. Janitzio's is not in the "Worth a Mention" category because it was fun being there. There's a "positive energy" at Janitzios.
Someone at Janitzio is into origami! Had to include this photo:
Janitzio Mexican Restaurant
1053 Spartanburg Hwy
Hendersonville, NC 28791
(828) 692-2474