We ate at that new "Mezza something" place on Main Street, was Teen Son's answer to my "where did you go with the guys" question.
He meant "Mezzaluna" of course. That got me thinking about this restaurant's name, which turns out to be rather clever – and funny (in my mind anyway-more on that later).
Here's where things got interesting. Wanting to be sure I had Mezzaluna's complete and correct name, I did a little research. The big metal sign on the overhang simply reads, "Mezzaluna". If you do a "Mezzaluna Hendersonville" Google search or look at this restaurant's incorporation information, you'll get "Mezzaluna Pizza Company". And not too long ago a sign that reads, "Mezzaluna – Brick Oven (separated by a crescent moon) Tap House"appeared on their front window.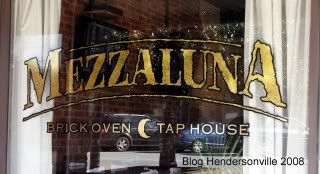 Then it all started coming together. Inside on the back wall, is a wonderful mosaic interpretation of Van Gogh's "Starry Night", with a wood-fired brick oven cleverly incorporated into the scene, which features (along with the stars, of course) a crescent moon.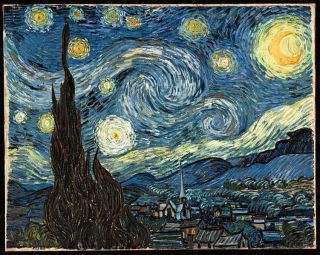 (The Starry Night, Vincent Van Gogh, 1889)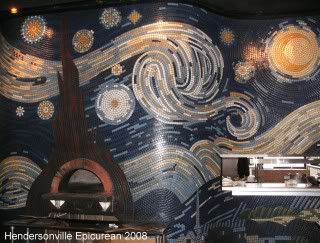 While I'm on the mosaic, here's a tip: get closer and take a look at the lower right side. You'll see Van Gogh's village of Saint-Rémy, which most people miss.
Foodies out there might know that a "Mezzaluna" is a type of crescent-shaped knife. Translated to English from Italian, Mezzaluna [mehz-zuh-LOO-nuh] means: half or part of (mezza) moon (luna). Sometimes it's just called a "crescent cutter". Some are smaller in size, used with shaped bowls or cutting boards.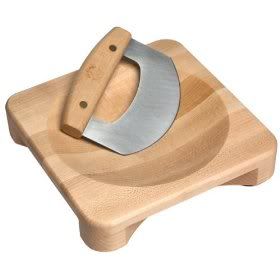 Some are larger and used for cutting pizza. Ah-ha! Another piece to the Mezzaluna puzzle! See, isn't this fun?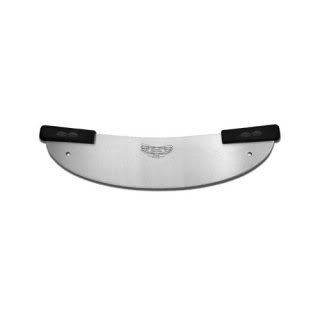 (Image Above: Pizza Mezzaluna Knife)
I've been to Mezzaluna three times; twice for dinner and once for lunch. Some meals involved a variety of different entrees (dinner for 6 adults), but all involved pizza.
Attending a holiday reception first, and unwittingly "sampling" too many of the hor d'oeuvres, we (Teen Son, Teen Daughter and I) weren't all that hungry by the time we got to Mezzaluna for dinner one night last week. We ended up sharing a half cheese/half pepperoni pizza ($11.00). Feeling the need for some green, I had a side-sized house salad ($3.00 when ordered with a meal). The kids each had a Coke ($1.99) and I stuck with ice water.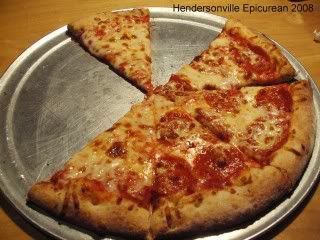 Bread arrived at the table along with the salad. The photo of the side salad (below) doesn't do it justice. It really popped in the bright white dish. Greens were fresh and crisp, the Gorgonzola cheese was full-flavored and creamy and the salad was dressed with a tasty vinaigrette.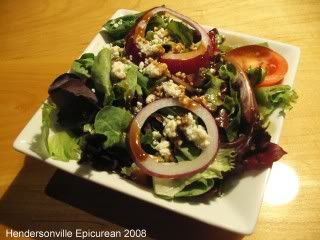 As we were eating , I asked the kids what they thought of the pizza. They both said, "it's okay". Then I tried asking them how they would rate the pizza on a 1 – 10 scale. Almost at the same time, they both said, "7". Interesting.
Later I asked some foodie friends if they thought it would be fair to rate pizza places based on their cheese pizza. The answer was a resounding "YES". The consensus was that cheese pizza is pure or basic – crust, sauce and cheese and how a pizza place puts those three things together will give you a pretty good idea of what to expect from their more exotic pizza creations.
For this review, I made one more visit to Mezzaluna and ordered a cheese pizza ($9.00/all pizzas at Mezzaluna are 14 inches in diameter) and a glass of Cuma Organic Malbec (Argentina) ($8.00/average pour – not shy, not generous). It was not lost on me that the glass of wine was $1.00 less than the pizza!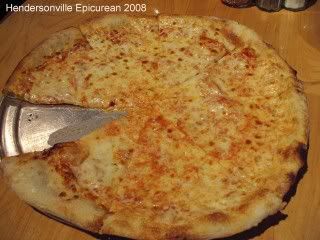 Now, I'd like to share a suggestion with the staff at Mezzaluna. Having an open kitchen concept that is right in front of your restaurant's focal point, you really should think about what happens in that kitchen. Even if there aren't a lot of people in the place, those that are there are watching you.
Why not make a show of tossing pizza dough in the air or adding some flare when putting dishes together? While I was watching, the cook making my pizza walked around the prep area, talking to a server, then to a cook in the back kitchen through the pass-through window, then to off-duty staff who were trickling in the back door to pick up their paychecks, then stopped to touch a computer screen in response to a yelled request from the bar tender – all while stretching the dough.
That being said, the pizza did have a nice thin crust and was very cheesy, but the sauce had disappeared. I know they
put it on there because I watched them ladle it. It must have been absorbed into the crust and melted cheese. My take on the pizza? Good but not spectacular.
Two slices were enough for lunch, so the rest became part of our family dinner that night. After reheating the pizza in the oven on a pizza pan, I asked PIC, Teen Son and Teen daughter to rate the pizza from 1 to 10. Without knowing where it had come from (generic box and I wouldn't tell), the overall rating was still a 7. Surprisingly consistent.
12/30/08
– I realized after publishing this review that I had forgotten to mention the creative solution Mezzaluna owners had come up with to address the restaurant's excessive noise issue. They hung rectangular pieces of fabric at varying angles from the ceiling, creating a baffle effect, not only quieting things down but creating some ceiling interest at the same time.
Mezzaluna Pizza Company
226 N Main Street
Hendersonville, NC 28792
(828) 697-6575