Okay, maybe not "shock" – more like "pleasant surprise", but that title just sounded so good!
For quite a while, Hendersonville's South Rock Bar and Grille was the subject of much local online forum discussion. Some raved about the place. Some ripped it up one side and down the other. There were particularly acidic comments from the "usual suspect" curmudgeons who stalk the forums, just waiting to pounce.
Then South Rock went out of business and there followed speculation on the forums as to why, with some suggesting they had "insider" information.
South Rock re-opened, posting "Under New Management" on their reader board. This set more than one forum Pitshetsh off on another tangent.
Next, the reader-board said, "Under No Management". Funny. I read it as, "leave us alone, we're just trying to make a living!" After that, things quieted down.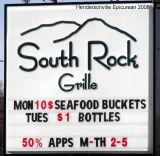 After keeping my distance during all the hub-bub, the perfect lunch opportunity presented itself last week when my sister and I headed over to Van's Chocolates, right around the corner from South Rock, to pick up some truffle-filled gift boxes. It was mid-day and we were both hungry.
Setting the stage: South Rock Bar and Grille is – a bar – that serves bar food AND some unexpected seafood and pasta dishes. We counted eight flat screens, each tuned to a different channel. Rock music (not screaming rock, more top 40 kind of rock) plays – not necessarily in the "background". It's smoke-free, which was a relief. Smoking is permitted on the patio (more on that later).
While we were there, more diners filtered in. I'm telling you, every time anyone walked in the door, every person in the place yelled their "hey ____ how ya doin'?" Most were on their lunch break and wore the uniform of their trade. Bikers (motorcycle riders) also frequent South Rock, especially in nice weather.
Why review South Rock Grille? A couple reasons: 1. I was curious to see what would happen when two semi-well dressed, "mature" women walked into this supposed south Hendersonville "regulars" sanctum sanctorum. Would heads turn with "you're not part of our club" gazes? And 2. The need to see for myself what was behind all the fuss and what the food was really like.
Walking through the door, we felt completely comfortable even though no one but the staff looked at us longer than it took to be sure we weren't a friend to holler "hey" at (oh, to be 20 years old and make heads turn) – they were all busy with their food and table-mates.
There are coupons for South Rock on both Restaurant.com and HVG Online. The HVG coupon reads in part, "Known for its delightful staff…", which is interesting because the staff was delightful, especially the bar tenderess who was particularly engaging.
Okay, what about the food? My sister had the American Dip – "a slice of prime rib with melting provolone and aujus" ($8.29) and I had the South Rock Burger – "ground Angus burger topped with cheddar" ($6.59). Both were served with mayo, lettuce, tomato, onion, a pickle spear and choice of one side. We both chose onion rings for our side dish.
Both meals were extremely hearty and good tasting. Imagine taking a prime rib steak, putting it on a hoagie-type roll and then piling it high with the trimmings listed in the previous paragraph. That's what was placed before my large-eyed Sis. Sorry to say, I have no photo – no time to get the camera out before half the sandwich was gone!
My burger was huge – had to cut it in half so I could handle the thing. The second half went home with me for a later meal. The ground beef was nicely seasoned and juicy. What caused a happy double-take were the two thick, flavorful tomato slices. Instead of acting as an afterthought to the burger, one bite and I heard little voices saying, "the burger is good, but pay attention to us tomatoes!" Is there such a dish as tomato slices with a burger on top?
We felt the batter encasing the onion rings had the best texture either of us had munched on in years, but it had a very bland flavor and needed more seasoning. Our server told us the food at South Rock is all home-made, so this shouldn't be hard to fix, if they choose to do so.
The patio I promised to mention is a fenced off area in front of the restaurant, giving those who choose to sit there a sense of privacy from the parking lot, but it is basically in the parking lot. If I didn't mind smoking, the patio wouldn't be a problem for me unless there were a lot of loud vehicles in the lot or the smell of exhaust. I'll have to go back next summer to check out the patio when it's full of people.
South Rock Grille is Hendersonville's own Cheers (of Boston/early 80's television fame). You go to South Rock to hang out with your buddies, watch a game and get a good, hearty meal and a drink.
South Rock Bar and Grille
830 Greenville Hwy
Hendersonville, NC, 28792
(828) 698-2490
Van's Chocolates
636 Greenville Hwy
Hendersonville, NC 28792
(828) 697-2120