There are people in my family (unnamed) who don't like Sushi – WHAT???
So what's a sushi epicurean to do? Find friends who'll go with me to dine on sushi, introduce Teen Son to sushi (with high hopes) and wait for College Son (who loves sushi) to come home for a visit.
December 27th, 2008 was golden! College Son, Teen Son and I went to Hendersonville's Champa Sushi and Thai for lunch!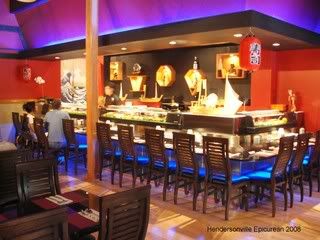 Looking at this as a celebration, we ordered, and ordered, and ordered things College Son and I knew we liked and were fairly certain Teen Son would, too. Have to hand it to Teen Son for being willing to try whatever we put in front of him.
Included were multiples of: A La Cartes – Tomago (Egg at $2.00 each serving), Unagi (Eel at $2.50 each serving); Rolls & Hand Rolls – Salmon Roll ($4.00), California Roll (Crab, cucumber and avocado at $4.50); and Tempura Rolls – Asparagus Roll ($4.00). We all had Green Tea to drink ($1.75).
All these items were delivered on one big, beautiful platter, which was emptied joyfully by the three of us. We nodded, oohed, aahed and laughed as we ate, having fun with Teen Son's virgin sushi experience.
The cooked eel was served warm, on a bed of shredded cucumber, each piece sided by a strip of skin left on it that provided a tasty crunch that simultaneously contrasted and complimented the soft eel "meat". Triangular in shape in the above photo, are the servings of tomago ("sweet egg omelet"). Chef Cheng's tomago had such a subtle sweet taste. We left the tomago for last so we'd have a sweet finish to this platter.
Then….we took it to a new level and sent word through our server, Rita, to Sushi Chef, Yuenen ("Mark" to people who are nervous about pronouncing Asian names) Cheng that we would like him to surprise us – that "we were in his hands". Later, we were told that Cheng had either studied with iconic sushi Chef Nobu Matsuhisa and/or is a current member of a Nobu organization for sushi chefs (I couldn't quite understand and didn't want to keep asking for clarification).
Oh boy! That was a good move.
Delivered to our table was a dish called, "Rainbow" ($14.00). I so wish Blogger would go back to the old days of allowing uploaded photos clickable to much larger images! This is such a case in point. I wish you could enlarge it so you could get a better view of this artistically beautiful dish Chef Cheng created.
It was made with salmon, lobster, mackerel, shrimp, yellow tail, avocado and wasabi tapico caviar (the sparkling green jewels on top). Oh my goodness – wonderful to look at-wonderful to eat. Every bite was a blending of flavor and texture that unfolded layer by layer, the tapico providing little pops along the way.
Now for the piece d' resistance – a second and final Chef surprise called (confusingly in my mind) "Surf and Turf" ($28.00). Just take a look at this dish. I've included photos taken from two different angles, so you can get the full effect.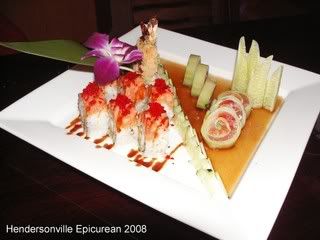 Chef Cheng created what the boys called a "dam" of cream cheese enclosed by little cucumber triangles. We loved the dark green tips of cucumber skin left on the triangle tips.
On one side of the dam were eight portions of a lovely nori, shrimp, avocado and rice creation, topped with masago caviar. You can see two of the portions have the delicately fried shrimp sticking out of them – nice. On the other side of the dam, in panju sause, are six portions of a cucumber wrapped roll of tuna, salmon, avocado and masago caviar. Four tall spear-shaped cucumber centers act as garnish.
Masago Caviar (roe from the smelt fish) is Icelandic in origin. Interesting, since it's so popular in Japan, frequently used to top sushi and sashimi dishes. The Masago was so beautiful, seemingly capturing light and reflecting it back, I put some on the edge of my plate in an attempt to do it justice with a photo so you could see what I'm talking about.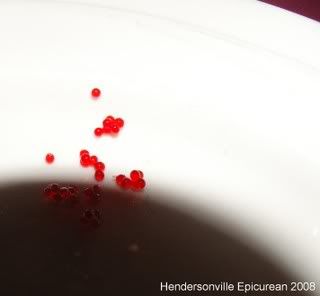 If you can't tell by this point, I'd highly recommend a visit to Champa. The only thing I'd advise is to be clear about what you want to spend (ballpark or upper limit) if you have a budget and prices are not in print. If prices are in print and you order many items, check your receipt to be sure everything is accurate.
I didn't realize until writing this review that we were charged $4.50 twice for $4.00 items. On another visit to Champa, I ordered a mixed drink they had never made before. The server said she expected it to be around $6.00. Served in a short tumbler, the charge on my bill was actually $7.50. I'm sure none of this was done on purpose.
For me, it's less about the cost as the accuracy. I want to know that what I'm ordering is within the budget I've given myself for a particular dining experience and that the charges are as advertised.
Servers at Champa are terrific – friendly, patient, happy and informative.
There are two rooms at Champa for groups: one a private room that seats 30 and a large, semi-private area in the back that seats 60 to 70.
Champa Sushi and Thai
437 N Main St
Hendersonville, NC 28792
(828) 696-9800