"Bama-BBQ is gonna' give NC-BBQ a run for it's money", said a Moe's rep. We'll see, I thought!
Moe's Original BBQ opened last month (July) at 4 Sweeten Creek Road in Asheville. Moe's Asheville location is their 16th, but first in North Carolina. It's in the building previously occupied by Stovetrotters, just outside of Biltmore Village.
There were a couple of things that bothered me about this building when it was Stovetrotters: proximity to the railroad tracks and interior noise (even without trains). Moe's has done a great job remodeling the interior, but they're still next to the tracks. Difference is, they've embraced the whole train thing by opening up the back wall (figuratively) with a large window, giving patrons the feeling they can almost reach out and touch the trains. Don't know about you, but I love trains – watching them, hearing them – it's fun wondering what cargo they're carrying, where they're going, who's on board.
And, as far as the interior noise level, it's still not a "quiet" place, but it it's not "as noisy" and you wouldn't look for that hushed atmosphere in a family/sports bar.
Place your order at the counter just inside the door. Your name is called when it's ready for pick-up at the other end.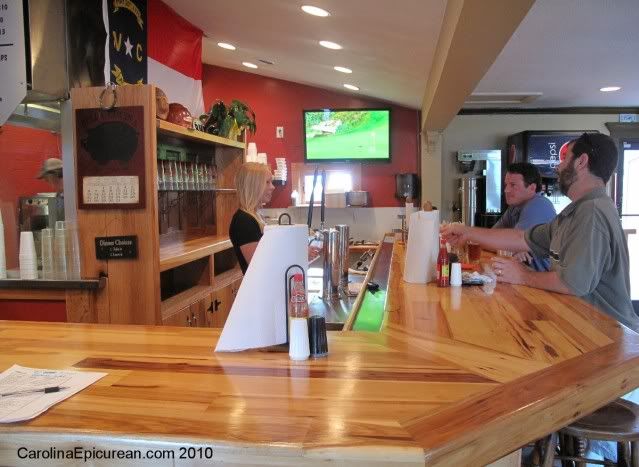 Through a door at the back is a very nice patio area with a water feature.
An interesting mix of sports bar, BBQ joint and family restaurant, this is how Moe's describes their locations  ". . . the overall feel is a comfortable, yet casual environment and inviting for all ages with sports & concert memorabilia filling the walls." That's exactly what I found during a recent private event.
Menu items could be mixed and matched at this event, so I ordered a sample of each kind of meat and no bread. They have side specials, but I asked for the three standards always on the menu, Cole Slaw, Baked Beans and Potato Salad.
Waiting at the bar for my order gave me a birds-eye view of the plating area. Notice the blurred hand. This kitchen babe was movin'. She did an amazing job, especially considering how many people were ordering in a short time. She also has a set of lungs on her which almost caused me permanent auditory damage as she yelled out orders ready for pick-up – a skill that will come in handy on busy game nights, I'm sure. Also notice the pulled pork added to the baked beans (bottom right) after they're cooked.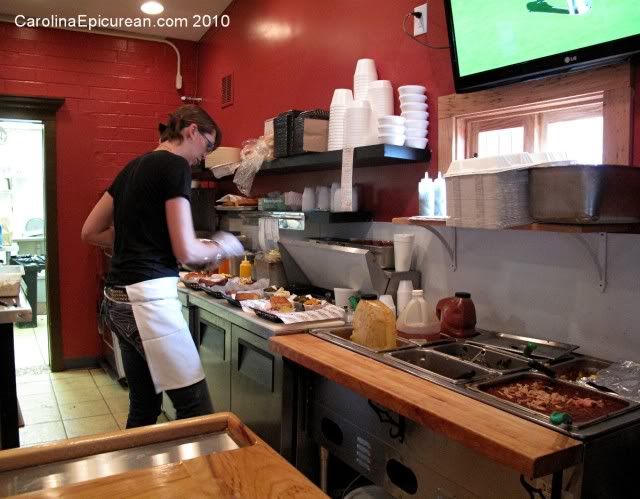 So here's the scoop on the food: one word – fabulous! The Smoked Chicken was cooked to perfection and had a white sauce on it that was absolutely delicious. Really, that was some of the best roast chicken I've had. Pulled Pork – exceptionally good. Smoked Turkey – very good. Sample Rib – great flavor, not as tender as it could have been. Moe's Cole Slaw was tasty, but had a flavor that had me guessing what seasonings they were using, as it didn't taste like your run of the mill slaw. The Potato Salad also had good flavor, but stuck me as too dry.
What happens when you're served a wonderful entree(s) along with equally wonderful sides? They have an exponential effect, resulting in a meal that is way better than just the parts. That's what the Baked Beans and Corn Bread did for this meal. And yes, I said no bread. But boy am I glad they included that corn bread! So good.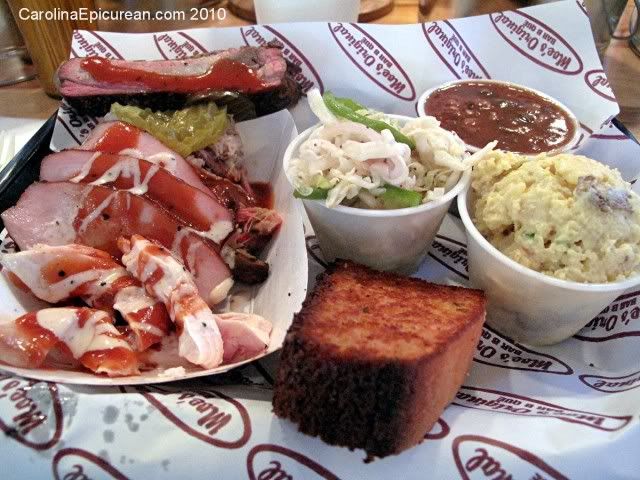 They might just give our NC-style BBQ a run for it's money! Either way, I'll be a regular.
Moe's Original BBQ
4 Sweeten Creek Road
Asheville, NC 28803
(828) 505-8282