Open almost one year at 22 Battery Park Ave, Asheville, Chai Pani serves Indian Street Food as well as other traditional Indian dishes.
It's an interesting concept – street food served in a restaurant. I think there might be a slight cultural thing going on here when people complain about inattentive service at Chai Pani and having to get their own water and silverware. In India, street food is just that. It's served from stalls, carts or through windows to the folks on the street – who eat it on the go as fast food snacks. Could the owners of Chai Pani be approaching service from a hey, this is street food point of view? We didn't feel neglected, but service was minimal.
When you enter Chai Pani, pick up a menu from the counter and check out the "specials" board. Order at the counter, pay, get your water, silverware and find a table. Your food will be brought to you.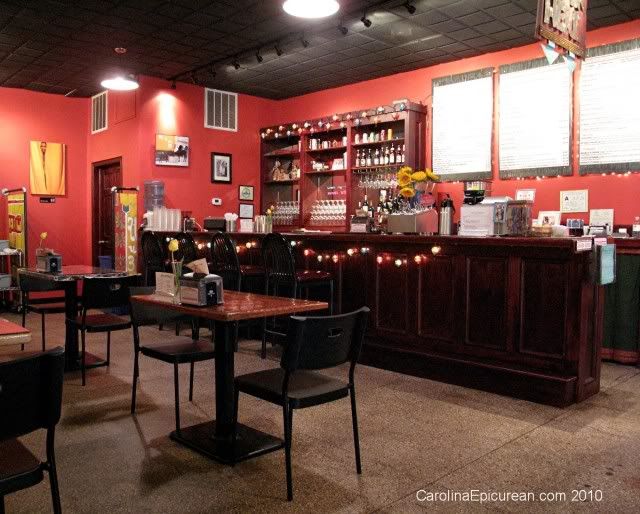 Stopping in for Chai Pani, or a "little something" mid-afternoon, I chose from a selection of Chaat (street food), Sandwiches & Wraps (Indian versions), Tandori, Thali, Uttapam, Breads and Sides. Wanting to sample a couple of items listed under "Chaat", since street food is supposed to be what they're all about, I ordered Aloo Tikki Cholle ($4.99) – savory potato cakes served on garbanzo bean stew with sweet yogurt, tamarind and green chutneys, and Pakoras ($4.99) – mixed vegetables fried in a curried chickpea batter served with dipping sauces. Overall, I'd say both dishes were good, but didn't blow me away.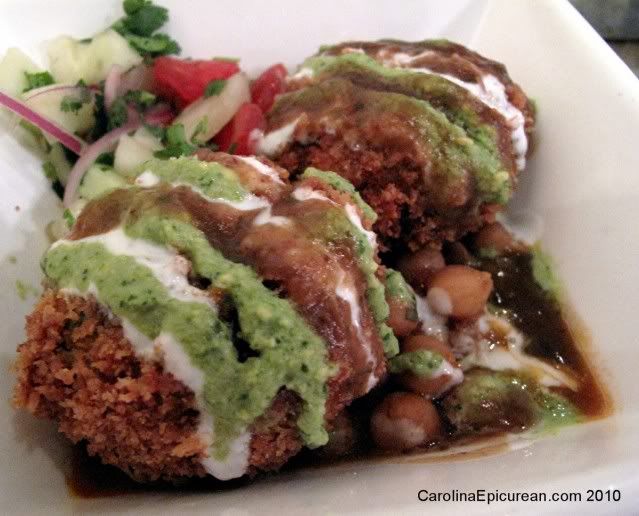 Aloo Tikki Cholle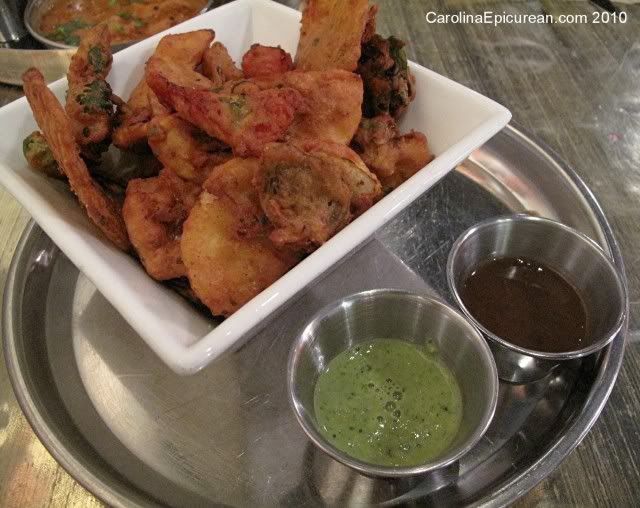 Pakoras
 I also ordered a traditional Mango Lassi ($2.75),which is a chilled drink made with yogurt, mango, cardamom and other spices. Again, I love Mango Lassi's and thought this one was average.
My friend ordered the Non-Vegetarian Thali of the Day:  an Ashley Farms boneless chicken in a coconut curry, seasoned with tamarind, served with rice, daal, chapati (unleavened flatbread), popadum (crispy, savory flatbread), raita, chickpea salad and a sweet dessert. Chai Pani serves there Thalis in the traditional way, in small bowls on a round tray.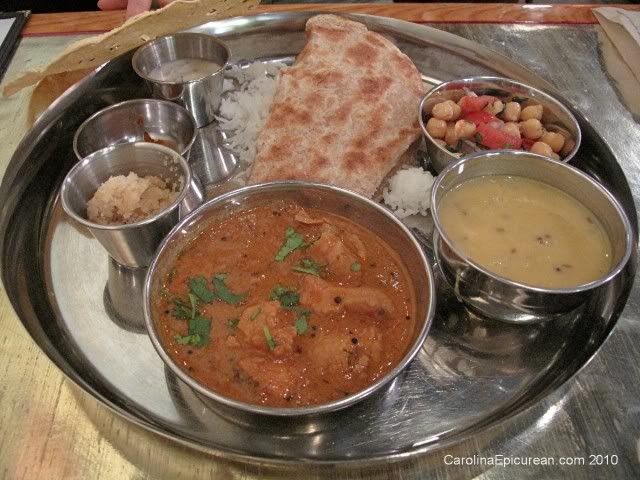 Every bit of this dish I sampled was very good. My favorite was the chicken. That was delicious! If memory serves, my friend liked all components of this dish, taking just a small amount home – along with half of my Aloo Tikki Cholle.
Overall, I'd say Chai Pani is a good addition to the Asheville culinary scene, broadening ethnic offerings. I'd go back, but would want to try a Thali and some Tandoori dishes.
Chai Pani
22 Battery Park Avenue
Asheville, NC 28801
(828) 254-4003