After one of Asheville's last Downtown After Five's, our merry band walked from Lexington Ave. over to Pack's Tavern for dinner.
Built in 1907 and long known as the Hayes & Hopson building, this vintage post card (below) shows the exterior much as it looks today. Fronting on Spruce St., the Main Room/Bar are to the left and the South Bar, reached by a few broad steps down, is to the right. The side of the building, now opened up with beautiful, tall windows, and the rear patio area border the fabulously renovated Pack Square Park.
And, according to the Tavern's website, there's an underground (not so) secret:
" . . . hidden behind steel doors in the basement lies a Hayes Hopson secret. These heavy doors open to a dark chamber that leads under South Spruce Street and once continued to adjacent buildings. The Hayes Hopson building has supplied lumber, auto parts, BBQ to Asheville but during the Prohibition years it supplied illegal liquor to local scofflaws (people who disobeyed the dry laws of the Volstead Act) via this underground passage."
There was a wait. Amazing, considering their Main Room/Bar and South Bar are so large, you'd have time for a round before a yodel's echo sounded.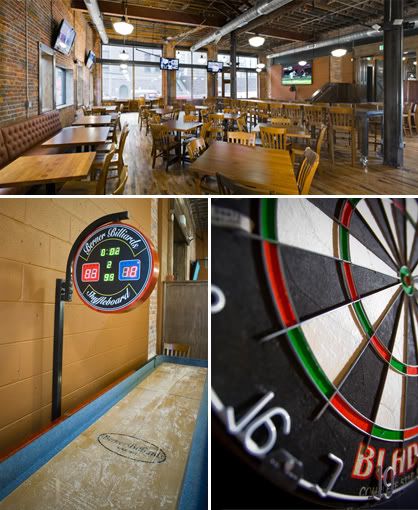 Our timing was perfect! Seats  opened up for all of us at the Main Bar while we waited for an outdoor table. It was a beautiful night and we didn't mind waiting.
Three or four personable, engaging Tenders were working the Bar. One of them, Michael, got sucked in as we were discussing the definition of an old English term.
The couple sitting next to me each had one of Pack's beautiful and bountiful Baby Spinach Salad ($7.99). Mixed with the baby spinach were sugar coated pecans, dried cranberries, sliced apples and creamy goat cheese – all drizzled with "tangy apple cider vinaigrette". They had each added chicken for ($2.99). The picture below is misleading because you can't tell how deep the bowl is. There must have been three pounds of spinach in there!
Somehow, my excellent shots of the patio disappeared from my camera. Suffice it to say, it's lovely, multi-teared and sports attractive railings and red umbrellas. I believe I saw heaters, also, but don't quote me on that.
The other issue with the shots in this post is that it was so dark, I had to use a flash, creating some really "bright" dishes.
This 14oz Rib Eye ($19.99) was devoured by one of our group who had volunteered to work a beer booth during After 5. He deserved every succulent bite of this served exactly as ordered steak.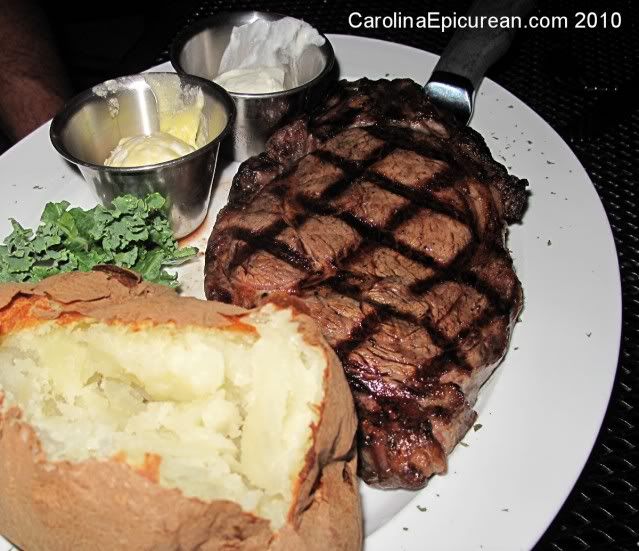 It came with a baked potato and choice of House or Caesar salad. This house was good sized and fresh.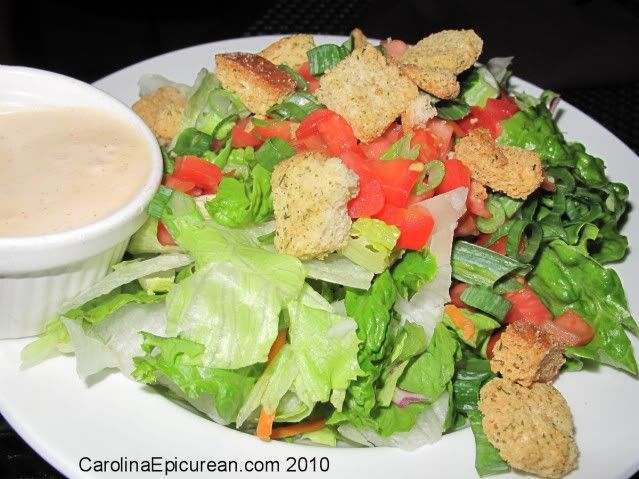 This is the Thai Salmon Salad ($10.99), which comes with grilled Asian salmon. See it? No? That's because chicken was substituted by a member of our group who was watching her calories. The chicken is over Romaine lettuce with red cabbage, diced red peppers, shredded carrots, green onions, tossed with Thai vinaigrette and topped with rice noodles. A very nice dish to finish with after a hard day working a beer booth.
Here is Pack's Pride ($7.49) the 1/2 lb. 100% Angus Beef burger ordered by one of our group. It was served medium with lettuce, tomato, onion and pickle spear. Adding the cheese put him back $.50. Crispy Sweet Potato Fries added the festive look.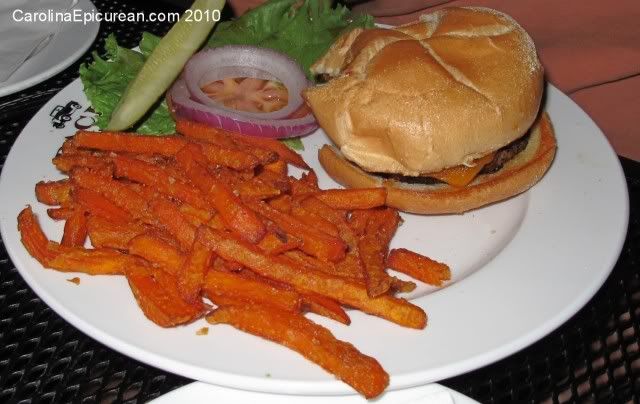 Bacon & Cheddar Angus Sliders ($7.99) had my name on them! Each slider was topped with hickory smoked bacon, medium Cheddar cheese and chopped onion. Cooked medium well – yum, yum, yum!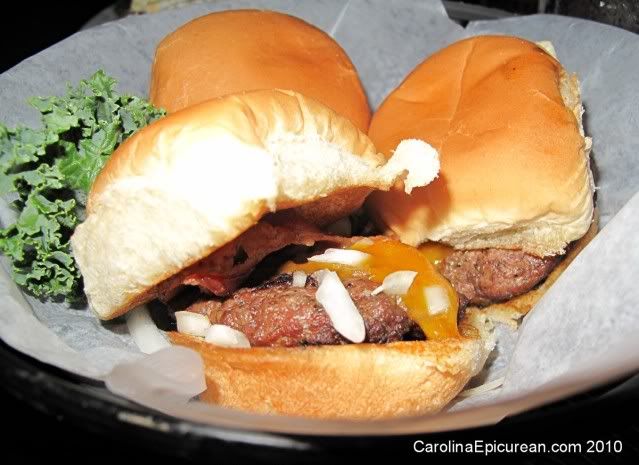 Captain Tom's Fish-N-Chips ($11.99) was excellent. Flaky Cod had been fried after being dipped in "brew master ale batter" and served with tartar and cocktail sauce, French Fires and Coleslaw.
Our server was terrific. She kept our good-sized group refilled and happy.
Pack's Tavern also has a beautiful room upstairs (Century Room) that can be rented for private events. We took a look and it reminded me of a casual ballroom, if that makes sense. Lots of wood and floor to ceiling windows framing city views.
This is a great place to meet for lunch, stop in for a drink, hang with your pals after work, have dinner with the family – just about any reason is a good one for going to Pack's Tavern.
Pack's Tavern
20 S Spruce St
Asheville, NC 28801-3745
(828) 225-6944