Mary Beth's opened in downtown Greenville, SC at 500 E McBee Ave in 2008. Since then, three themes have emerged: "Great food", "Best breakfast in town" and "overpriced".
I wanted to check them out for myself, so PIC and I headed over for breakfasts of Applewood Smoked Bacon Waffle ($7.95) and Short Stack Blueberry Pancakes ($5.95) with a French Press (dark roast) Coffee ($4.50) to share. See Mary Beth's Breakfast and Lunch menu here. And, here's their Dinner menu.
As far as waffles go, this one was average, not crispy on the outside (which I prefer), but chock full of bacon, so that was a plus.
Same story on the pancakes, except the blueberry quantity was average as well as the pancakes themselves.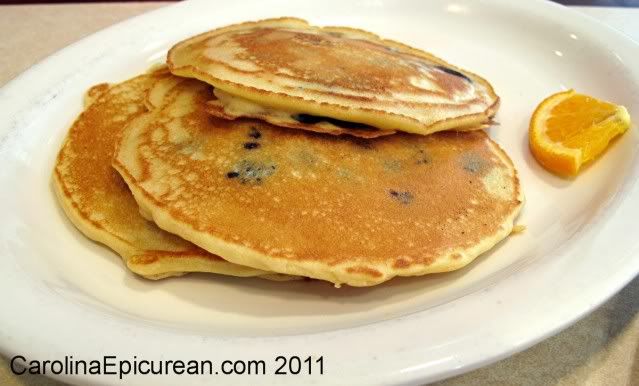 Both plates were garnished with a lonely quarter slice of orange, which would have almost been better left off. An entire slice of orange, maybe cut into halves, or a couple of grapes along with the orange would have made a better impression.
We were impressed with the Press presentation, which included a timer set to let diners know when steeping is done and the press should be pushed down. A nice touch – we usually time this ourselves.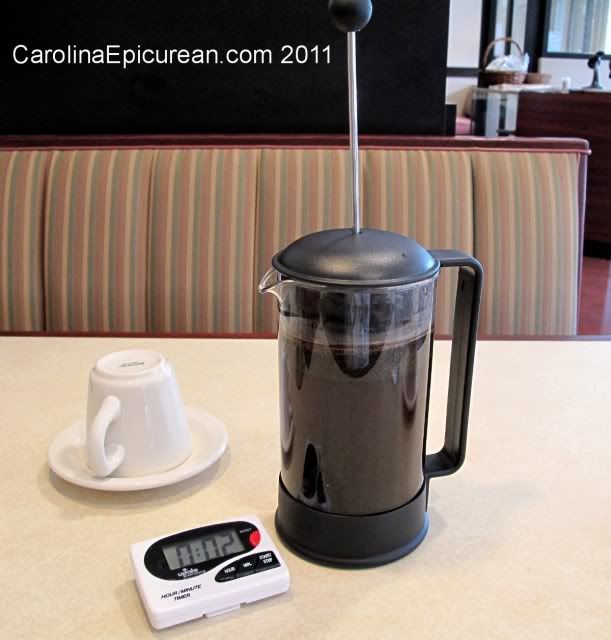 Mary Beth's interior is clean, open and cheerful, with both counter and booth seating.
To the right and down a longish hall is a large, bright, open dining area.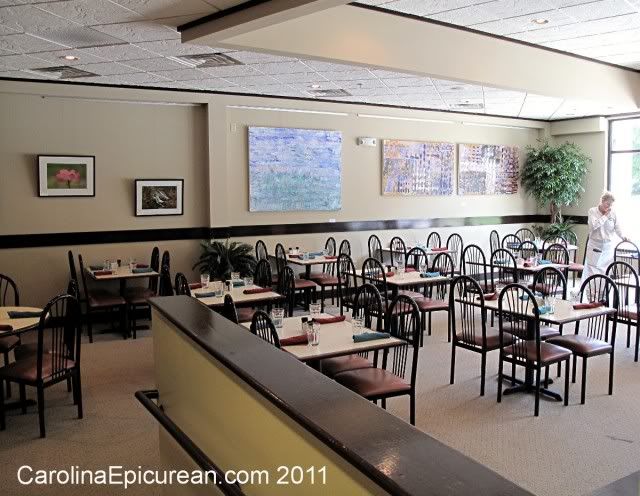 Service was attentive and friendly.
Overall, I'd say Mary Beth's is a nice place for breakfast, but certainly not the "best breakfast in town". Our meals were fine, but nothing special. And, I'd say that their prices are average to high-average. You could probably find the same thing for a little less, but that wouldn't keep us from going back. I'd like to go back for dinner, but would have to be convinced the experience and food would be worth entree prices ranging from $18 to $36.
Mary Beth's
500 E. McBee Ave.
Greenville, SC 29601
(864) 242-2535