Described as a "Mediterranean-themed restaurant with a menu featuring global influences from Spain, Morocco, Italy, France, Greece, Africa and the Middle East", The Lazy Goat overlooks Reedy River from the heart of downtown Greenville, South Carolina's Riverplace. Finding The Lazy Goat isn't easy for first-timers. It's behind the Hampton Inn and Suites Riverplace, in the same building and accessed either at street level or river level.
The Goat's lower level patio is sandwiched between two fantastic water features:Â one from street level to patio
and double falls from patio to river level.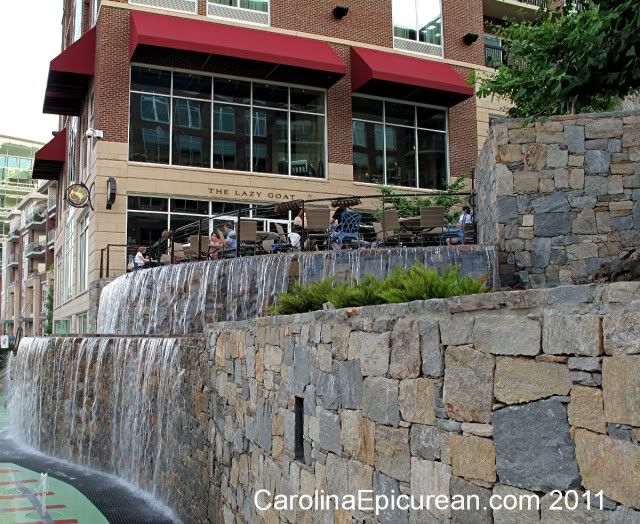 We chose a table on the upper level where natural finishes, colors and shapes hinting at sky and water, three floor to ceiling walls of windows and furniture positioning all give both the bar and dining room an open, airy feel.
The lower level has a bar and "closer", more casual seating. See pictures of the lower level here.
"A dining experience designed around taking your time, and sharing great food and stories . . . ", our meal was indeed a relaxed experience of good conversation and superb food and wine. And, throughout the evening we had the luxury of taking in views of the river, people strolling the walkway, Peace Center and the outdoor amphitheater.
Sharing an order of Roasted Mussels and Chorizo ($11) and a 1/4 carafe of Gran Feudo Reserve '01 ($12), our evening was off to a great start. As beautiful as this dish looks, it tasted even better. The Chorizo had a mild, earthy-smokey flavor that complimented, without overpowering, the mussels. We did need to order a Side order of Ciabatta ($1) to dip when finishing off the sauce.
For his entree, PIC ordered Steak Frites: teres major tenderloin ($22). Ordered medium and served closer to medium-rare or rare, PIC chose to eat it as served rather than sending it back. He was happy with the dish, but would prefer it cooked a little more next time.  Teres Major is a beef shoulder cut that's become more popular because it's less expensive than, and close, or second in tenderness, to tenderloin. Six to eight inches long, it can be served sliced or as medallions and is sometimes referred to as Shoulder Cut Petite Tender. PIC's steak was topped with a shallot demi glace and served with truffled pommes frites (delicious) and small tomato/onion bites. This was a plate full of gorgeous flavors.
And finally, Risotto al Funghi y Tartufo ($18) for me. Now . . . this dish was extremely tasty, but the first thing that came to mind when it was placed in front of me was that it looked like just the right bowl for feeding a large animal. Interesting as serving pieces go, but huge. The Goat needs to find a more appealing way of serving this beautiful entree of sherry braised mushrooms (Funghi) with a port wine glaze and shaved truffle (Tartufo). And as risottos go, this one was flavored and cooked perfectly!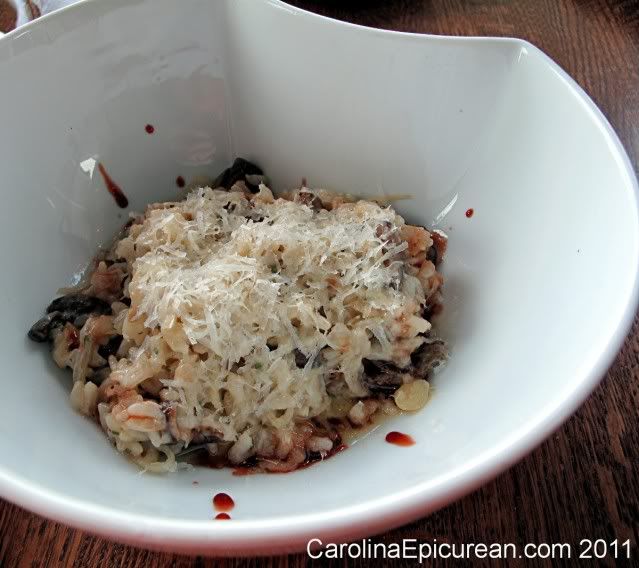 A word about service. We experienced very friendly, very slow service. We weren't in a hurry to be anywhere, so it was okay on this occasion, but considering they say The Lazy Goat's a place "where time is well wasted", keep that in mind. My only other comment would be that staff need to do a better job keeping seats brushed off, the carpet vacuumed and windows washed, especially down low where children obviously love to press faces and hands up against the glass.
The Lazy Goat is owned by a group that's seemingly taking Greenville by gastronomic storm. In addition to The Lazy Goat, Table 301 owns Soby's, Soby's on the Side, Devereaux's, Table 301 Catering and slated to open at 116 South Main St. in late January, Nose Dive (a Gastro Pub).
Overall a terrific place to dine. The Epicurean recommends The Lazy Goat.
The Lazy Goat
170 Riverplace
Greenville, SC 29601
864-679-5299