Those words, "Because the Details Matter" caught my eye on the Guest Satisfaction Survey at Posana Cafe. Really, they describe the entire package that is Posana.
Posana's located in the heart of downtown Asheville, NC, anchoring busy Pack Square on Biltmore Ave, near its intersection with Patton Ave. (MAP)
I've been to Posana a few times now and am impressed with so much about this unassuming eatery, from Executive Chef and Owner Peter Pollay's food philosophy to menu, service, ambiance – the whole enchilada. Wrong cuisine, but you get the idea.
They've also been awarded the Gluten-Free Food Service Accreditation – earning an excellent rating for their commitment to Best Practices in safe gluten-free food service through the Gluten Intolerance Group of North America's (GIG) accreditation program. Even if you don't suffer from Celiac Disease, it's great to know Posana takes such care with their food preparation.
Posana is a big advocate of Organic and Local Food, serving as much of it as possible and going so far as to devote a page on their website to "Our Farmers". They also serve Fair Trade Organic Espresso and use organic milk.
Sharing the Goat Cheese Trio ($9.50) was the perfect way to begin our lunch. Three rounds of goat cheese encrusted with pistachios, walnuts and pecans, served with beautiful quenelles of  fig, apricot and date-walnut compotes. A lovely swish of what I think was a raspberry sauce topped with balsamic. This dish could easily be shared by 3 or 4. We brought part home for a perfect late afternoon snack.
Drinks at Posana are not only tasty, they're fun!
A friend of mine exclaimed once, "I LOVE being a woman", after seeing our lunch hostess' table set to perfection with fine china, silver, crystal, gorgeous linens and fresh flowers. You don't have to be a woman to enjoy Posana's presentation, though. Here are pictures of drinks from different visits:
Iced Tea ("Organic Ceylon Gold is flash brewed table side for the best tasting ice tea in town. Like it sweet? No problem we offer simple syrup, honey or agave nectar for perfectly integrated sweetness suited specifically to your taste.") ~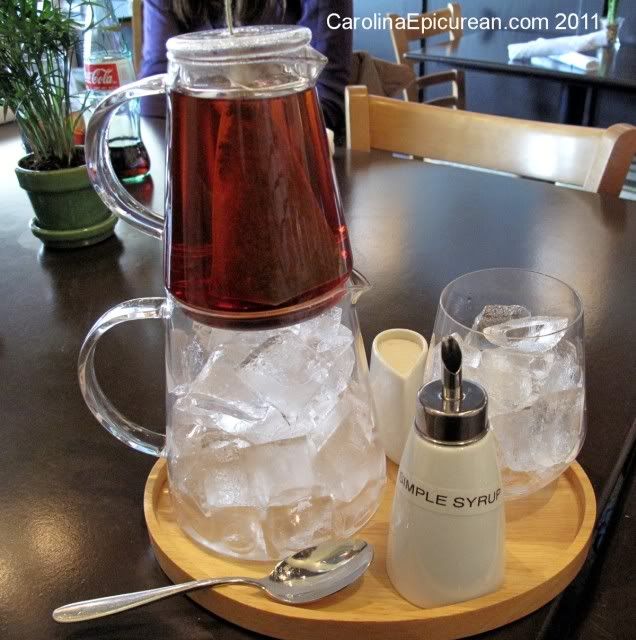 Hot Tea (leaf attached to Tea Forte "infuser" aka "bag", green square is a bag rest) ~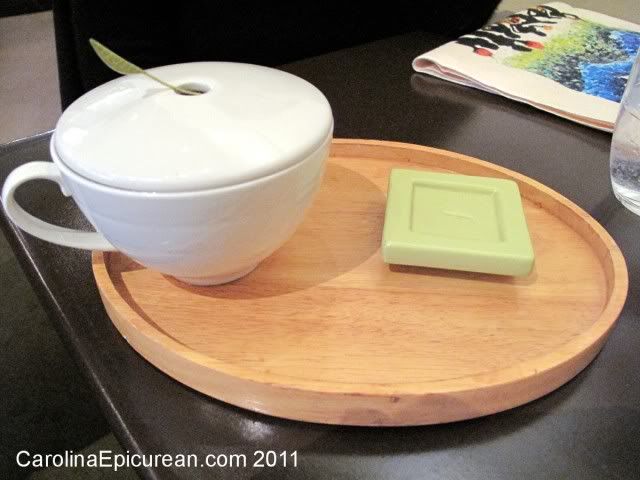 Coffee (love the cream, sugar, cup and saucer shapes) ~
When Posana renovated prior to opening, this wall unit was added. Love the shiny espresso machine as well as the entire wall tableau.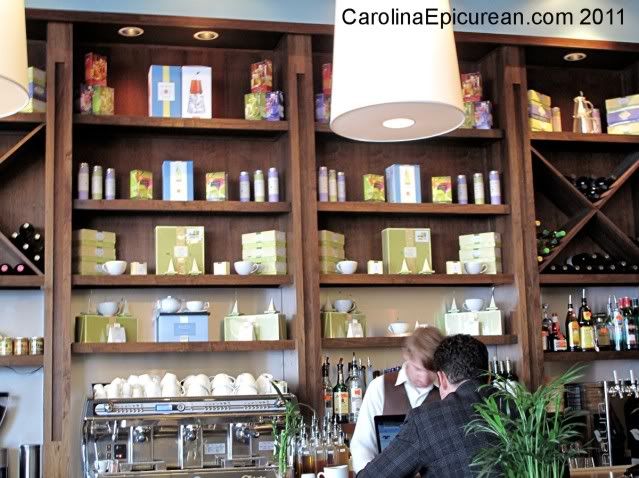 Got a big mouth? This burger's for you! A towering Certified Angus Beef Burger ($9.50), topped with bacon, cheddar cheese, lettuce, tomato and Dijon mayo, was delivered medium-well, as ordered. I didn't get a chance to ask about the bun, but noticed it was much denser than the usual burger bun. Good thing. It stood up to this juicy bit of carnivorous happiness. And, again, the cute ketchup container was a nice touch.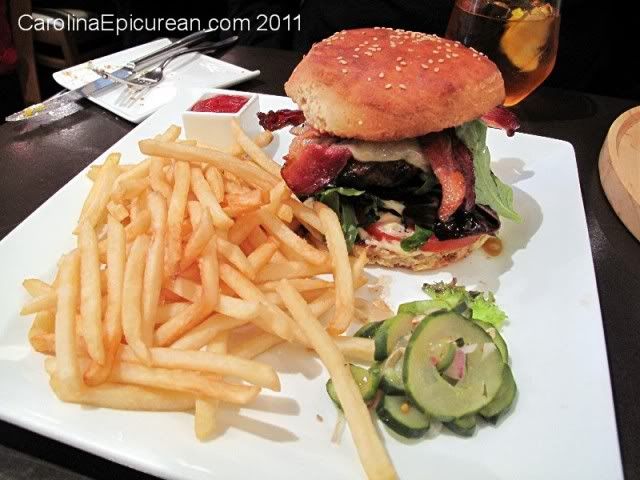 Want hearty with a slightly modern twist? Try Posana's Braised Beef Brisket ($10.50) On the menu as "roasted vegetable stew, red onion & carrot slaw", this dish caused diners at the next table to suck in their breath a little and say, "oh wow". That was fun. Wish the picture did it more justice.
The brisket was indeed delicious, but could have been just a tad more tender.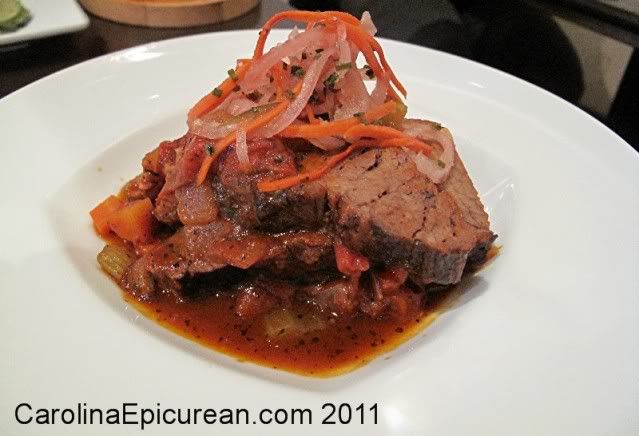 Did we have room for dessert? You bet! I love chocolate and orange together, so of course I chose the Chocolate Orange Trio ($7.00). My dining partner had originally declined dessert, but rethought that when the Orange Cream Chocolate Cupcake, Pots de Creme and Hazelnut Meringue were put in front of me garnished with a lovely orange sauce – and two spoons. Thank you dear server – from both of us.
The Pots de Creme and Hazelnut Meringues were fantastic. Our favorite was the Meringue. Not to leave the Cupcake out – it was good, but didn't shine as brightly as the other two.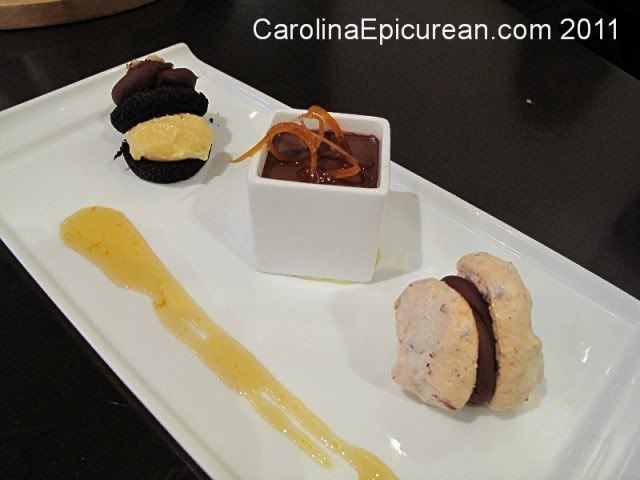 Our server was very good – attentive and friendly. At one point, Peter Pollay actually served us. Wonder if he recognized me? Probably not, because he was serving other tables, too.
It was interesting to actually watch the lunch crowd filter out while folks wanting to "sip, snack & relax" (Posana's tag line) filtered in. Comfortable, loungy club chairs as well as cafe tables and chairs are in both light and also somewhat cozier locations. Both great for taking advantage of Posana's free Wi-Fi.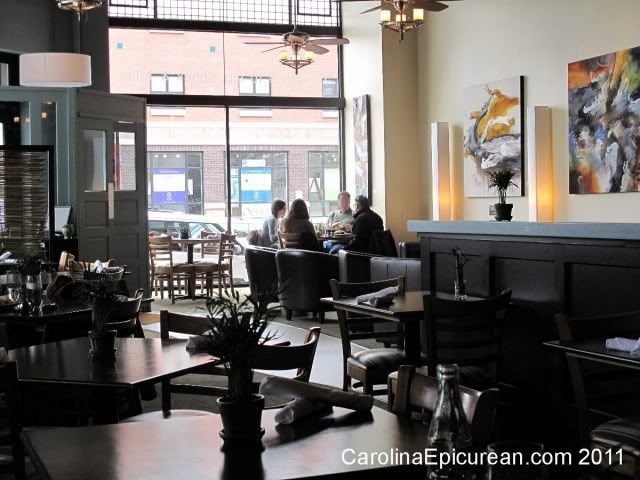 They also have a great event room for private parties, business meetings, etc., which includes a large screen.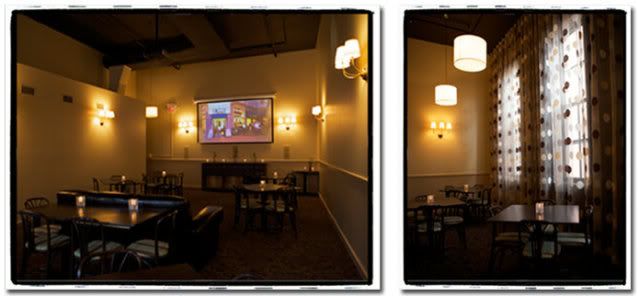 (posanacafe.com)
Posana is Epicurean recommended for food, service, ambiance, community involvement and attitude.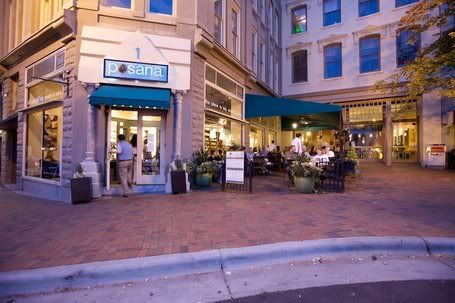 Posana Cafe
1 Biltmore Ave
Asheville, NC 28801-3603
(828) 505-3969