Is there good Chinese in Asheville? The answer has always been "No" . . . until now.
Two years in the planning,  Red Ginger Dim Sum & Tapas quietly opened at 82 Patton Avenue during snow and ice storms last week.
Dim Sum is a style of Cantonese cuisine prepared as small bite-sized portions of food traditionally served in small steamer baskets or on small plates.
I wasn't too sure about Dim Sum and Tapas under one roof, but it works – in a Chinese kind of way. Tapas are Spanish "small plates" and Dim Sum is "a style of Cantonese cuisine prepared as small bite-sized portions of food traditionally served in small steamer baskets or on small plates". So, basically Chinese Tapas. You won't find plates piled with noodles or General Tso's Chicken here.
I was expecting traditional carts rolling through a dining room, slowing at each table so diners could ask for what they wanted, or just point if unsure of the name. In busy Dim Sum restaurants, it's common to be charged by the number of steam baskets and plates on the table at meal end.
Owner Mary (Mai) Mendvedev explained she and her chefs felt it was better to serve hot, directly from the nearby open kitchen, which made sense to me. And there really isn't room in this space for carts.
Perfect for sharing, each order of Dim Sum usually comes with three to five portions.
First to the table were Pork Dumpling in Shanghai Style. Tip: because there's chicken broth inside, avoid chin-drips by taking a small bite, suck the broth, then pop it in your mouth.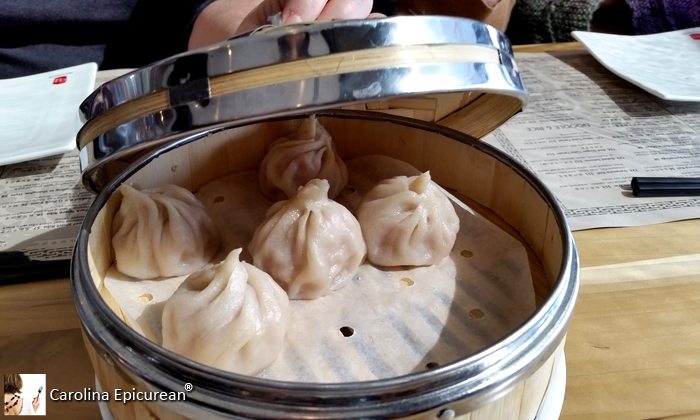 These Pork Dumplings are served with an incredibly good (not soy) sauce, made only in and imported from a particular Chinese city. This is the only sauce we used during the entire meal. Each dish is created with flavors that beg to be enjoyed on their own merit.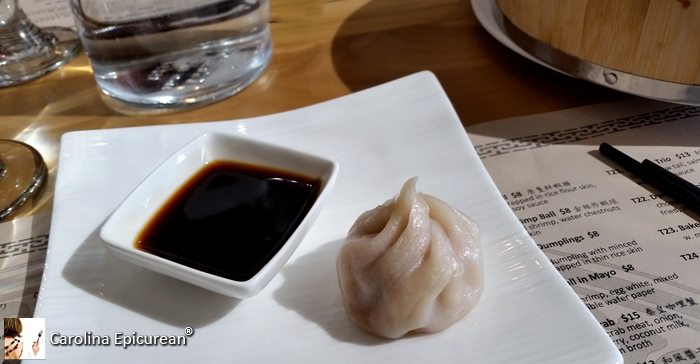 When you have a group of four like we did this past Friday, the best thing to do is order a number of dishes and share. Ask for a knife if you want to cut some things in half.
I'm a Steamed Barbecued Pork Bun fanatic, ordering them whenever I can. These are some of the best I've had, in no little part because of the slightly sweet, house-made barbecue sauce.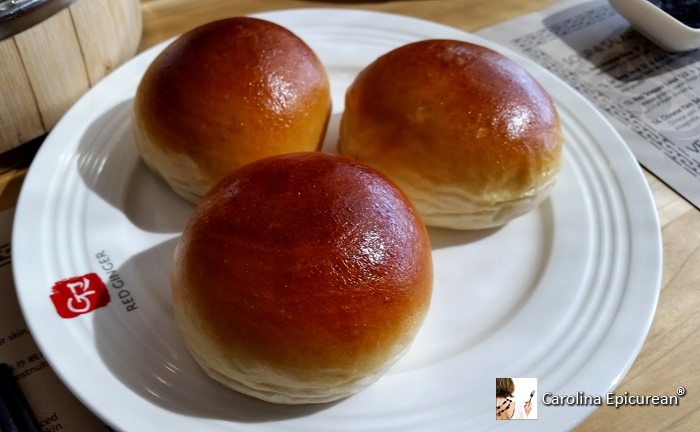 A star of our meal, Crystal Shrimp Dumplings. Just fantastic! Tip: if dumplings like these stick to the paper underneath, they are not cooked correctly. They should lift right off.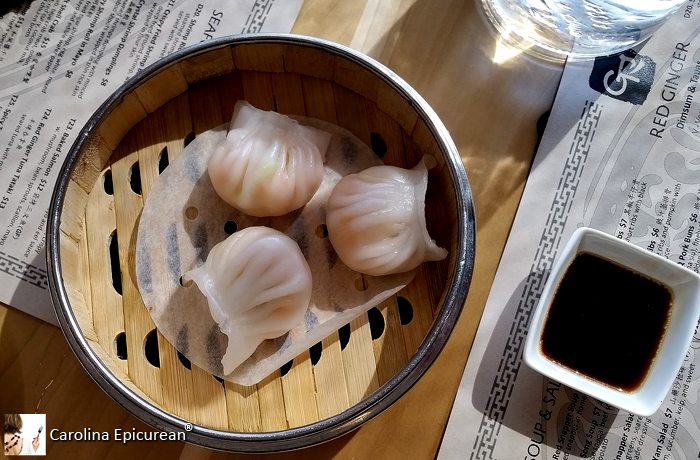 None of us had tried wine from Russian Chapel Hills Winery, the winery Mai and husband Andrey own in Columbus, NC. We enjoyed the Tempranillo we chose.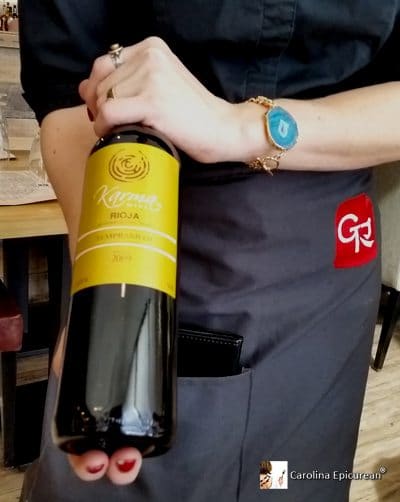 Moving toward earthier flavors, we ordered the Black Truffle Shu Mai. Dense and savory, these bites were a great mix of pork, shrimp, mushroom, and truffle.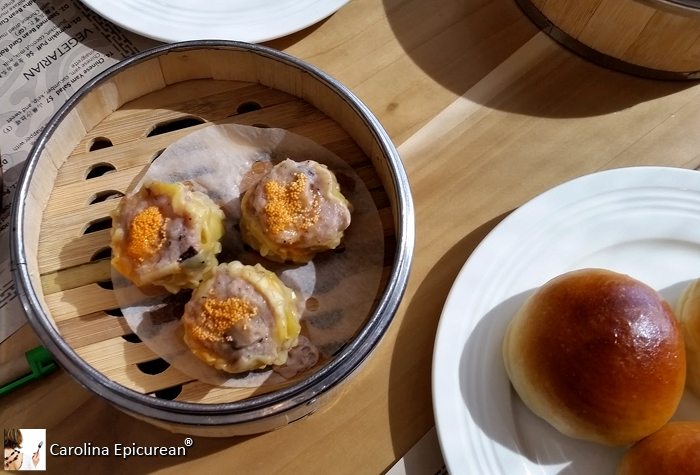 Another take on barbecued pork, these classic Steamed Barbecued Pork Buns were delicious. You will need to peel the paper off the bottom before eating.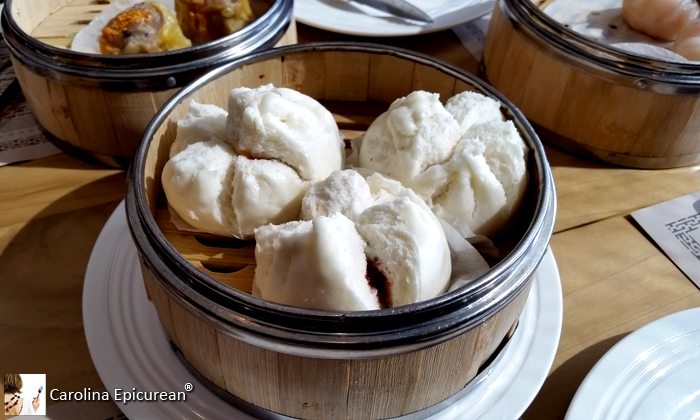 The only Tapas plate we ordered was Steamed Japanese Sea Bass. Tip: dishes on the menu are numbered. Each number is preceded by a "D" for Dim Sum or "T" for Tapas. It was good, but next time, we'll go for the Baked Chilean Sea Bass. It's one of Mai's recommended favorites.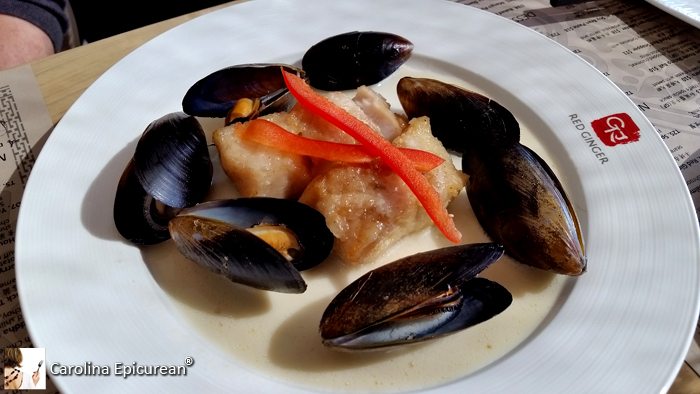 Not especially attractive to look at, but totally yummy. I hadn't had a roll like this previously, but really liked the "rice flour skin" texture. The sauce was tasty, too. Not just bottled soy sauce poured over the plate.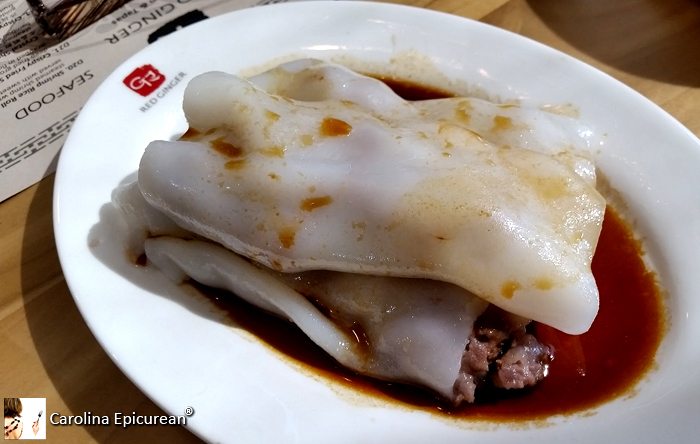 Tip: sit at the open kitchen counter if there's a seat available. Watching the chefs ply their art is entrancing.
Mai explained to our group that the art of true Dim Sum has traditionally been passed down from generation to generation, but that the younger generation now has lost interest. Red Ginger's Executive Chef visited the Asheville area from New York City multiple times at the invitation of Mai and her husband, finally deciding it would be a good place to "retire". You'll find him in the kitchen, making Dim Sum non-stop.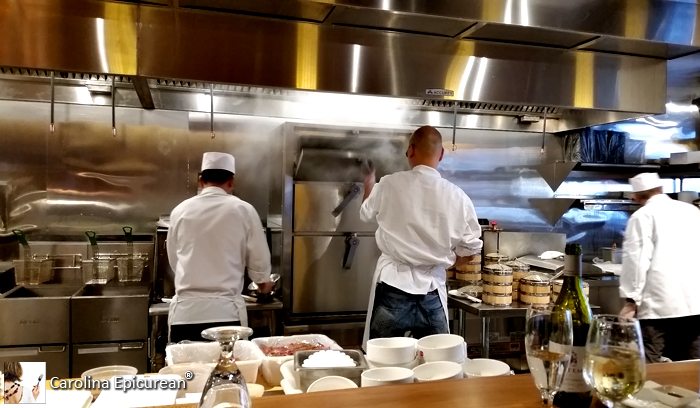 Reg Ginger's dessert menu is limited to four offerings as of this writing. One of them is a custom cake made just for the restaurant by iconic Asheville bakery, Karen Donatelli Cake Designs.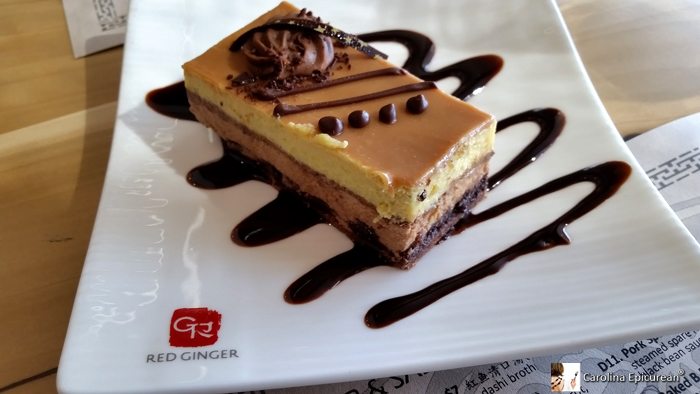 If you like tapioca, get the dumplings pictured below. Scrumptious!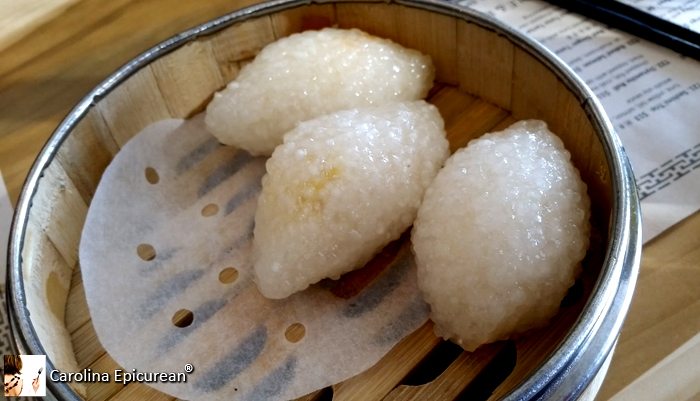 Take a look at the photo gallery below, clicking on any image to enlarge, and you'll see part of why Red Ginger is something of a higher caliber than usual for Asheville. The other part is the food, of course, but the attention to detail, design, and authenticity of Red Ginger sets it apart from many Asheville restaurants. It's more what you'd expect in a larger, more sophisticated urban environment.
Important Note: Because Red Ginger has filled such a huge demand for good Chinese food in Asheville, and because they are still working everything out, they frequently run out of the most popular menu items by 7 – 7:30pm. Go early for best selection.
Notes:
The cut metal sculpture (for want of a better word) hung under the outdoor patio ceiling was commissioned and imported from China. There are, or will be, lights above mounted above. During the day, it acts an architectural feature on its own merit, but when backlit in the evening, it will create a leaf pattern below.
Pendant lights above the open-kitchen counter feature a Peony design. Although The People's Republic of China doesn't recognize a legally designated national flower, most Chinese refer to the Peony as the national flower of China. It is said to bring good luck.
Many finishes and products used at Red Ginger are locally sourced. Table tops (Rainbow Poplar), bar tops, and reclaimed wood on pillars are from North Carolina.
Artwork and some special fine china are hand-made and imported from China. See the six plates in recessed cubbies toward the back of the restaurant and the five pieces behind the bar depecting the Cheongsam style of dress made popular in China in the 1920s.
Service pieces and flatware were designed specifically for Red Ginger and imported from China.
Highly Epicurean Recommended!
Red Ginger
82 Patton Avenue
(near Pritchard Park)
Asheville, NC, 28801
(828) 505-8688
[vc_media_grid element_width="2″ gap="10″ grid_id="vc_gid:1456155774895-22a43211-b60c-0″ include="42774,42772,42777,42775,42776,42773″]