A fun new concept cafe and bar, Greenhouse Moto Cafe, is scheduled to open in 5 weeks at the old Carolina Roses location – 4021 Haywood Rd in Mills River, NC.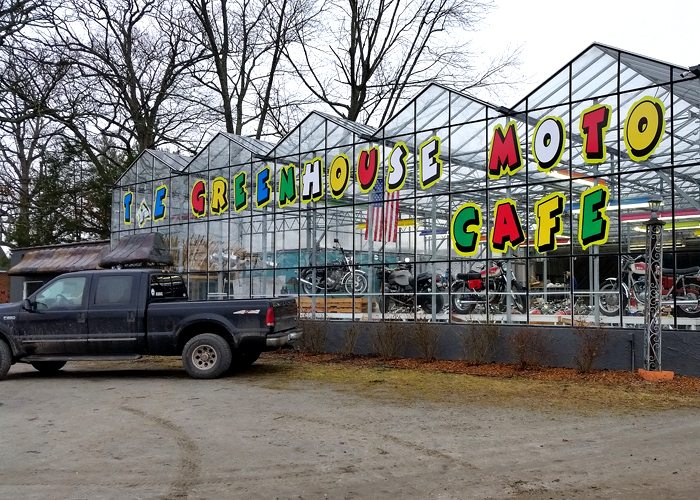 If you're not familiar with the area, it's close to the new Bold Rock cidery, and surrounded by farm land. UPDATE: for those that are concerned about getting dusty/dirty, they are on a paved road.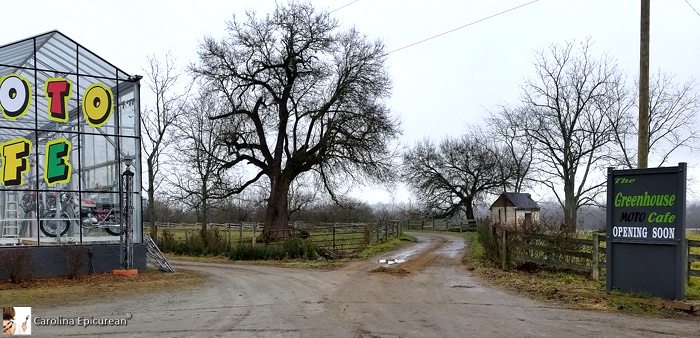 I had a chance to pop in and talk to one of the two Jeffs that are opening the place. Luckily, he was at a good stopping point in hanging display bikes.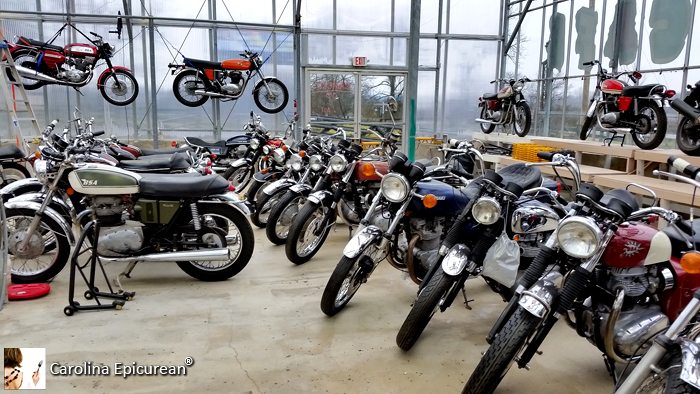 Believe it or not, most of these vintage motorcycles are part of the other Jeff's collection and are in running condition. Down the road (pun intended), they hope to be able to offer group road trips on these bikes.
I'm pretty sure I spotted Norton, Kawasaki, Triumph, and lots of BSA's. When I mentioned that a certain group might be miffed if there weren't any Harleys, Jeff pointed to the lone bike representing. See it bottom right in the picture below.
UPDATE 2/8/2016: My mistake. The black and white bike, bottom right is NOT a Harley. The Harley is hanging just out of view. So, I went back and took a quick pic to satisfy purists (myself included). Check out the second picture down.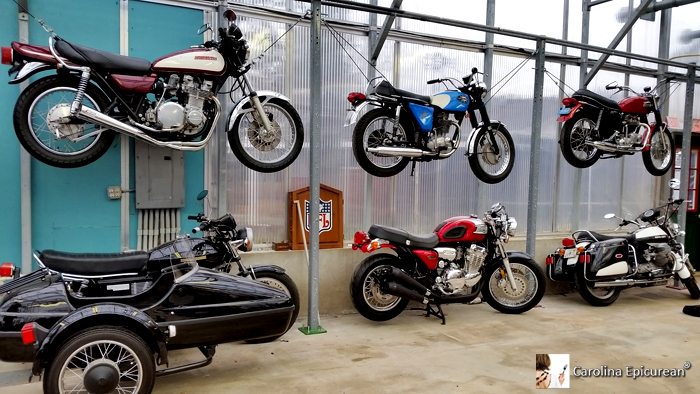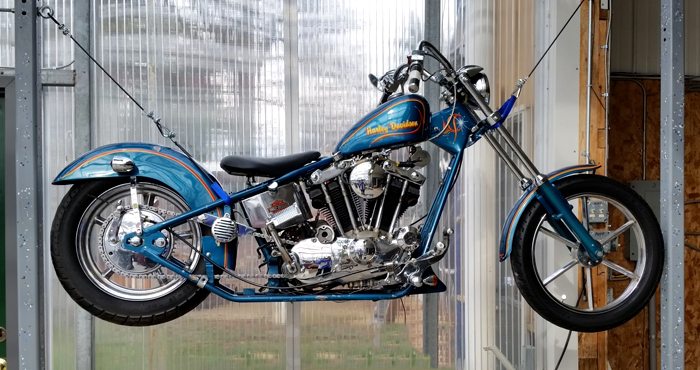 Plans are in place for a number of taps featuring local beer and a couple set aside for Bold Rock Hard Cider. Eventually, they'd like to get their full liquor license.
A kitchen won't be happening for a while, so in the meantime, they're going to have a couple food trucks on hand. The cool thing about this is that they have so much room in the Greenhouse, the trucks can pull right inside the back so they'll be out of the weather.
During the rehab of this huge greenhouse, lots of scrap wood began piling up. They've used the larger boards on a back wall and got creative with smaller strips over this doorway.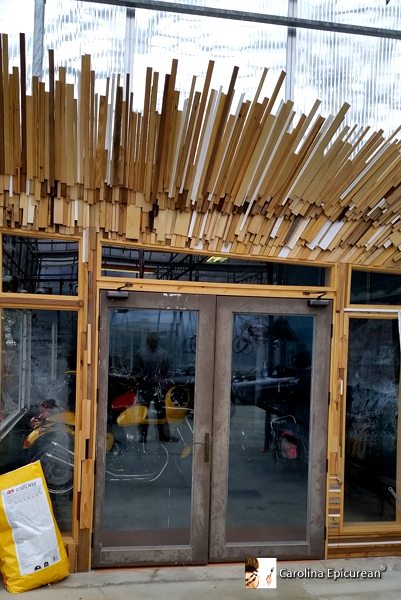 It leads to an adjacent space that may eventually house a "private club" social space. The kind you pay $1 to belong to to satisfy liquor laws.
Live music will be happening regularly here, too. I spotted a cool looking antique upright piano where the bar's going in.
The Jeffs are hoping Greenhouse Moto Cafe becomes a jumping off point, stop, or even destination for local, regional, and long range road-trippers. It's close enough to the Blue Ridge Parkway that it would make a great stop.
Of course, you don't need to roll up on a motorcycle to be welcomed. Pull up on a bicycle, in a car, or even on foot and you'll be welcomed. Jeff made a point of saying the Greenhouse will be a place where everyone is welcome. They hope it becomes a spot where locals hang out.
There's no website yet, but you can "like" their Facebook page to keep up on their progress and know when they open: Facebook.com/Thegreenhousemotocafe
Greenhouse Moto Cafe
4021 Haywood Rd
Mills River, NC 28759