Hendersonville – Another year in the books, business partner and friend, Nichole Livengood (Gap Creek Gourmet), and I celebrated over dinner at Postero.
I'm a sucker for Brussels Sprouts. Postero's take: Carmelized Brussels ($5) with local honey and toasted peanuts was fantastic. A generous serving, it's practically a meal in itself. Loved the added crunch of the toasted peanuts.
See the complimentary bread behind the Brussels? It's dangerous. It's delicious, but be strong. Don't be tempted to eat too much. You'll regret it when your appetizer and entreé show up.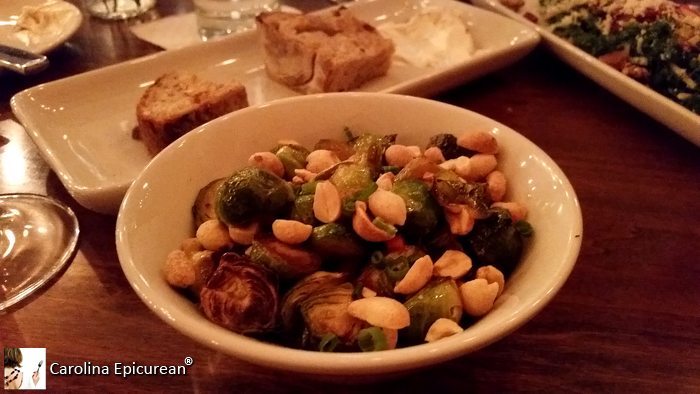 And just look at this $5 Smoked Butter and Cauliflower Mashed Potatoes appetizer! Both of these dishes are listed as "Provisions" on the menu. So good, but huge! Sharing is a good thing.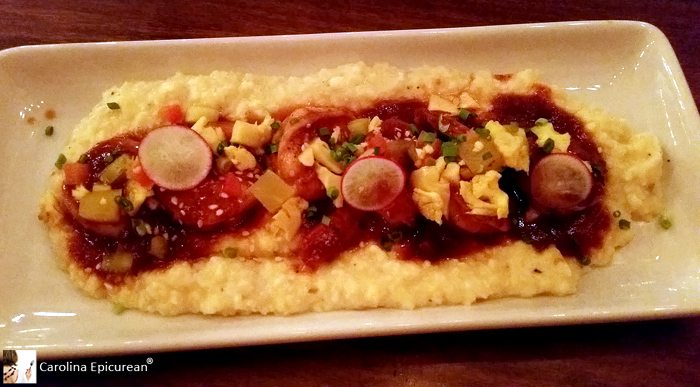 Just as we were marveling at the size of the apps and how much food we had inadvertanly ordered, Owner/Chef Jason Reasoner sent out Edamame Hummas ($6) from his "Snack" menu. Wow! We're talking tahini, lemon sauce, olive oil, crushed edamame, and pickled yellow raisins, served with an ample supply of crostini. Now we were really in trouble. We loved the flavor and texture combinations.
Chef told us later that people weren't too sure about this dish when he first put it on the menu, but now it's sometimes hard to meet demand.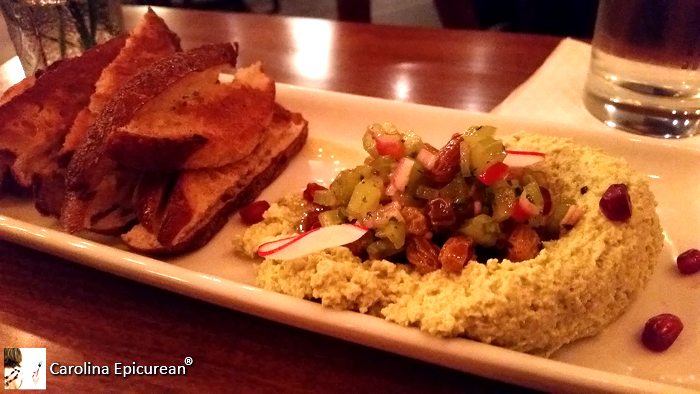 Yours truly was in the mood for something substantial and special. Postero's "Steak" ($27) – grilled Beef Tenderloin with smoked butter-cauliflower mashed potatoes, Postero Steak Sauce, Burgandy braised mushrooms, and Blue Cheese butter met the bill big time.
I can't say enough about the Postero Steak Sauce. It's definitely not your average steak sause. Absolutely fabulous! It's the kind of sauce you don't want to leave on your plate. And those mushrooms. Terrific!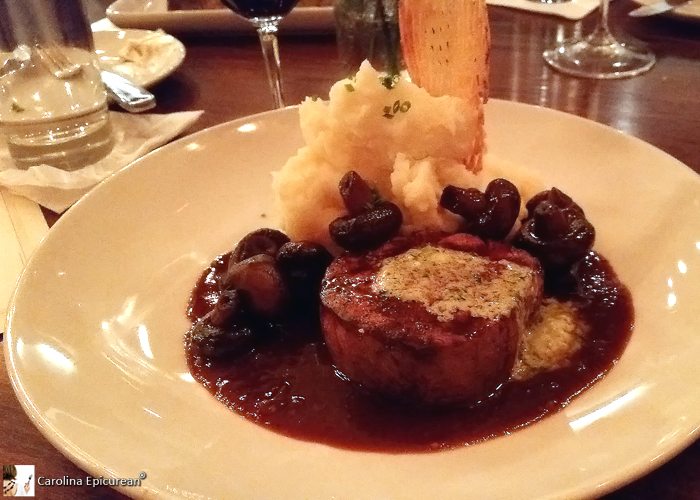 Every single dish came to the table hot. That doesn't always happen at restaurants.
Nichole ordered a Market Plate ($19). This is a gamble I almost took, but opted for the Steak instead. I would have been totally happy with this daily preparation of "seasonal produce from the fields and local markets". What a great combination of nuts, greens, cheese, and other veggies. Yum! Another good plate to share.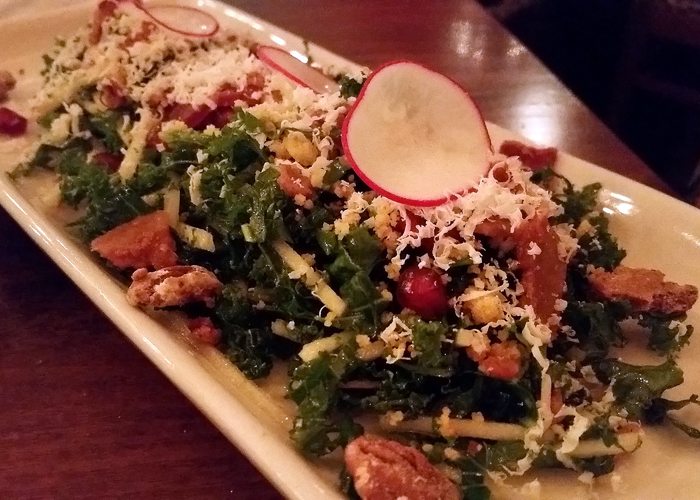 We were pretty full, but wanted to finish on a shared sweet note. Even though Chocolate Molten Cake can be cliché, we thought Postero's version sounded different – and it was house-made. On the menu as Chocolate and Peanut Butter ($6), it's filled with peanut butter sauce and served with a scoop of salted peanut brittle ice cream. You really have to try this. So good.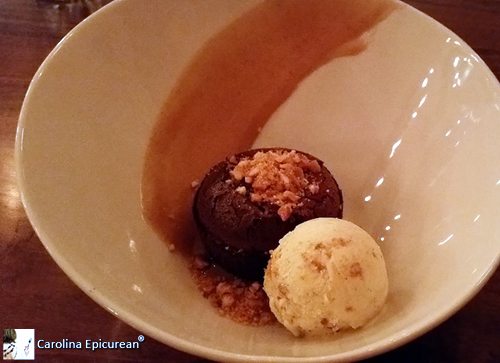 Postero must not close. Ever. Hendersonville, NC has needed a fine dining spot for quite a while. The kind of place you previously had to head north to Asheville to enjoy. And if you were paying attention, you would have noticed prices are definitely reasonable for this level of creativity and skill.
Postero is definitely Epicurean recommended.
Postero
401 N Main St
Hendersonville, NC 28792
(828) 595-9676