Duck, NC – Sanderling Resort, the idyllic coastal Carolina retreat set on the shores of the Outer Banks, has completed a multi-phase re-imagination, presenting for the 2016 summer season a fully enhanced resort experience complete with 120 all new guest rooms and suites. Fresh culinary leadership and artisanal specialties program, excursions and activities with a distinct sense of place and award-winning spa therapies mark the fresh new look and spirit of a destination that continues to lure back generations of travelers year after year.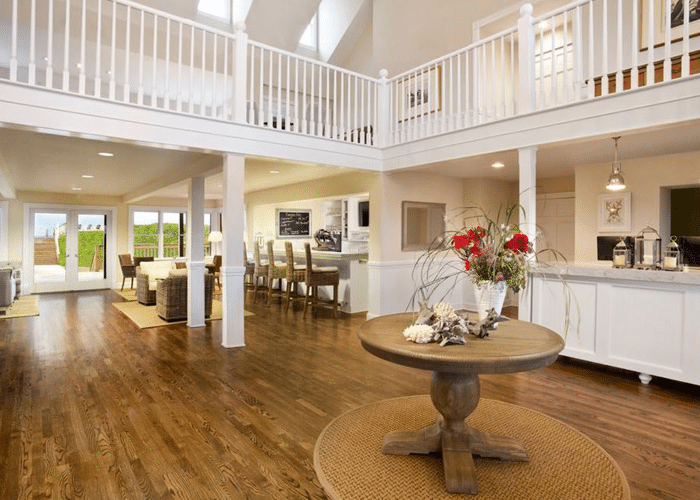 "At the heart of our vision for the refreshed Sanderling Resort is the desire to evolve with the needs of today's travelers and elevate the guest experience while remaining true to the distinctive character and spirit of this special corner of the world," said Dick McAuliffe, General Manager of Sanderling Resort. "Guest feedback on the new guest rooms has been overwhelmingly positive and we look forward to welcoming the summer season on the Outer Banks."
Epicurean Notes: I recently spent a night at Sanderling and had dinner at their gorgeous restaurant, Kimball's, and breakfast at their sweet Lifesaving Station restaurant. I can tell you first hand that this is the top flight NC beach resort you've been looking for. Staff are friendly, accommodating, and long-term -many of them returning yearly from Jamaica. They do a beautiful job hosting couple's getaways, family vacations, and destination weddings.
Two honeymooning couples and I chatted for quite a while as we soaked in the hot tub next to the adults only serenity pool. Having been married for 31 years, it was fun hearing them compare their wedding colors, receptions, ceremonies, and more.
Just one of the fun touches you'll find in your room is a complimentary S'more Kit with all the makings for S'mores at the large fire pit near the beach. Unfortunately, it was raining the night I was at Sanderling's, so no roasted marshmallows for me.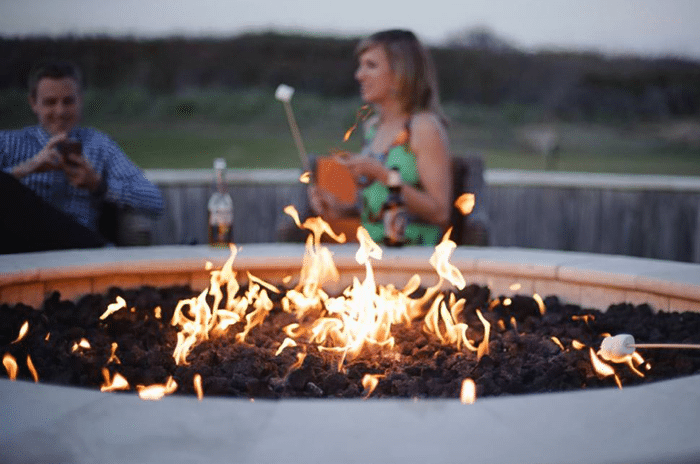 Notable touchpoints in Sanderling's evolution include:
• New Guest Rooms – A study in relaxed coastal elegance, all guestrooms, bathrooms and suites in the Beach House, North Inn and South Inn have been redesigned with beach chic furnishings, oversized bathrooms with luxurious appointments and stone tiling, spacious balconies outfitted for outdoor living and a color palette inspired by the unspoiled surroundings that embody the feeling of toes in the sand. Inspired features include Ocean to Sound Suites with uninterrupted water views of dramatic sunrises and sunsets via dual balconies that overlook both the Currituck Sound and the Atlantic Ocean; neighboring guestrooms with "pocket" balcony dividers that can be fully withdrawn to expand alfresco living space; a pillow menu with feather and synthetic options; and welcome s'mores kits.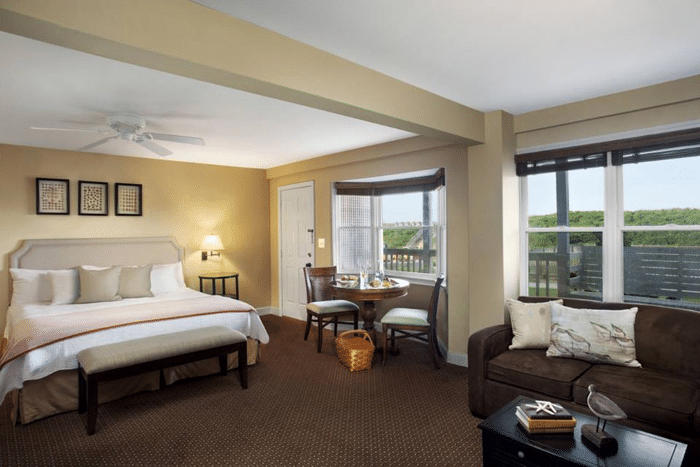 • Fresh Culinary Perspective – A renewed energy and focus on the resorts culinary approach is evidenced with fresh leadership and a commitment to partnering with local artisans and farmers who have perfected their craft.
New menus in casual dining restaurant, Lifesaving Station are seasonally fueled and explore the lighter side of Southern fare with healthy twists on classic flavors that include North Carolina Shrimp Ceviche, Coastal Cioppino and Carolina Farro Risotto with Summer Vegetables and Wild Mushrooms.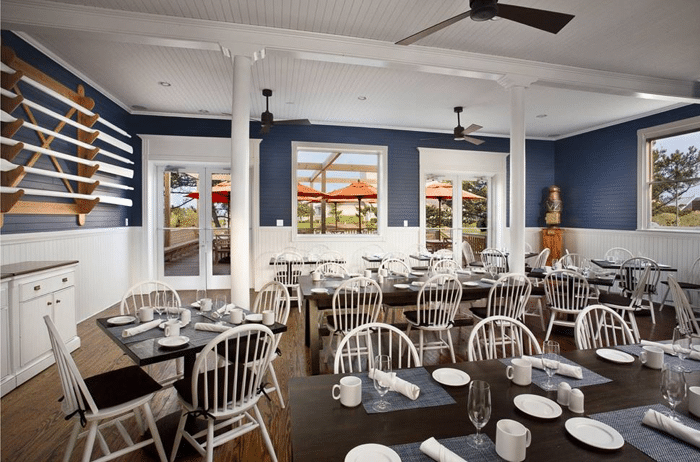 In fine dining room Kimball's Kitchen, Chef de Cuisine Dan Grunbeck will premier an array of specialty OBX infused items he personally crafted during the winter season that include house-aged charcuterie; gourmet cheeses such as salt water mozzarella made with sea salt sourced from the Atlantic and house made smoked tomato jam. His elevated approach to Southern comfort flavors shines through Shrimp and Grits with Bourbon Glazed Shrimp, Pimento Grit Cake, House Cured Lardons, Seasonal Melon and Berries and Fennel Slaw; Grilled Local Ahi Tuna with Heirloom Carrot Puree, Sea Beans, Coconut Carolina Rice and Muddled Benne Seed; and a Watermelon and Honeydew Salad that features Ricotta Salata and Lomo Crisp, house made this winter.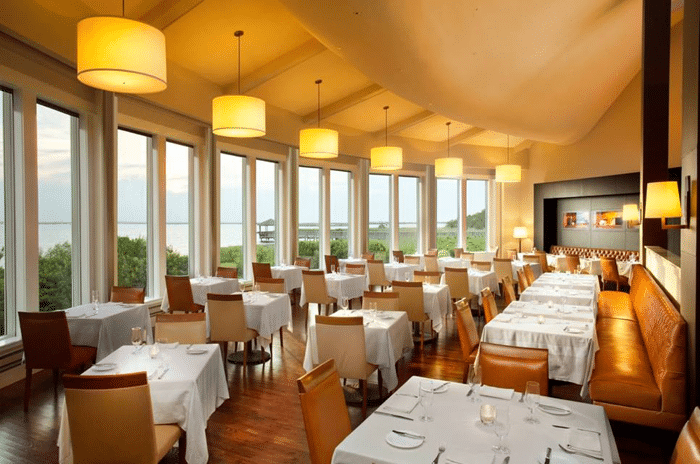 • Welcoming Social Settings – Reflective of the current Carolina micro distillery craze, the resort will debut a series of culinary craft cocktails that showcase the resorts mixology expertise and the areas trend-leading small batch distilleries, with spirits such as sweet potato and green pepper distilled vodkas. Culinary craft cocktails can be ordered in the No. 5 Bar & Lounge, Kimball's Kitchen and at the Beach House Bar. Located on the main floor of the Beach House building, the Beach House Bar is a new social and small bites setting with inventive cocktails, interesting wines, craft beers and late night coffee drinks. Surrounded by cozy nooks set for conversation or rousing games of checkers, and positioned just ahead of a sweeping outdoor deck, the Beach House Bar is a bustling yet relaxed setting reminiscent of a family living room.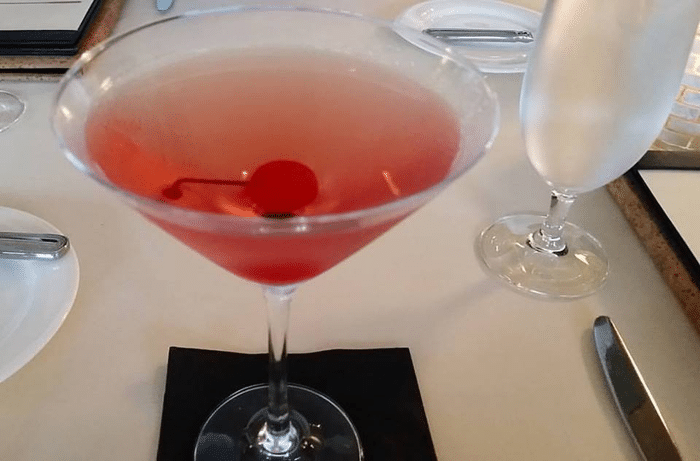 Steps from the Beach House Bar on a sprawling, sun-splashed deck is the newly expanded Sandbar. This casual, dune front restaurant features refreshing cocktails, frozen concoctions, smoothies and a menu of fresh beach-eats with salads, burgers, veggie burgers, fish tacos and more. More than a coastal dining outpost, Sandbar is a sparkling alfresco gathering space from day to evening with flat screen televisions and an oversized fire pit outfitted for lingering with comfortable cushions, live musical entertainment and gooey s'mores kits.
• Kitty Hawk Kites Pop-Up Unlocks Endless OBX Adventure – An array of sun-splashed and star-lit options for exploring the natural playground of the Outer Banks are available through an on-site Kitty Hawk Kites pop-up location. The leader in Outer Banks recreation, the Sanderling outpost offers active pursuits including: standup paddleboard yoga; surfing; kiteboarding; jet packing; hang gliding and wakeboarding. Quintessential Outer Banks excursions include sunset kayak tours through the salt marsh islands and flat waters of the Currituck Sound; pontoon tours through scenic canals and historic hunting areas to Sanctuary Vineyards for guided tastings from the local vintner; and exclusive four wheel drive access to the preserved dune side sanctuary for the legendary Wild Horses of Corolla. A fleet of signature orange Sanderling beach cruisers are available to guests for two wheel exploration of the charming town of Duck.
• Naturally Inspired Spa Therapies – Furthering the "shore to door" concept of spa experiences reflective of the Outer Banks, the Spa at Sanderling offers luxurious therapies such as the Island Oasis, which envelops guests in the relaxing spirit of the region as two therapists work in tandem to perform a customized Sanderling facial and reflexology massage. This summer guests can enjoy Sanderling long after returning home with an expanded line of Sanderling spa products available for purchase, now including nourishing face and body creams and scrubs infused with ingredients indigenous to the Outer Banks.
About Sanderling Resort
Sanderling Resort, the only AAA Four Diamond resort on the Outer Banks of Duck, NC, has beckoned families and couples to its picturesque shores for generations. In 2016, the property showcased the completion of a multi-phase, transformative renovation project, revealing a fully enhanced resort experience with stunning new guestroom design, culinary team and programming with a distinct sense of place. Sprawled across 13 acres between the Atlantic Ocean and the serene Currituck Sound, Sanderling boasts 120 guest rooms and suites in addition to five rental homes. Amenities include two dune-side pools, oversized fire pits and the award-winning Spa at Sanderling. Dining options include the Beach House Lobby Bar; the AAA Four-Diamond Kimball's Kitchen for local, sustainable fare, Lifesaving Station and No. 5 Bar for a casual dining experience with elevated twists on Carolina comfort flavors; and the Sandbar's outdoor deck for poolside refreshments. For brides and meeting planners, Sanderling features more than 12,000 square feet of updated indoor and outdoor event space, offering a venue to suit every taste. For more information, please visit www.sanderling-resort.com or call (877) 650-4812.
Release | Comp