Hendersonville – When Nichole and I get together for dinner, it's typically so we can talk about a project we're planning, working on, or wrapping up.
This time, we thought we'd meet up for dinner at Never Blue, just for fun and good food.
We decided to share a Beet Salad ($7.25). It's listed on the menu as "Beets" and described as "a light bed of baby arugula topped with brown sugar-malbec caramelized beets, fresh chevre, chopped marcona almonds, and balsamic reduction." And it's a huge portion. The photo is a little dark, but if you like beets, you must try this dish.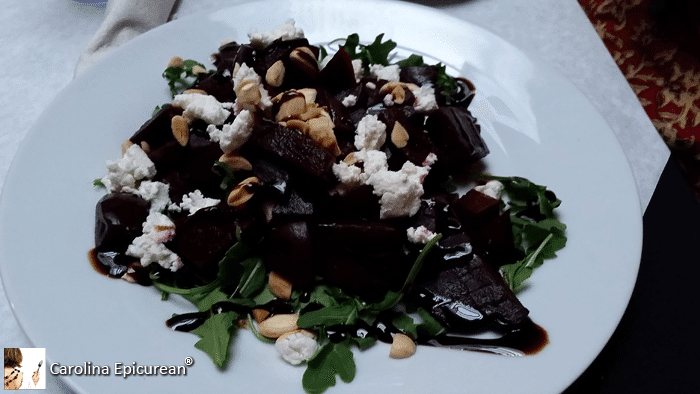 Co-owner/Chef Jesse Roque stepped out of the kitchen for a few minutes to talk to us about her new menu, still in the works at that time but set to go live any day now – maybe tomorrow Wednesday the 11th, and some recent ingredient changes.
One of those ingredient changes was beef cheeks instead of chuck roast in her Pot Roast. She got my attention describing the cheeks as way more tender than the chuck roast she'd always used, because I'd had her pot roast many times and the meat was incredibly tender.
So even though I wasn't super hungry, I went ahead and ordered it, knowing full well most would go home with me. Yes. Everything on the plate, including the beef cheeks, was fabulous.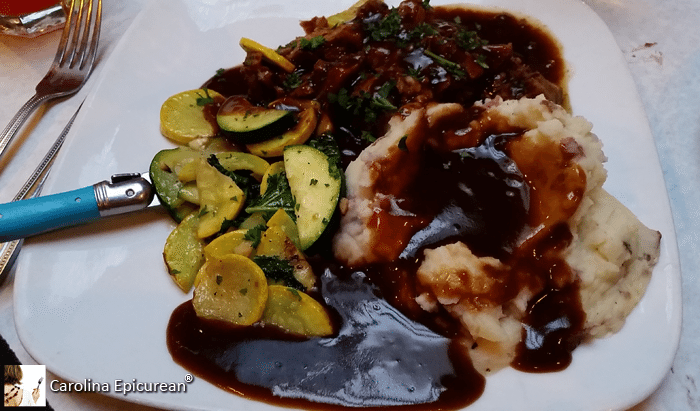 Here's where it got interesting. Very interesting. We got a sneak peek at the new menu; new format, new dishes, and an "Adventurous Tacos" section. See some of the tentative new menu items at the end of this post.
Along with organ meat dishes, Jesse was pretty excited about including a popular taco sold by street vendors in Mexico. It just so happened all ingredients, including crickets – aka "Chapulines" – were on hand. So of course Nichole and I had to try it.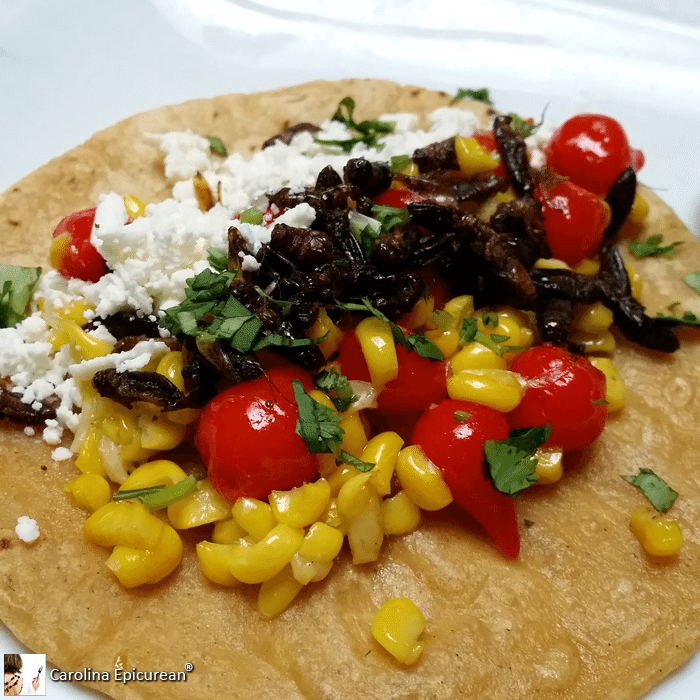 Nichole tried Chapulines and I did, too!
I had my back to the kitchen door so didn't see the crew gather to watch Nichole's reaction. This was the first time anyone in the restaurant had tried Chapulines, so it was something of an event.
Honestly, the crickets added "crunch" but not a stand-out flavor. I'm thinking a more subtle flavor from the roasted crickets blended with the sauteed corn, sweety drops – the little red peppers imported from France – and queso fresco, creating a surprisingly delicious taco.
We decided the best thing to do following the Chapulines episode was to share one of Never Blue's huge and always delicious desserts, Creme Brûlée.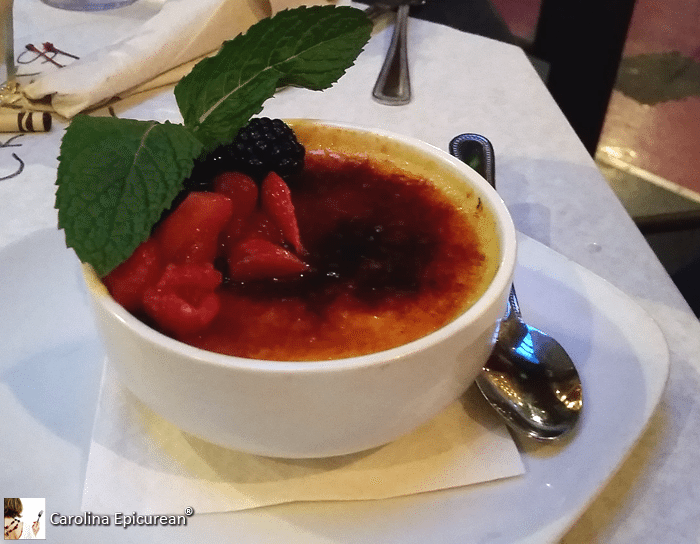 That would have been more than enough for both of us after dinner and the added adventure, but then a most fabulous Peach Bread Pudding appeared at our table. Thanks for the tasty surprise, Jesse! Don't know how you got it to taste like fresh peaches, but you did.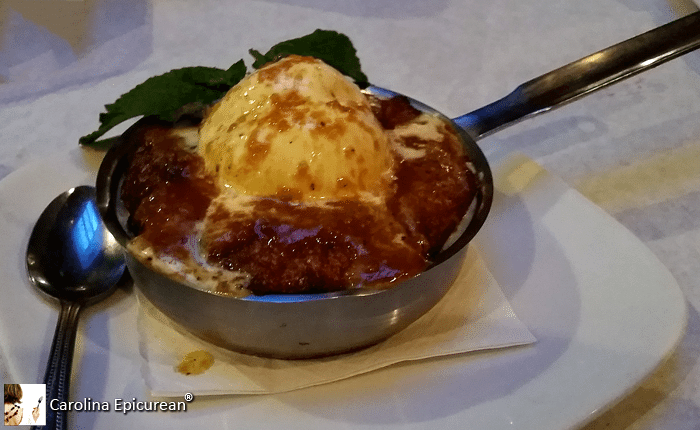 Tentative New Menu Items
Tuscan Lover: grilled chicken, artichoke hearts, capers, organic spinach, sun-dried tomatoes, asaigo-parmesan cream sauce, angel hair pasta
Boom Boom: apricot bbq sauce, grilled chicken, cheddar cheese, scallions, and chipotle ranchero
Low Country Ribeye: 16oz hand cut prime ribeye, smoked gouda-sour cream grits, forest mushroom-malbec demi glace
Vampiro (house-made flat bread): madeira onion jam, carred rapini malbec-beet cured garlic cloves, goat cheese ricotta, shaved parmesan
Tripa: crispy beef intestine, house-made green tomatillo salsa
So many completely luscious new dishes. I'm looking forward to trying most of them.
Never Blue
119 S Main St
Hendersonville, NC 28792
Phone:(828) 693-4646