A series of fun beach towns and quaint villages on a long stretch of narrow land and islands, including over 100 miles of beach, on the eastern coast of North Carolina are known as the Outer Banks – OBX for short.
A favorite vacation destination, it's not too late to book a beach rental this summer. And whether you're new to the OBX or been year after year, there's something budget friendly here for you.
Beach Time
4-Wheeling
Driving on the beach is a fun new experience for many people. Even if you've done it before, it's a great way to check out the Cape Hatteras shoreline. An off-road permit is required and can be purchased here. You can get a a 7-day Permit ($50, valid for 7 consecutive days) or an Annual Pass ($120, valid for the calendar year). Click here for beach driving guidelines and rules.

Beachcombing (aka Shelling)
Shells and other treasures that have been tumbled in the sea wash up on the beaches throughout the Outer Banks. When my children were young, we'd bring egg cartons along for storing small found treasures. Here's a cool site that tells you what types of shells you can expect to find, the best OBX shelling beaches, and tips & tricks.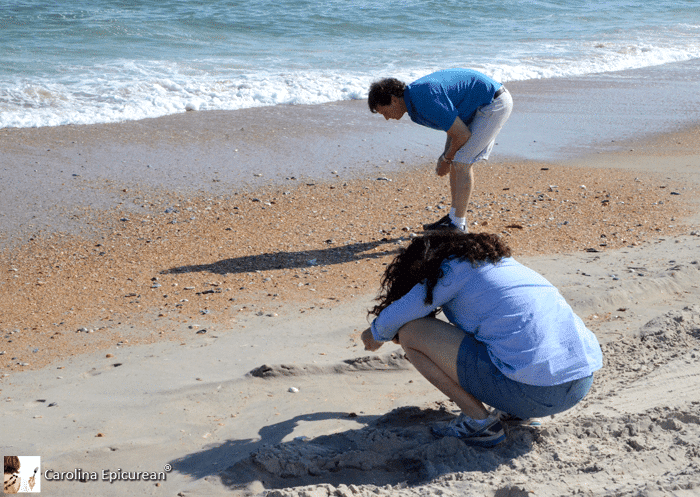 Camping
Everything from campgrounds with pads for RVs and tents, to camping on the beach, a jetty, and tent-only camping areas is available in the OBX. Get all the details here.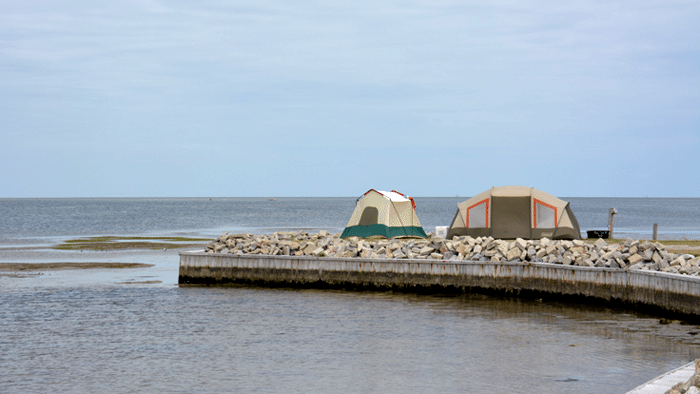 Fishing
Disclaimer – It looks like fun, but I do not fish. I don't like putting bait on a hook. I don't like taking a hook out of a fishes mouth. That said, I can point you to two excellent resources on OBX fishing: Outer Banks Fishing (types of fishing and which fish run when) and information on licenses and permits – Coastal Recreational Fishing Licenses and Permits.

Fires on the Beach
Get the hot dogs and S'mores ready! Fires are allowed on the beach, but a FREE permit is required. There are some location-date-time-age restrictions. See information on Beach Fires here.
Horseback Riding
Equine Adventures, located in Frisco on Hatteras Island, does a great job with all skill level riders. They "offer a two hour guided tour to the beach! It is approximately 45 minutes through the North Carolina Coastal Reserve and the Maritime Forest out to the beach. . . ride along the ocean for 30 minutes. Then it is 45 minutes back through the woods to the barn. . . see a variety of wildlife depending on the time of year."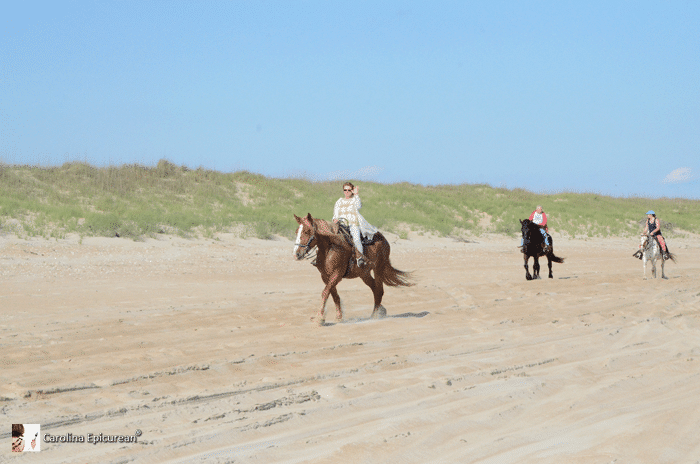 Kill Devil Hills
Wright Brothers National Memorial
Both my brothers are pilots and I even have a few pilot hours logged, so standing where the Wright brothers first flew was pretty inspiring. A reconstructed 1903 camp building like the one in which the Wright's lived and worked, markers at the spots where liftoffs occurred, a large monument, and a sculpture of the Wright's plane are on property. You can climb up on the plane sculpture for fun pictures. Enter the Visitor Center to see displays, presentations by park rangers, and a scale reproduction of the Wright's plane. More information on the Memorial here. Tickets: Adult (16 and older) $7, Children (15 and younger) FREE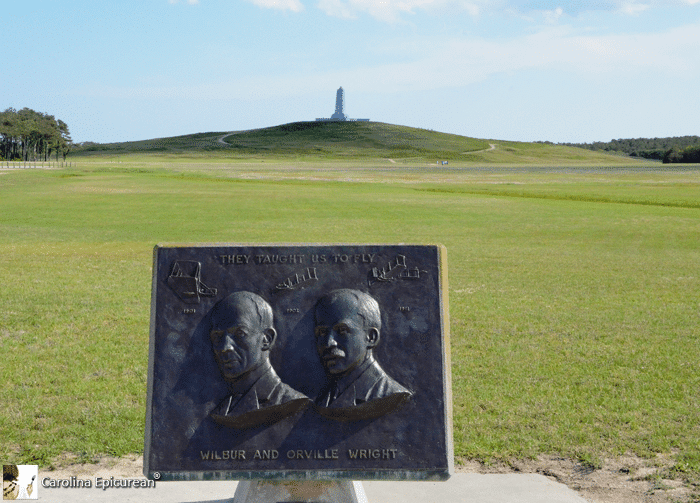 Nags Head
Jockey's Ridge State Park
"The tallest living sand dune on the Atlantic coast is a premier location for kites, sightseeing and sunsets, with a view arcing from the ocean to Roanoke Sound. A visitor center with museum and 360-foot boardwalk with exhibits explain the dune's ecology and are a gradual entry to the massive dune field. Sandboarding is welcome with permit and hang-gliding is available through a vendor. Shoes and sun protection are recommended. By calling ahead 24-hours in advance, it's possible for mobility-impaired visitors to schedule a ride in our all-terrain-vehicle to the top of the dunes. The sound-side access of the park is a different experience offering sunbathing, wading, paddling and a one-mile nature trail that opens onto wetlands, grassy dunes and maritime thickets." Follow this link for everything you need to know about Jockey's Ridge State Park.

Seaside Art Gallery
Seaside Art Gallery just wrapped up the 25th International Miniature Art Show held each year. Luckily, all the miniatures were on display when our group looked through the gallery. Amazing what artists can create on tiny canvases. There are 12 rooms of great art to wander through. Watch the video below to learn about this oldest gallery in the Outer Banks and the largest privately owned gallery in the Southeast.

Rodanthe
Chicamacomico Life-Saving Station Historic Site and Museum
The birthplace of today's Coast Guard, the Rodanthe main building houses a museum and small gift shop. Two stations and five out buildings are on the property, along with an old cistern and a couple old water tanks. It's is run by enthusiastic and very knowledgeable volunteers. The stories they tell of practicing amazing rescue techniques from back in the day, and famous historic rescues by surf boat (see one in the Station). Tickets: General Admission $8, Seniors (65+) & Students (per person) $7, and Youth (4-17) $6. Kids under 4 Free. More information on the Live-Saving Station here.

Pea Island National Wildlife Refuge and Visitor Center
This is a great FREE spot for adults and children alike. There's a "touch" box full of fun and interesting bits and pieces right outside the Visitor Center door. Inside is a wall of windows and high-power telescopes overlooking the Refuge. Ask for help spotting water birds and other sights with the telescopes if you can't find anything interesting. Then walk the boardwalk (look for turtles in the water) and trails, passing through a cool tree tunnel. There are usually volunteers on hand, many of them avid birders with lots of information to share. Across the road from the Visitor Center, walk over the sand toward the ocean and you'll see the wreck of the steamer ship Oriental poking out of the sea.

Waves
REAL Watersports
"Founded in 2001, REAL has become the number one kiteboarding and surfing shop, lesson center and destination in the world."
Looking for an adrenaline rush? REAL Watersports is the real deal for kids and adults. They offer kiteboarding camps and lessons from pros – prices vary. Also on site is Watermen's Retreat (below left) with 14 luxury condos available for rent, and Watermen's Bar & Grill, serving up great food and views. More on the food at Watermen's Bar & Grill in a future article about dining in the OBX.
Roanoke Island
Manteo
Manteo – Visit this quaint waterfront town
Located on Shallowbag Bay, slow down and wander the waterfront marina. Be sure to stroll the boardwalk that links the marina to a nice playground, picnic areas, the George Washington Creef Boathouse, and the Roanoke Marshes Lighthouse. Don't miss the FREE Maritime Museum next to the marina. A lovely building looking like it's been there far longer than it has, it's "a working boat shop where volunteers and staff take on projects including small craft restoration, exhibit design, and new boat construction." Read more about Manteo.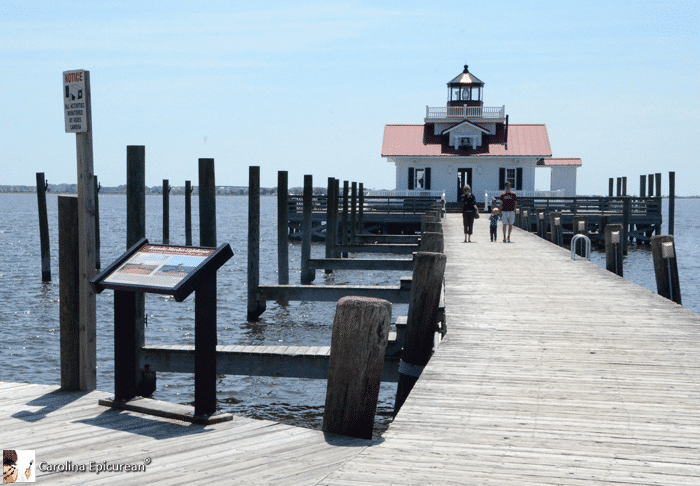 Elizabethan Gardens, The
Stroll through this Elizabethan pleasure garden, located next to (easy walk) The Lost Colony site, on shaded paths, admiring a variety of garden areas/types, statues, and plants. Be sure to peruse the Gatehouse gift shop, which is full of garden-related items. Admission prices are: Adults (18+ years): $9 +tax; Youth (6-17 years): $6 +tax; Children (under five): $2 +tax; Pet Admission (one pet per owner): $3 (see our dog policy) Read the interesting history of The Elizabethan Gardens here.

Fort Raleigh National Historic Site
"Fort Raleigh National Historic Site protects and preserves known portions of England's first New World settlements from 1584 to 1590. This site also preserves the cultural heritage of the Native Americans, European Americans and African Americans who have lived on Roanoke Island." Think outdoor explore; trails, monuments, and the earthwork. When you're ready for a break from the heat on warm days, step into the Visitor Center. Also on site is the famous Waterside Theatre where the history of the first English colonies in North America on Roanoke Island, North Carolina are commemorated through a symphonic outdoor drama, The Lost Colony, and various educational events and programs. Of note: "The Lost Colony is the nation's premier and longest-running symphonic drama." See all the things to do at Ft. Raleigh here.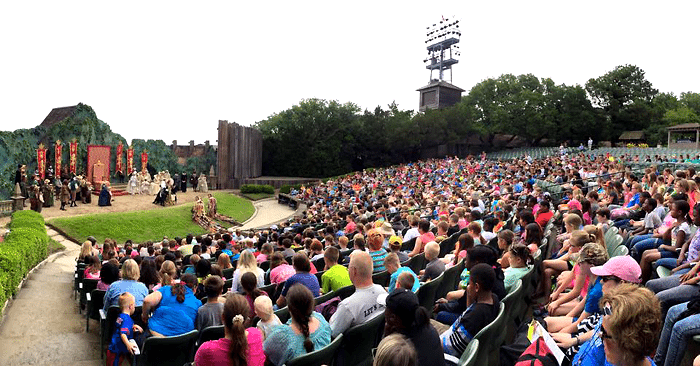 Outer Banks Distilling
Recently opened, Outer Banks Distilling has already developed a reputation for quality with the release of their Kill Devil Rum. "From Molasses to Glasses" is their slogan. I tasted the molasses they use and it's delicious by itself. Of note: they use pecans grown right on their property to make their Rum with Pecans and Honey. Also delicious! Distillery tours are available Tuesday – Saturday at 1pm and 3pm. Tours are $5 and you must be 21 or older. Call 252-423-3011 Tuesday – Saturday 9am – 5pm to reserve your tour time. Their Rum can be purchased at the Distillery and in many NC ABC stores. Outer Banks Distilling Website

Wanchese
OBX Crabbing & Shrimping Charter with Captain Marc
Let me begin by saying that Captain Marc is a seaman with heart. Weather adult or child, he takes the time to explain crabbing and shrimping, what it's like to fish for a living, and doesn't hesitate to slow the boat down or change course to follow dolphins. He'll let everyone in your party who wants to, hook and reel in crab cages – either by hand or by the mechanical wheel on board, and re-bait the cage. Spending time on the water – 2 hours for $300 per party or 4 hours for $475 per party – is totally worth it. If you have young children, I'd recommend the 2 hour charter. Details are here.

Hatteras Island
Buxton
Cape Hatteras Lighthouse
Incredibly, the Cape Hatteras Lighthouse was built with bricks. Take a close look at the outside before going in. Can you imagine the laborers laying brick after brick in ever-narrowing circles? With no elevator, no air conditioning, and 257 steps to the top, climbing the Cape Hatteras Lighthouse is a MUST DO. It's equivalent to climbing a 12 story building on narrow stairs with a handrail on one side, two way traffic, and a landing every 31 steps. Step out onto the observation deck for an incredible 360 degree view. Climbing tickets are $8 for adults and $4 for senior citizens (62 or older), children (11 and under, and at least 42″ tall), and the disabled. Get more information on Lighthouse and the Light Station history, both in the Cape Hatteras National Seashore here. Details on the climb can be found here.

Even though this list of Budget-friendly things to do in the OBX is pretty thorough, it doesn't cover everything. And don't forget to leave time for swimming and plain old hanging out at the beach. For all kinds of OBX information, visit The Outer Banks of North Carolina.