Chapel Hill, NC – Situated behind the pulsing traffic of one of Chapel Hill and Durham's busiest roads 15-501, Boheme is an unconventional oasis offering diners an expression of flavors, art and hospitality. The inventive concept brings to life the historic Black House at Straw Valley that was built in the 1960s, introducing it to a fresh generation with an ingredient-driven menu and tranquil landscape.
"Many years ago, I had the great pleasure of visiting the residence of artists Ormond Sanderson and Robert Black. I was overcome with the Zen space representing the intersection of art and daily life," muses Bakatsias. "My passion for discovering beautiful places and sharing those experiences with the community has led me to this secret garden once again."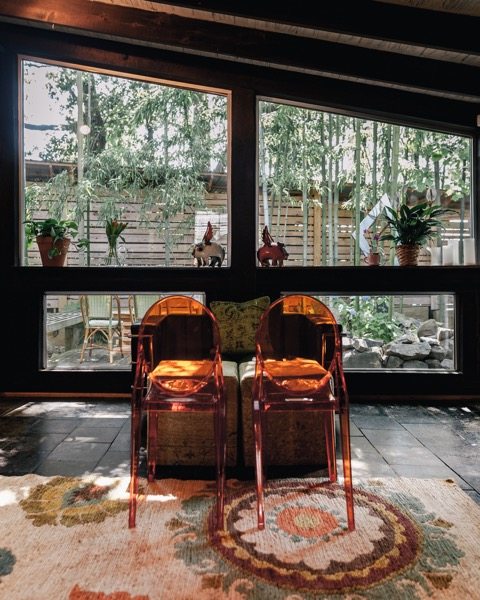 Epicurean Note: After "discovering" Straw Valley in May of 2014, I referred to the compound as a Fantasy Island. If you're anywhere in the area, stop in and prepare to be impressed. I haven't been to Boheme yet, but have been to other restaurants owned by this same group. If Boheme is anything like the others, expect to be impressed.
Art, nature and creativity are at the core of the Boheme concept, which officially opens Tuesday, May 31. Upon entering the unassuming wooden gate, guests are immediately taken by the lush garden and midcentury modern architecture. Exploring Boheme is a sensual adventure, in which every turn unveils another intimate vignette and beautiful work of art. From the cozy entrance bar and inviting dining rooms, to lush flowers on the patio and the romantic bamboo garden, the space continues to enchant guests through a variety of unique experiences.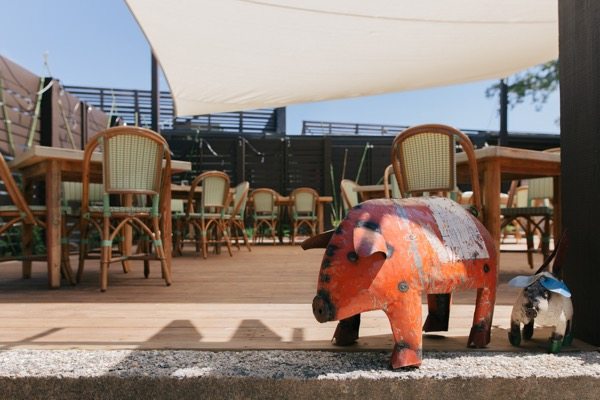 Much more than a visual adventure, the culinary experience is equally as intriguing. Inspired by local ingredients and seasonal flavors, renowned Chef William D'Auvray with Chef Chelsea Mock have designed a menu that reflects the fresh bounty of North Carolina's offerings from farm raised vegetables, to local meat and East Coast fish.
"Staying true to the design of the property, we reimagined midcentury ideas about food and added a modern, whimsical approach to our preparation," explains Chef D'Auvray of the cuisine at Boheme. The menu specialties include snapper crude with sweet lime, bird chili, coriander and charred corn; forbidden rice with fermented tofu, fried ginger, shallot and Siam basil; beef tongue, Milanese anchovy and farm egg; and trigger fish with heirloom carrots, Visalia soubise, and ginger.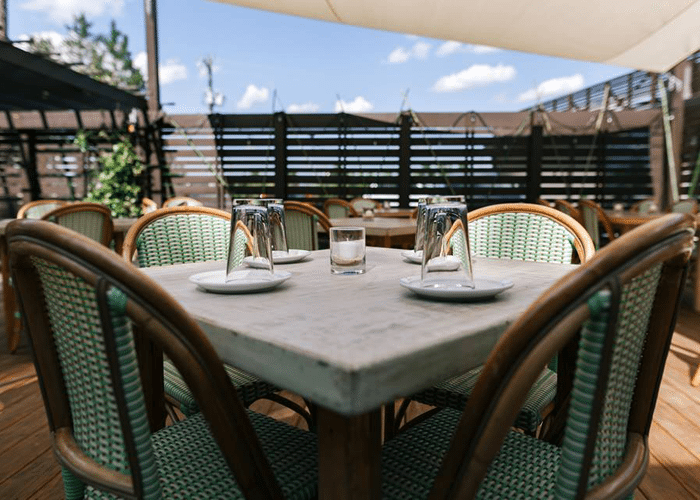 The restaurant is only the beginning of the cultural experience taking shape at Boheme. The "Boheme Bazaar" will open in July fusing art, music, artisans, flavors and farmers in a celebration of life and culture. Additionally, a whisky lounge is to be unveiled over the summer. Details on both concepts to follow.
The restaurant will be open Tuesday – Sunday for dinner and Saturday and Sunday for brunch.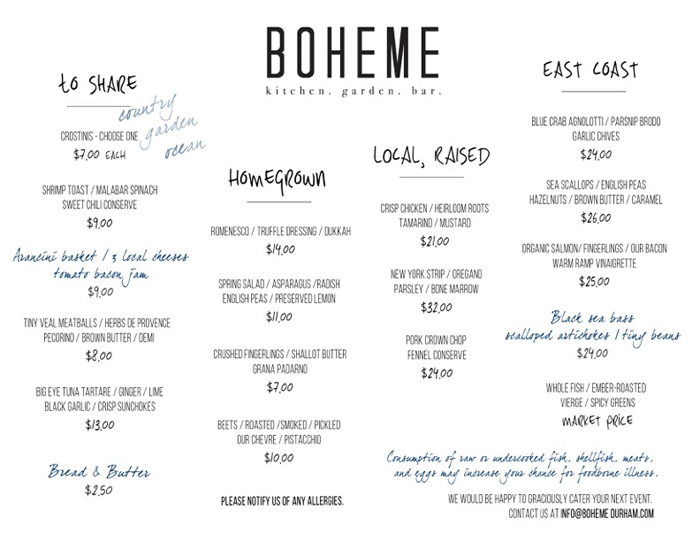 About Giorgios Hospitality Group
Giorgios Hospitality Group (GHG) has been a landmark in the triangle for over 25 years with it's many award winning restaurants. Currently, GHG owns and operates fourteen restaurants in North Carolina including Bin Fifty-Four, City Kitchen, Farm Table, Gatehouse Tavern, Georges Brasserie, Golden Fleece Slow Earth Kitchen, Kid Cashew, Kipos Greek Taverna, Local 22, Nasher Cafe, Parizade, Village Burgers and Vin Rouge. For more information, please visit www.giorgiosgroup.com
Boheme
4612 Durham Chapel Hill Blvd
Durham, NC 27707
Release