This was a milestone birthday for me, so the celebration stretched over a few days.
My sisters and husband celebrated with me over dinner at Chestnut. Then a few days later, my husband and I celebrated again, just the two of us, at Isa's Bistro.
Their dinner menu isn't huge and it's about half Small Plates and Snacks. The intimate evening called for cocktails and sharing of small plates as we talked about our life together over the last 30-some years and what the future might hold.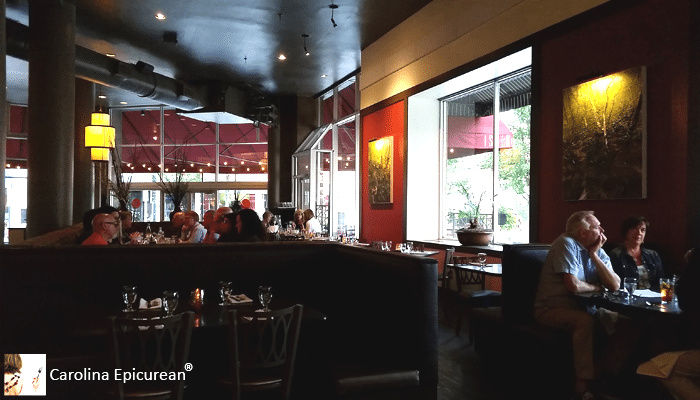 Our plates came out of the kitchen as they were ready, tapas-style dining. Mixing and matching was part of the fun.
These Castelvetrano Olives ($5) were a first for me tonight. They looked like mini Granny Smith apples, were slightly crunchy, and had a distinct taste of clove after a light brine. They are my new favorite olive.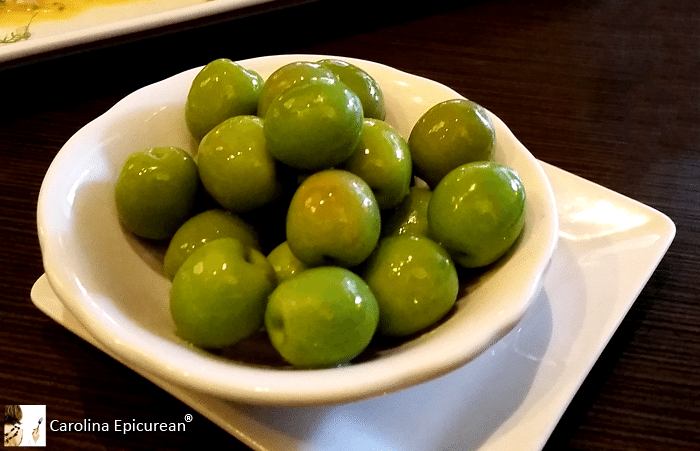 French Onion soup is great in the winter when you want a strong, hot, hearty bowl of bread, cheese and soup. Isa's lighter version, Vidalia Onion Bisque ($7) is perfect for warmer weather. Served hot, but as a light bisque, it was topped with "yellow corn crunchies" and roasted mushrooms. Our server was great through the entire meal. She was attentive and efficient, with no sideways glances when we asked her to bring us two spoons.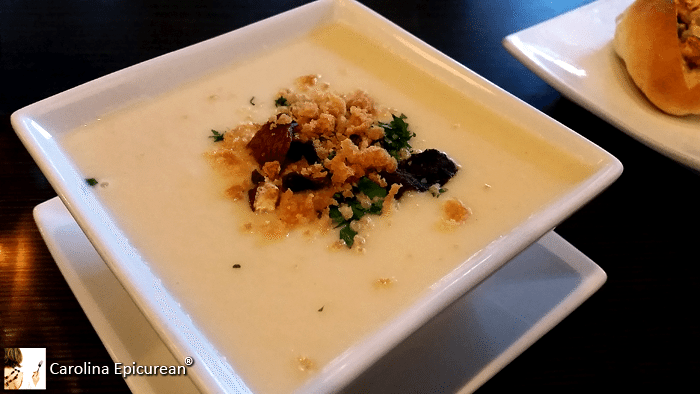 On the menu as "Spring Asparagus" ($11), I was surprised and pleased with this presentation. Thinly sliced saffron poached fingerling potatoes, hard-boiled quail eggs, Parmesan, and a scattering of dainty greens were tossed, along with the asparagus, in a light truffle vinaigrette. The flavor was terrific, but – and this may be a personal thing – although I like asparagus al dente, these tiny spears could have been cooked just a tad longer.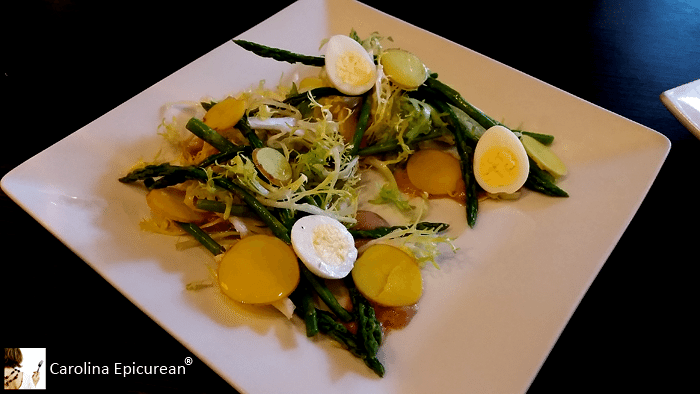 Executive Chef Duane Fernandes has designed a lovely Roasted Baby Beets ($11) plate. Toasted farrow anchors alternating baby beet varieties, topped with sugar snap peas, shaved Parmesan cheese and scattered marcona almonds, and baby arugula. A light citrus vinaigrette pulls it all together.
I wasn't too interested in the baby arugula – a little to much like a vine for my taste. Other than that, everything else on the plate had great flavor and a nice mix of texture from tender-firm to crisp.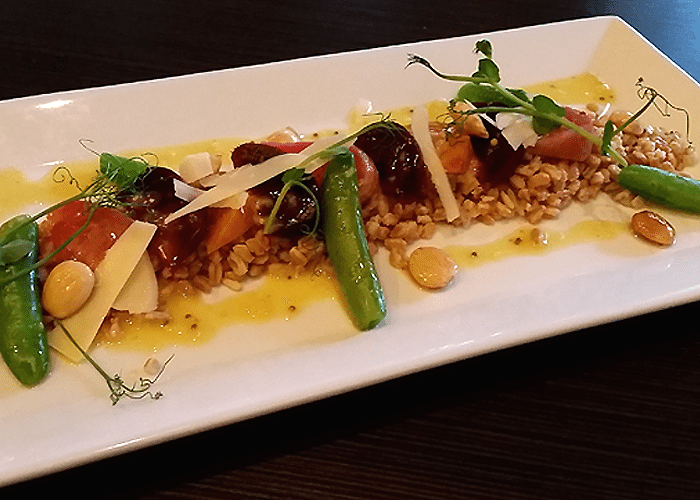 Our last dish was Louisiana "Lobster" Roll ($12). As we ordered this, we asked our server to cut it in half. That's when we learned it would be served on two rolls. Happily the house-made yeast buns were soft and easy to bite through. It was easy to keep the filling from spilling out, also.
I'm not sure why the word Lobster is in quotation marks, unless it means there isn't lobster in the roll? We didn't ask, but I'm thinking it might have been more crawfish, as named an ingredient on the menu, than lobster? A tasty tarragon aioli holds the mixture together.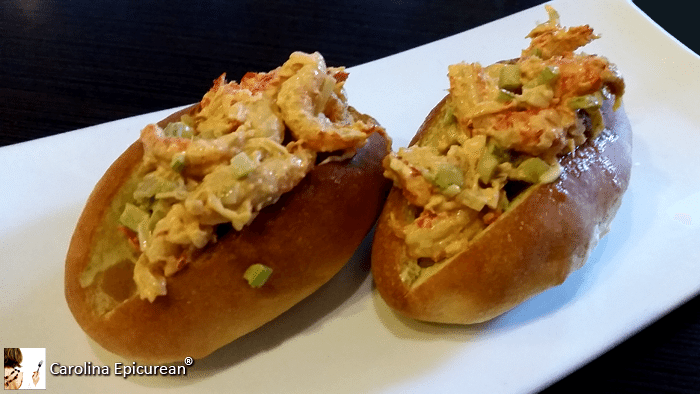 Chef Fernandes is a comparative unknown (by the public) culinary star that doesn't get a lot of coverage. Why? Now, this is my own opinion, unsupported by any hard facts, but I think it's because he doesn't actively cultivate a following – asking diners to vote for him as a James Beard Award winner on social media, for instance. And I'm guessing neither he nor Isa's Bistro owners have a publicist or public relations company working to build and maintain media buzz. If they do, they're not doing a very good job. Fernandes seems to be happy creating some of the best food in Asheville in Isa's basement kitchen without fanfare.
Located right in the heart of downtown, where two popular streets walked by many intersect, Isa's patio is a great spot for taking in Asheville's bohemian vibe.
Isa's Bistro
1 Battery Park Ave
Asheville, NC 28801
Phone:(828) 575-9636