Nags Head, NC – Hey everyone, I wanted to tell you about a great place you should try next time you're in the Outer Banks – Owens' Restaurant.
It's an honest to goodness, fancy family restaurant, opened by Bob & Clara Owens in 1946 at 7114 S Virginia Dare Trail, Nags Head. It's still there, "owned and operated by the founding family". Currently, Clara "Peaches" Woodard is front and center, running things and representing the family. After meeting Peaches, her husband, servers, and chefs, I was impressed with how genuine and welcoming they all were. It's hard to fake genuine.
Speaking of family, I was THRILLED to see my Dad's lamps on all the tables! Earlier in the day, I'd gotten a little glimpse of what looked like a Mason (my maiden name) Candlelight on the Owens' Restaurant website and couldn't wait to check it out at dinner that night.
To say I was thrilled at seeing lamps I may have helped make as a kid using metal punching machines at Dad's factory is an understatement. At one time, Mason Candlelights were in top restaurants across the country. These days, his lamps are mostly sold in antique stores and on eBay as "vintage". Also these days, many of the lamps have been converted to oil because dripless candles (invented by Dad and a chemist partner) that fit the core spring-loaded candle cartridge (also invented by Dad) are not readily available.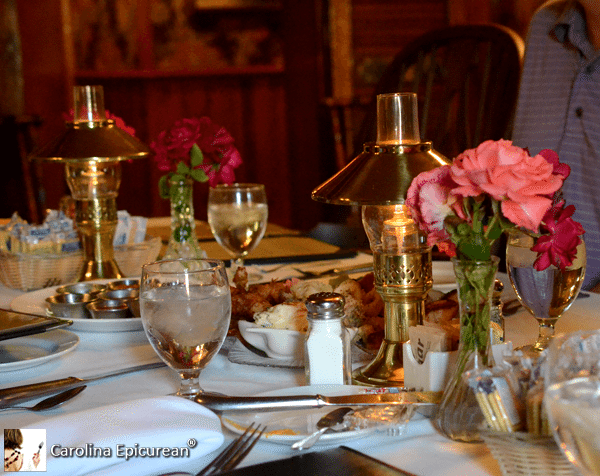 It turns out that Peaches' grandmother is from Bath, NC. The same place Dad and many generations of his people called home. And, if I remember correctly, Peaches' husband is the "polisher-in-chief", keeping these lamps looking beautiful. Seeing all these lamps in use was a treat I won't forget anytime soon!
We were a group of seven on a media trip exploring dining and activities in the Outer Banks. A whirlwind of food and drinks began as soon as we sat down, so I'm going to rely mostly on photos to tell the story of what you can expect at Owens' Restaurant.
As we waited for our drink order, a crock of cheese and assorted crackers arrived at our table. This was a devilish thing to do, considering what was to follow. We all tried to hold back so we wouldn't get too full, but you know how that goes . . .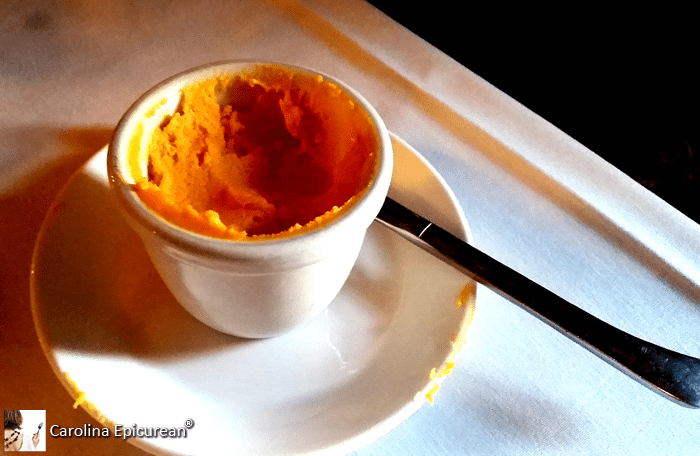 They put together two sampler trays for us that were un-be-lievable – one for each end of the table.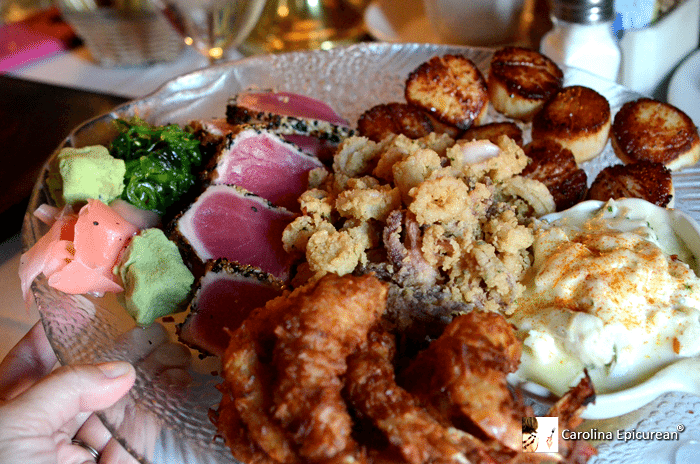 A seafood bonanza of shrimp, tuna, scallops, calamari, and more, along with dipping sauces for both ends of the table.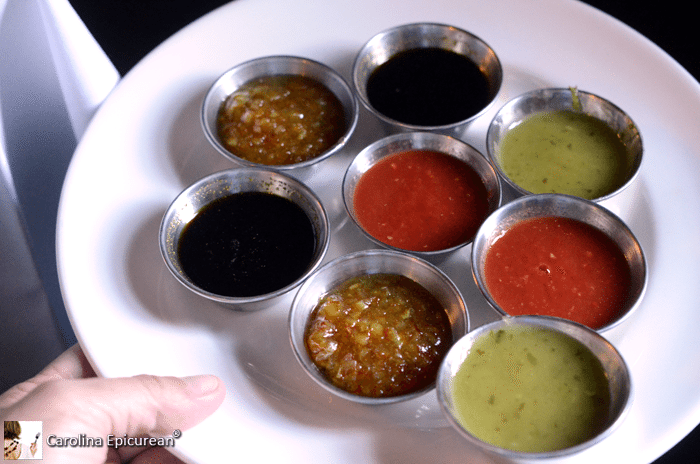 Owens' is known for cooking up fantastic, fresh seafood right off the boats, but their chef also knows what to do with a great steak.
Enjoy perusing the drool-worthy photos below. You might want to have a napkin handy.
Owens' is also known for their famous Hush Puppies, but if memory serves, these were this night's special, either shrimp or crab Hush Puppies.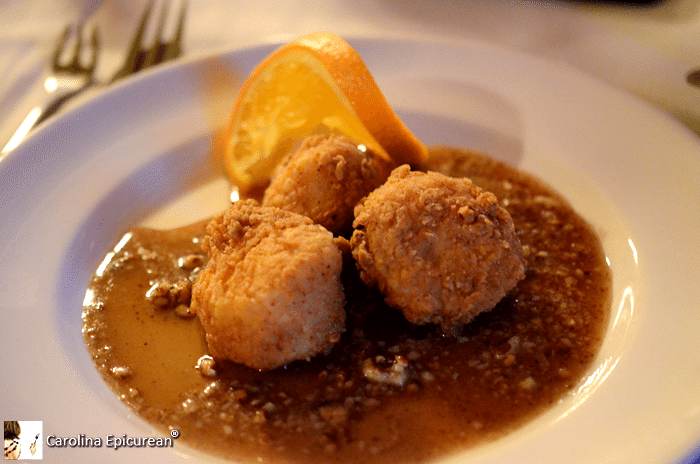 Carolina Shrimp and Grits, made with shrimp and Surry, VA Sausage sautéed with peppers, onions, garlic and herbs, over mascarpone grits.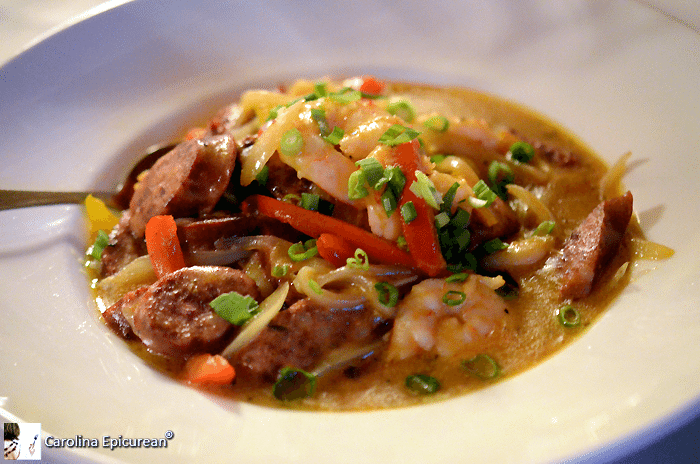 Prime Rib slowly roasted Prime Western aged beef, with horseradish sauce, and Seabreeze potatoes.
Wondering what Seabreeze potatoes are? They are an Owens' Restaurant original – mashed potatoes made with ranch dressing, cheddar and jack cheeses, butter, garlic, scallions and white pepper.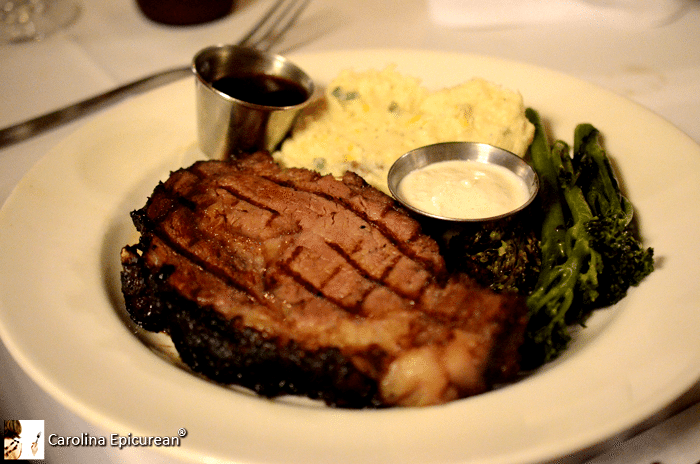 I think this was a Grilled Salmon special with peas, red onions, and sweet potatoes on a bed of arugula?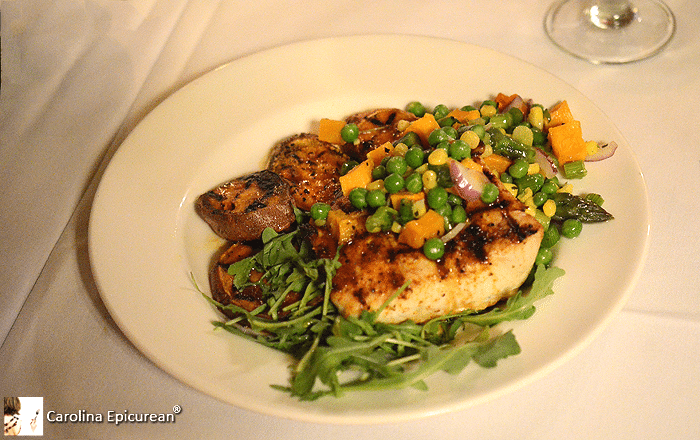 Surf and Turf: Filet Mignon paired with a lobster tail, drawn butter, and Seabreeze potatoes.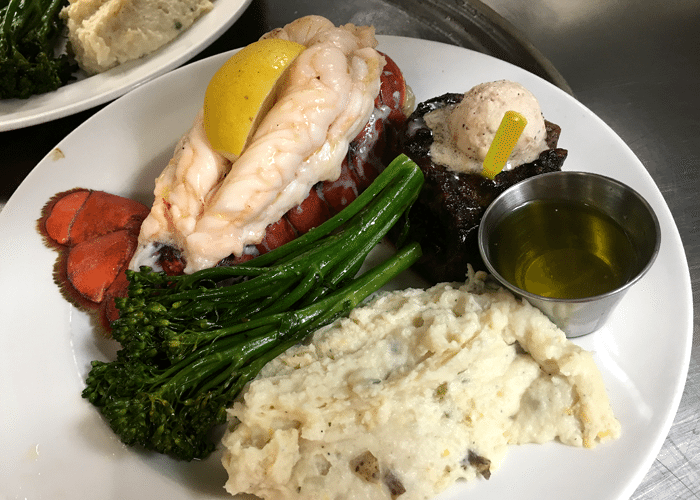 Okay, here it is. I have NO idea what the following dish was. I'm guessing it was another special. Perhaps chicken, but probably local fish. I DO remember there wasn't anything left on the plate by the end of the meal, so like everything else, cooked perfectly, delicious, and gone.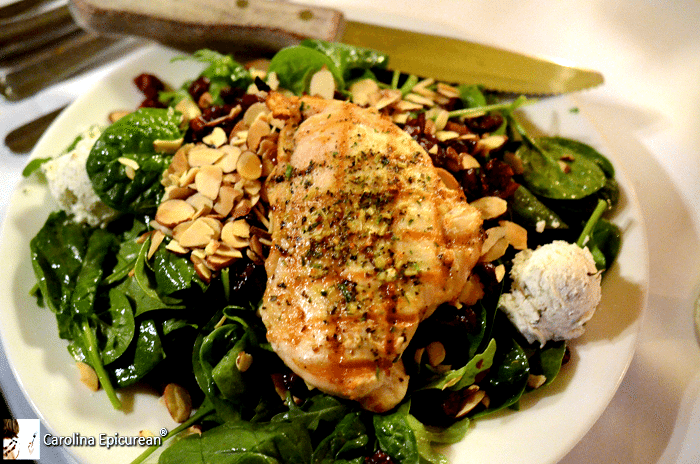 And last, but not least, Soft Shell Crabs with a garnish of Broccolini and green onion. There are two camps when it comes to soft shell crabs: love 'em or hate 'em. We were so fortunate to be on the Outer Banks during soft shell season for the folks in our group that are in the love 'em camp.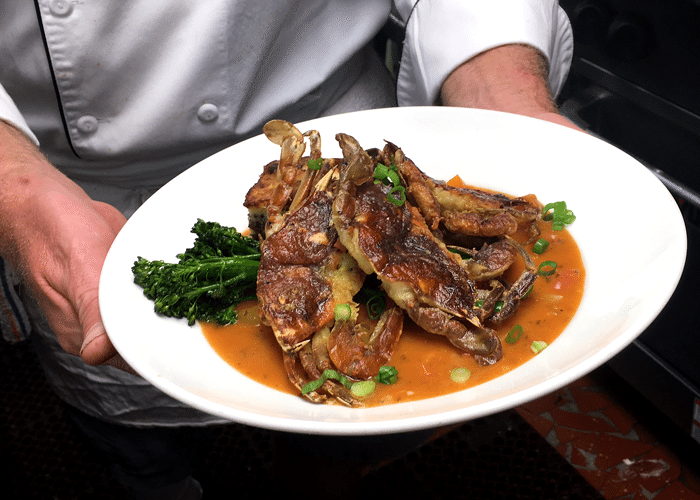 Here's Owen's full menu, but don't forget they offer specials on a regular basis.
I don't think they knew what they were in for when they invited us into the kitchen. Executive Chef Steve Bogus took one look and backed away, handing it over to Chef Andrew McCall. Lucky for us, he was a good sport about having 6 or 7 people pointing phones and cameras at him as he cooked while being barraged with questions.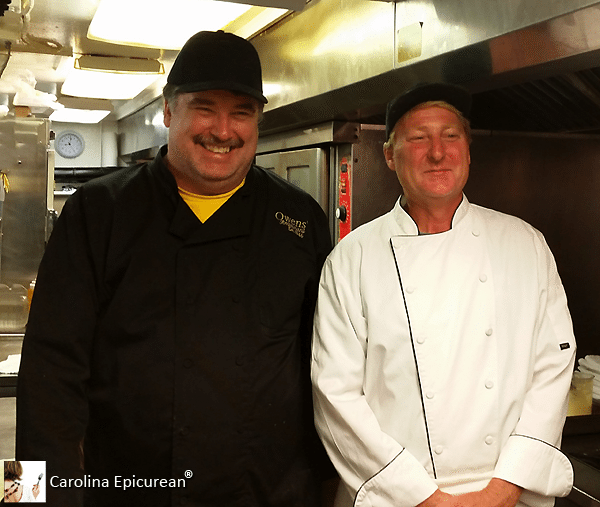 One of our group didn't come with us. He was on deadline for CBS Local Travel. So we picked up an order of Carolina Jambalaya to take back to him. It's made with shrimp, crawfish, sea scallops, Tasso ham, Andouille sausage, and white rice.
Owens' Restaurant
7114 S Virginia Dare Trail
Nags Head, NC 27959
Phone:(252) 441-7309