Asheville/Candler, NC – An easy fifteen minute drive west of downtown Asheville, grand dame Engadine Inn, of Engadine Inn and Cabins, has presided over comings and goings from her hillside vantage point since 1895.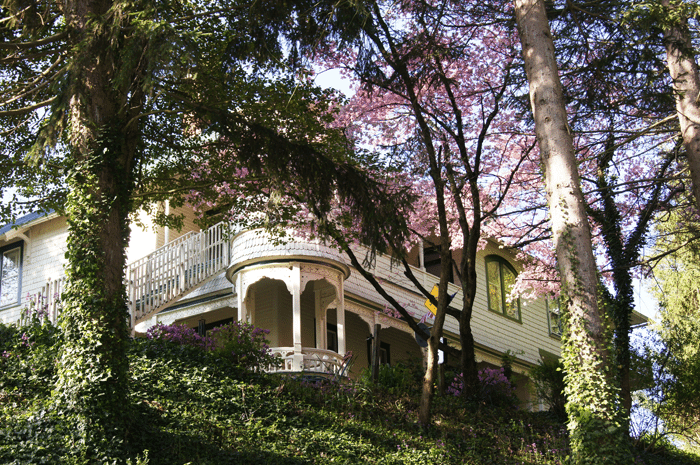 Engadine began life as private home to Captain John Keais Hoyt, "a former Confederate Officer in Company K, 3rd Alabama Infantry in Stonewall Jackson's Brigade", and his family. Captain Hoyt planted grapevines and became a successful vintner, selling his popular Engadine wine nationally as well as locally.
Sadly, during early prohibition, authorities came on to the property and destroyed barrels full of aging wine, bottled wine, and production equipment. Can't begin to imagine how the Hoyt family felt as they stood by helplessly watching a lifetime of work destroyed.
The good news is that one of Captain Hoyt's original grapevines still grows on the grounds. Perhaps one day, there may be Engadine wine available again?
Over the years, Engadine has been a summer home, full-time home, and beginning with a conversion in 1994, an Inn. See the full history of Engadine, including why the name "Engadine" here.
Engadine, the Inn, sits snug against a hill that acts as prow for the 12 acre compound known as Engadine Inn and Cabins. Six rental cabins have been placed strategically for optimal views on rolling hills behind the Inn.
As guests of Engadine, courtesy of Rick, Tom, and the Asheville Bed and Breakfast Association (ABBA), my husband and I paid particular attention to detail during our two night stay. The Inn's interior is gorgeous and kept very clean, as was our cabin. Full of fantastic woodwork and architectural touches like fabulous, carved hinges on room doors. Of course, the first thing I noticed, me being me, was their food-related Sanitation Rating of 100. Made me smile and anxious to see the kitchen.
Note: my cutoff for dining at Buncombe County restaurants is 92. If their Sanitation Rating is below 92, I turn around and go somewhere else. I qualify this with Bumcombe County because inspectors seem to be subjective by county. My cut off for Watauga County, for instance, is lower because health inspectors there give much lower ratings on average.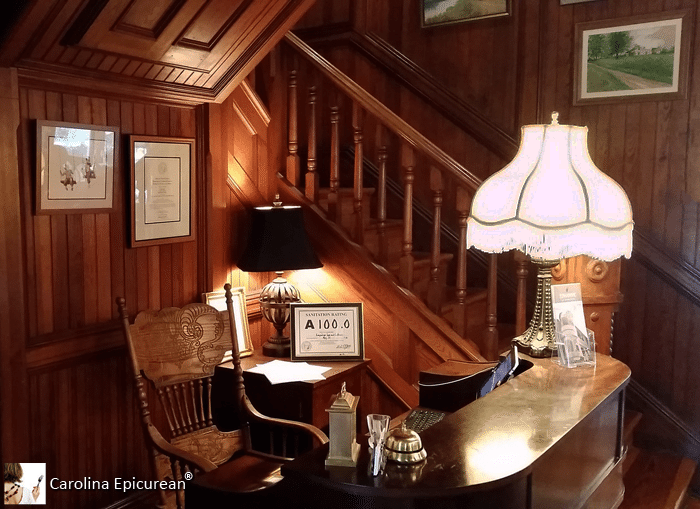 We toured the beautiful, spacious Inn rooms, but stayed in the Blue Ridge Mountains Cabin. Our french door entry overlooked a new plateau recently built for weddings and other events. It's a lovely spot to enjoy sunsets from. We set ourselves up in two of the colorful Adirondack chairs with a bottle of wine, and glasses from our cabin kitchen, and lazily sipped as we watched the sun go down over the tree tops.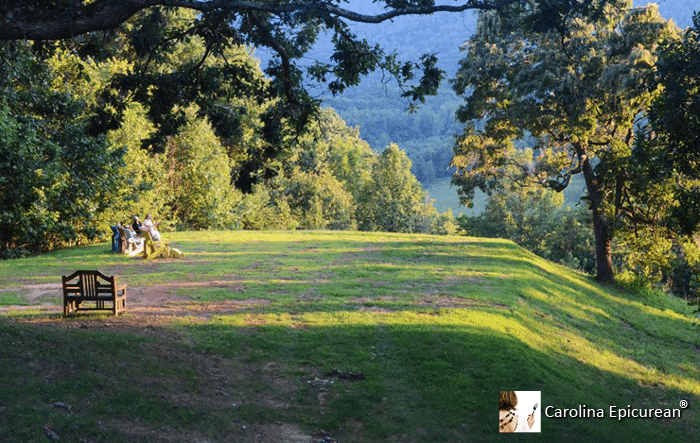 That's the Inn and cabins. What about the two guys? Tom Watson and Rick Bell came "home" to WNC, purchasing the property in November, 2014. They have some some pretty ambitious plans for the place, but before I get to that, I'd like to say these two are pretty golden; funny, sincere, and they can cook! PIC and I are looking forward to meeting up with Rick and Tom for dinner and a night on the town soon.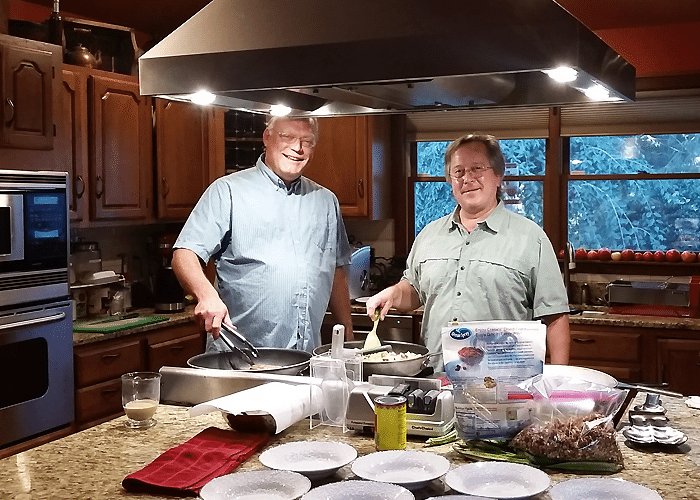 Breakfast is included with a room stay, but extra if you stay in a cabin. The thinking behind this is that when the Inn is full, there aren't enough seats in the Dining Room. And cabins have their own kitchen, cooking gear, dishes, and utensils. I would like to suggest to Rick and Tom that they provide a starter supply of coffee, creamer, sweeteners, etc., in the cabins.
Rick does the breakfast cooking, rotating menus so you will never get a repeat meal during your stay. He's also happy to adjust the menu as much as possible for many dietary restrictions.
Tom was quick to fill our mugs with coffee, and re-fill often, while we chatted with Rick as he cooked.
Our breakfast began with caramelized baked apples topped with yogurt and house-made granola. The aroma had us salivating, waiting patiently to be served.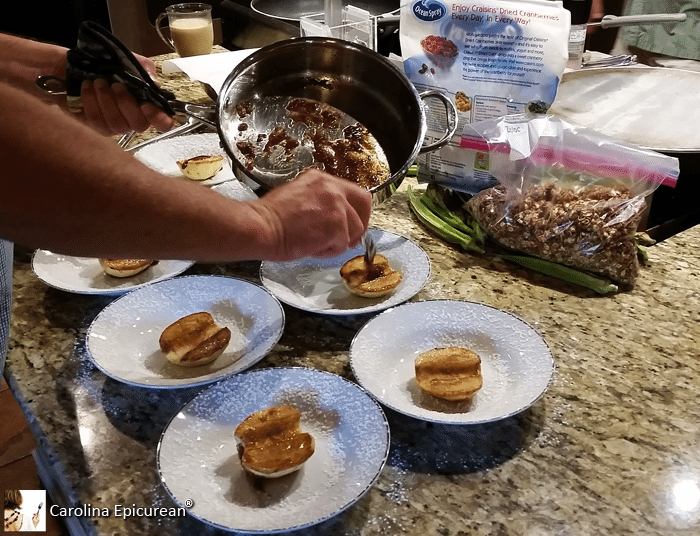 Oh, I forgot to mention that if you are staying in the cabins, wish to have breakfast, and the Inn is full, there might just be room at the "Chef's table" in the kitchen. You can also request a Continental Breakfast delivered to your door. The Dining Room is gorgeous and definitely should be enjoyed while visiting with other guests, but if you're staying in the Inn for multiple nights, you might ask if you can breakfast in the kitchen, also. We pretty much camped out there.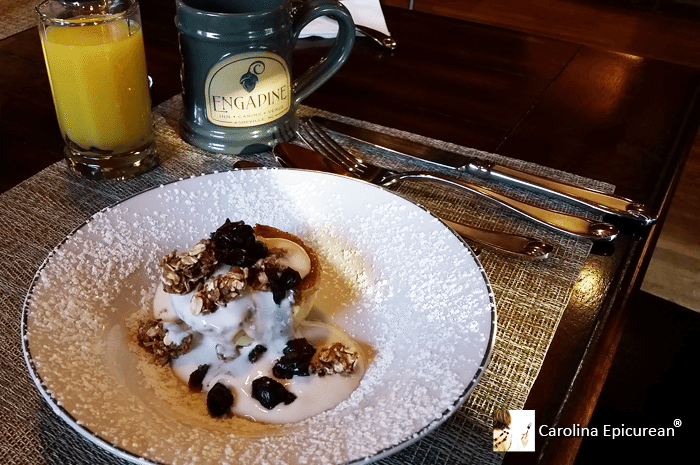 The main course was a lovely quiche, two sausage links, home fries and tomato garnish. We did not go hungry.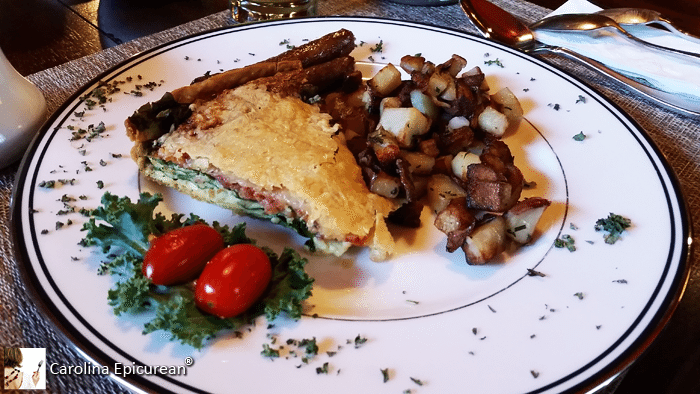 We spent some time in Asheville; dinner at Posana followed by dessert at French Broad Chocolate Lounge, both in the heart of downtown. Asheville is extremely walkable. Park in a city garage for first hour free, $1 each additional hour. My go-to city garage for the Pack Square area is at the Aloft Hotel on Biltmore Ave. Same pricing.
Since we're locals, we spend a lot of time in Asheville, so during our second day at Engadine we headed an hour and a half north, across the Tennessee border to visit Davy Crockett's birthplace at the Davy Crockett State Park in Limestone, and President Andrew Johnson's home and National Historic Site in Greenville. We were smitten with historic downtown Greenville! More about that easy, scenery-filled road trip in a future post.
Tom and Rick have some pretty amazing plans for the property, focusing on expanding offerings and facilities for weddings, corporate, and other events. Up next, if I'm not mistaken, is a fresh new exterior refurbishment and paint job. A new website is already in the works and should launch soon.
One of the great things about Engadine is the combined number of rooms, including space for down time if needed, available for groups. It's perfect for a family reunions, for instance. Everyone can hang out together comfortably indoors or out.
It's not too late to book a stay at Engadine Inn and Cabins for Fall Leaf Viewing! Check availability and make reservations here.
Epicurean Notes:
Once you exit I 40, GPS can be a bit wonky. Following these directions will get you there.
"Accommodations range from stately quarters featuring free WiFi, cable TV, private bathrooms and gas fireplaces, to cabins with living rooms, full kitchens and private porches. Most rooms have wood floors and some have claw-foot tubs or whirlpools."
If booking via online discount sites, note any additional fees.
Engadine Inn & Cabins
2630 Smokey Park Hwy
Candler, NC 28715
Phone: (828) 633-1110