Asheville – Asheville Farm to Table Tours will resume tours June 2, 2017. We are excited to announce a new 3 hour mini tour. This new tour will still provide an in depth, behind the scenes farm tour but will visit fewer locations than the premium 6 hour tour. At Asheville Farm to Table Tours, we lovingly create authentic, enriching and educational experiences through creativity, careful planning, and relationships with local sustainable farms.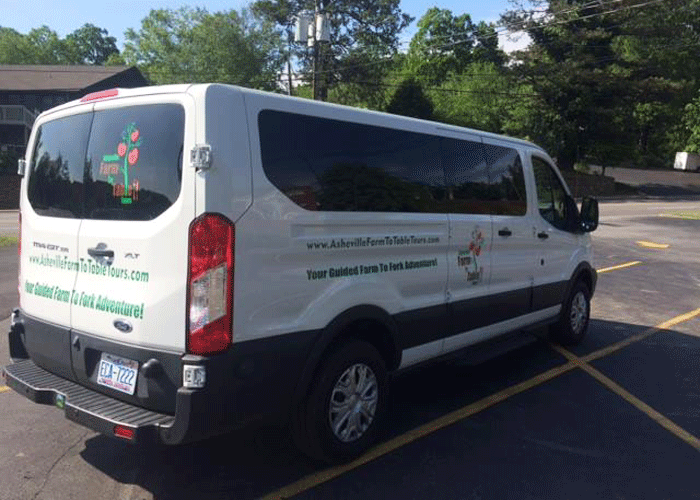 The concept for Asheville Farm to Table Tours was developed through a love of good food, the desire to share the experience of Farm Fresh products with others and the ability to do so because of the incredible local family farms and farmers of Western North Carolina! "I realized that although the farm to table movement is vibrant in our area, there was little opportunity to experience this movement from farmer, to seed, to meal," says Founder Ann D. Stauss.
As one of our customers said: "As far as I am concerned, this tour should be at the very top of the list of activities in and around Asheville. From the outset, Ann was a delight to meet and the perfect guide for our visit, her van is extremely comfortable and well appointed, and our personal comfort was of utmost importance to Ann. We had an incredibly unique and memorable day interacting with the farmers as they enthusiastically guided us through their beautiful properties and explained their farming methods in an unhurried and informative manner. This tour far exceeded our expectations, and I would highly recommend it to others."
ABOUT FARM TO TABLE TOURS
Our tours visit sustainable family farms in beautiful Western North Carolina, where the farmers share their passion and knowledge. Specializing in produce, cheese, chicken, beef or lamb, each farm adds their own unique approach to sustainable farming. At the culmination of our day, the Chef prepares a special lunch with ingredients from the farms visited. For more information on booking a tour, please visit http://www.ashevillefarmtotabletours.com/ or call 828-606-9553.
Release