Charlotte – Brett Levan, formerly of The Mirage in Las Vegas and The Umstead's Herons in Cary, has joined Owner/Sommelier Jaffer Kovic at Dilworth Tasting Room (DTR). Levan is the new executive chef at the neighborhood hangout which was recently recognized by Zagat's on their 10 Most Notable Restaurants in Charlotte list.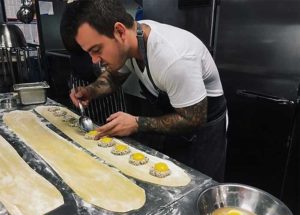 Levan is a culinary adventurer who's both imaginative and a leader in the kitchen. He represented Halcyon Flavors from the Earth in a competition at James Beard House in New York in 2012. (Creative Loafing named Halcyon the best new restaurant of the year when it opened in 2010.) And he realized a lifelong dream when he got to work as chef de partie at the Michelin-starred Dovetail in New York.
"Bringing Brett on to lead our kitchen really elevates our menu," Kovic said. "We still like the idea of keeping things simple with a menu made up of snacks, small bites, incredible cheese and salumi plates, sandwiches, salads and sweets. But Brett has developed some really creative twists on familiar dishes."
Before graduating from Johnson & Wales – as a member of the second graduating class from the Charlotte campus – Levan earned an associate's degree in hospitality management and culinary arts from Marshall University in Huntington, W.Va.
After graduating from Johnson & Wales, he headed for Las Vegas, where he worked at the famed Mirage Hotel and Casino, eventually becoming sous chef at Mirage's Japonaise restaurant. He returned to North Carolina to work in the kitchen of Herons, the signature restaurant of Cary's luxury Umstead Hotel and Spa, which is open for breakfast, lunch and dinner.
He helped open both The Liberty and Halcyon in Charlotte and most recently served as chef de cuisine at Passion8 in Charlotte's Elizabeth neighborhood.
A few of the new dishes Levan has developed for DTR include:
Warm focaccia and spreads
Margherita panini
Shaved speck and cheese panini
Espana flat bread
Expanded offerings of bruschetta
"Jaffer has been great to work with," said Levan. "He's got a sense of humor, which is evident on our wine and beer list. He's got Bud Light along with all these other small-production craft beers. I've had a lot of creative freedom in the kitchen and have loved thinking about which wines or beers our new dishes pair best with. It's great to be part of a true neighborhood hangout."
Wines at DTR range from $30 to $130 a bottle. Prices by the glass range from $10 to $25 and include a rotating stock of seven whites and seven reds from around the world. "Something fun will always be poured daily," Kovic said.
Beer lovers will find plenty to love about DTR. Beers come from as nearby as Highland Brewing and Duck Rabbit Brewing in North Carolina and as far away as Traquair in Scotland and Belgium's Delirium Tremens.
To see DTR's full menu, visit here.
Address: 300 E. Tremont St. Charlotte, N.C. 28203
Phone: 704.595.3337
Hours:
Monday – Thursday 4 p.m. – 10 p.m.
Friday – Saturday 1p.m. – 11 p.m.
Sunday 1 p.m. – 8 p.m.
Website: www.dilworthtr.com
Get social with DTR on facebook; Twitter: @dilworthtr and Instagram: @dilworth_tasting_room.
Release