Tomorrow morning – Monday, May 8 – I'll be heading to Morehead City, NC and surrounding areas in Eastern and Coastal NC for a few days with a small media group hosted by the North Carolina Department of Agriculture.
We'll be touring aquaculture farms, seafood producers, a catfish farm, community supported fishery, and hopefully, talk to some folks that fish our waters for a living. I've got questions.
Join me by following along as I post throughout the trip on Carolina Epicurean social channels: Instagram: https://www.instagram.com/carolinaepicurean/ Facebook: https://www.facebook.com/CarolinaEpicurean ), and Twitter: https://twitter.com/CarolinaEpicur .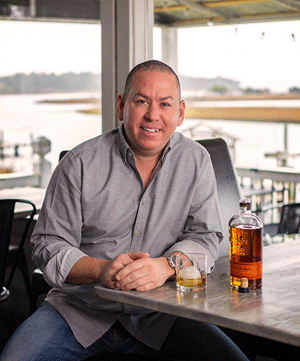 And, as it happens, I got a hold of two terrific NC seafood recipes from Chef Bud Taylor of The Bistro at Topsail just in time for this immersion in to NC Seafood.
Want more from Chef Bud Taylor? He'll be at the Wilmington Food and Wine Festival on Saturday, May 13th. He will be doing a cooking demo at 3pm that day as well. Here's the link to purchase tickets: http://www.brownpapertickets.com/event/2755585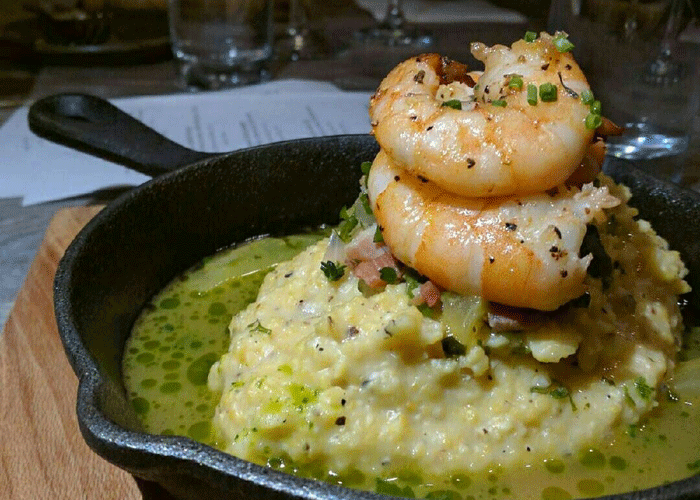 Bistro Shrimp & Grits by Chef Bud Taylor
GRITS:
• 1 CUP STONE GROUND YELLOW GRITS
• (ADLUH MILLS, ANSON MILLS OR OTHER QUALITY BRAND, DON'T USE QUICK GRITS)
• 1 CUP WHOLE MILK
• 3 CUPS COLD WATER
• 6 TABLESPOONS BUTTER
• 1 CUP GRATED ASIAGO OR PARMESAN
• SALT & PEPPER
SHRIMP & SAUCE
• 1 POUND LOCAL SHRIMP
• 1 GREEN TOMATO – cut into ½ inch dice
• 1 TABLESPOON MINCED SHALLOT (MAY SUB RED ONION)
• ¼ TEASPOON MINCED GARLIC
• 4-6 oz. NC COUNTRY HAM- CUT INTO SMALL STRIP
• ½ CUP DRY WHITE WINE
• 2 CUPS SHRIMP STOCK (MAY SUB SEAFOOD BASE)
• UNSALTED COLD BUTTER- CUT INTO CUBES
• 2 TABLESPOONS THINLY SLICED SCALLION
• 1 TEASPOON EACH DICED FRESH
• THYME
• BASIL
• PARSLEY
Cooking Instructions:
GRITS:
• In stock pot bring water, milk & butter to a boil
• Slowly whisk in grits and return to a boil for 1-2 minutes
• Reduce heat to a high simmer and cook 30-45 minutes or until grits are tender
• Remove from heat and stir in cheese
• Season to taste with salt & pepper
SHRIMP:
• While grits are cooking peel and clean shrimp.
• Season with salt & pepper and set aside
SAUCE: (sauce can be made in advance and kept warm)
• In hot saute pan place 2 T butter, shallot, garlic and country ham and cook until lightly brown
• De-glaze pan with white whine
• Add green tomatoes to pan and cook approx 1 minute
• Add shrimp stock and 2 T butter and let reduce by ¼
• Add scallions & fresh herbs
• Remove from heat
• Finish sauce by stirring several cubes of cold butter into sauce, until thickens slightly
• Season to taste with Salt & Pepper
In separate pan:
• Heat pan
• Add 2 T butter and seasoned shrimp
• Cook just until shrimp turn pink on bottom then turn shrimp and remove pan from heat.
• Shrimp will finish cooking with residual heat from pan
TO SERVE:
• Toss cooked shrimp into sauce
• Divide grits into 4 bowls
• Spoon sauce & shrimp mixture equally into bowls on top of grits. Do not stir up.
• Garnish with fresh chive (optional)
Pan Roasted Grouper with Orange Braised Leeks & Vadouvan Jus
Leeks:
4-6 Leeks green parts removed
zest and juice of one orange
3 T unsalted butter
Salt & Pepper
pinch sugar
Slice lengthwise through center keeping root end intact.
Soak root end up in bowl of cool water for 1 hour.
remove from bowl and rinse under cool running water, fanning each leaf to remove any remaining grit.
Slice about ½ inch thick
Melt half the butter into large skillet or saute pan, add leeks and cook on low heat for 2-4 minutes. (do not let leeks brown)
Add orange zest & juice
Add remainder of butter, continue to cook until leeks are soft and semi transparent.
Salt, pepper and sugar to taste
Serve immediately
Vadouvan Jus:
1 T butter
1 small shallot diced
1 clove garlic diced
1 cup dry white wine
2 cups heavy cream
3 T Vadouvan Spice
Put shallot, garlic, butter in medium sauce pan, cook for 1 minute, add wine and bring to a boil
Cook until liquid is almost gone, about 5-7 minutes
Add cream and vadouvan spice bring to a simmer, reduce heat and simmer until sauce coats the back of a spoon.
Strain into container and use immediately or can be stored in refrigerator for up to 2 days.
Use double boiler to reheat
Pan Roasted Grouper:
(4) 4 oz. Grouper filet about 1 inch thick
2T butter
¼ cup canola oil
salt & pepper
Season fish with salt & pepper
Heat skillet and add oil and butter to pan
Place fish skin side up and in pan and sear until golden brown
Reduce heat and continue to cook fish until cooked about half way through. Fish will start to turn white on the sides.
Turn fish and allow to finish cooking until just flaky.
Do not overcook, fish will continue to cook after you remove it from the pan.
To serve:
Divide leeks equally among 4 plates, place fish at angle on leeks. Finish with just around leeks and fish