Mills River – It's a given. Sierra Nevada Brewery puts out some dang good beer. But what about their tours and food?
There are multiple tour types: Brewhouse; Beer Geek; Trip in the Woods; Beer, Cheese & Charcuterie Tasting; Guided Educational Tasting; and the Visitor Corridor. The Brewhouse tour is complimentary, but other tours require a paid ticket.
I took a Brewhouse tour with a group of media friends followed by dinner as part of a WNC Farm Tour (search #wncfarmtour) with the NC Department of Agriculture.
Our tour began in a room just off the taproom. We listened to a short presentation while sipping a beer. I'm not sure if this was part of the standard Brewhouse tour, or if it was offered to us because we were a media group?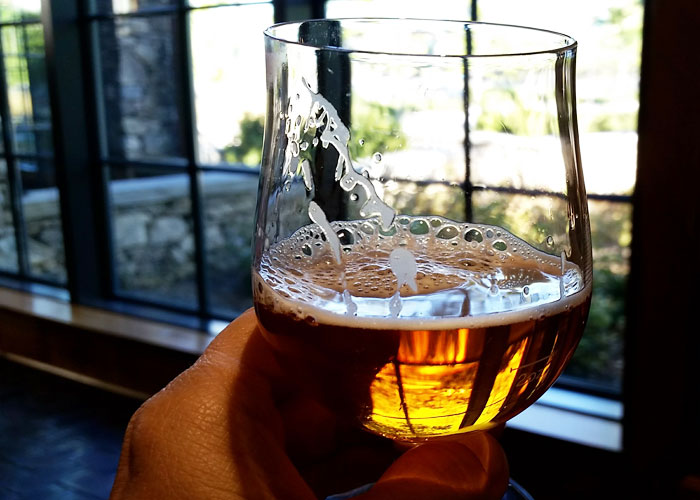 We headed down hallways overlooking the bottling line, passing rooms where the science behind the beer takes place, a hops sample/storage area, and a huge room with row after row of tanks.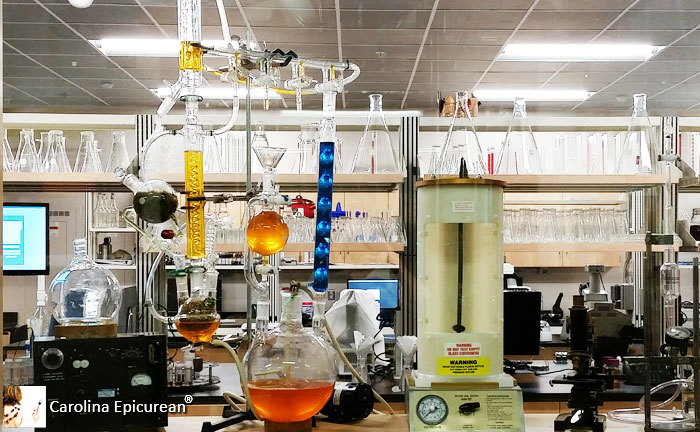 A tank room with beautiful copper tanks, pictured below, was our last stop before hitting the tasting room.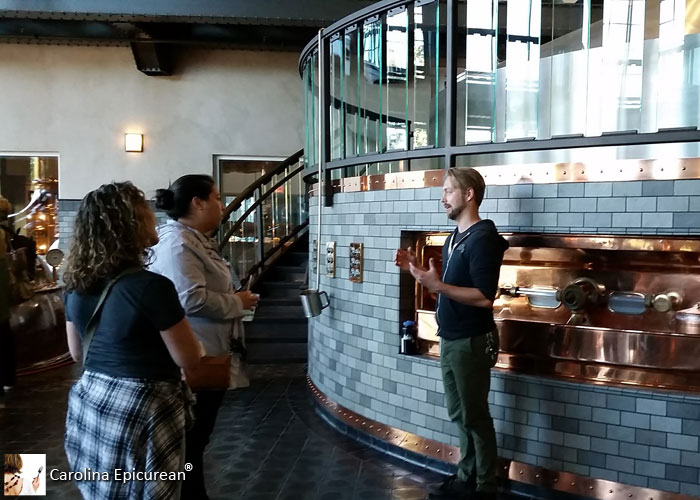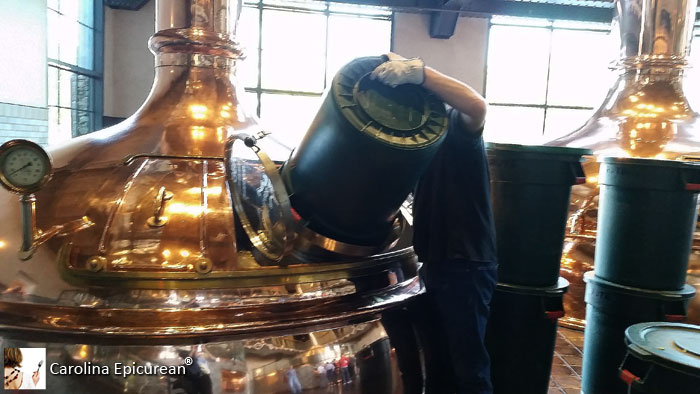 As tasting rooms go, this one's a pip! Plenty of room and intimate at the same time. And just look at that generous lineup on the counter!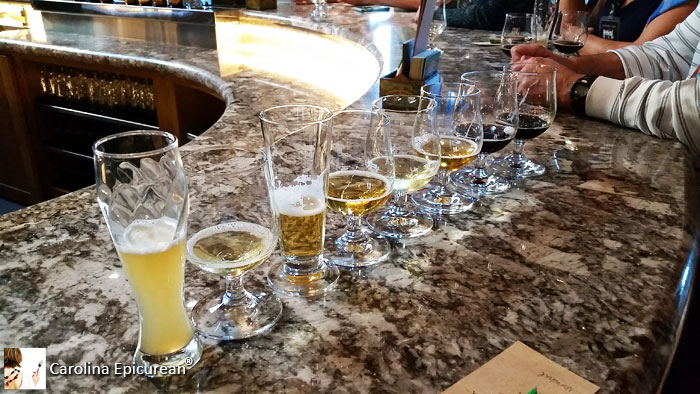 We were happy campers, and we hadn't even had dinner yet.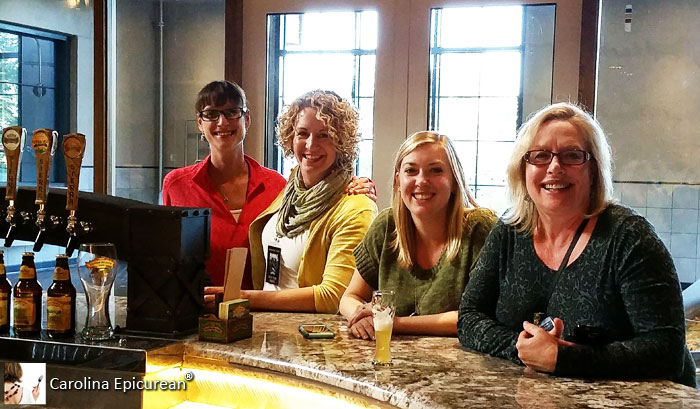 If you haven't been to Sierra Nevada's "estate" in Mills River yet, you're in for a treat. You have some choices when it comes to food: seating inside or out, reservation or first come first served seating, order from full menu, indoor bar, or walk-up counter outside.
Sometimes when a restaurant is attached to something else, like a brewery, distillery, etc., the food doesn't exactly shine. That's definitely not the case here.
One of my all time favorite soups, Butternut Squash, was made with estate grown squash, swirled with crema, and topped with toasted pumpkin seeds. Thick, creamy and delicious.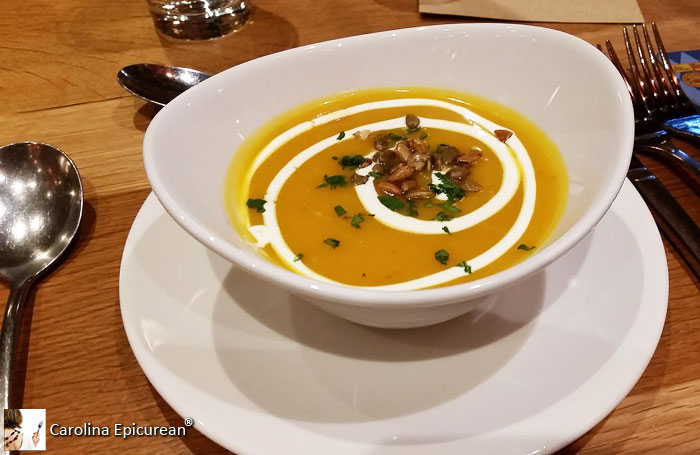 Isn't this Market Salad beautiful? It's made with Pitch Pine lettuce, grilled NC squash, Holly Springs heirloom tomatoes, estate lunch box peppers, and drizzled with Stout balsamic vinaigrette. So fresh!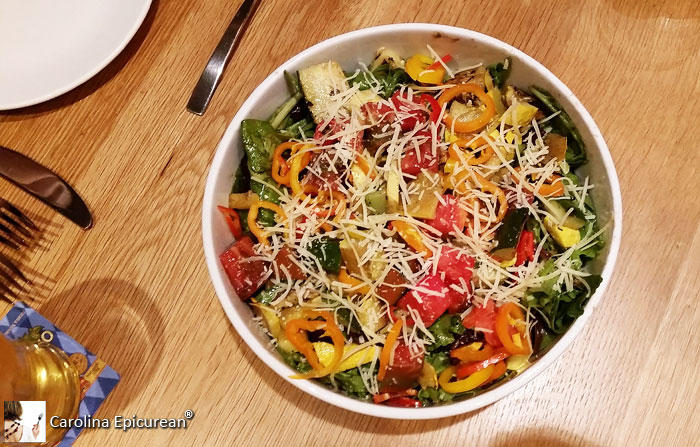 Our entree – Braised Bison Brisket – served with Freedom Farm potatoes in a rich sauce, estate celeriac, and shiitake gratin was surprisingly good. I was honestly impressed. Fork-tender and beautifully seasoned.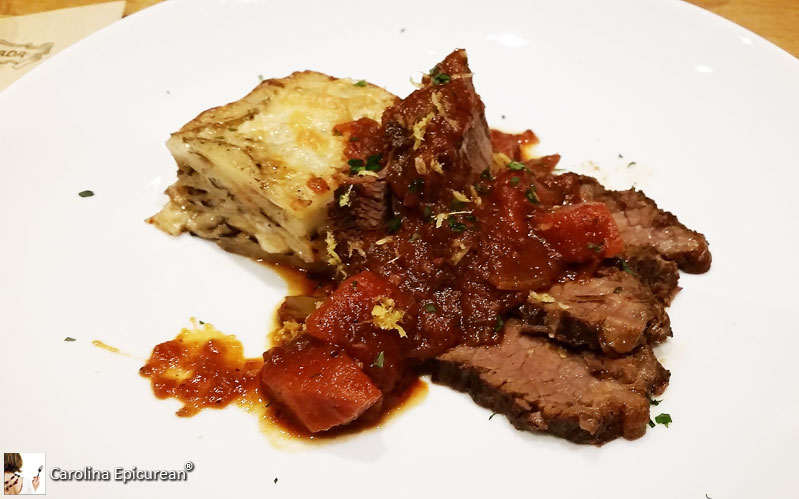 And to cap it all off, a Lively Orchard Cobbler made with Fuji apples. Our group of cooks, food photographers & writers took one look at the first spoonful and sent it back for more oven time. Second time delivered was the charm. Delicious!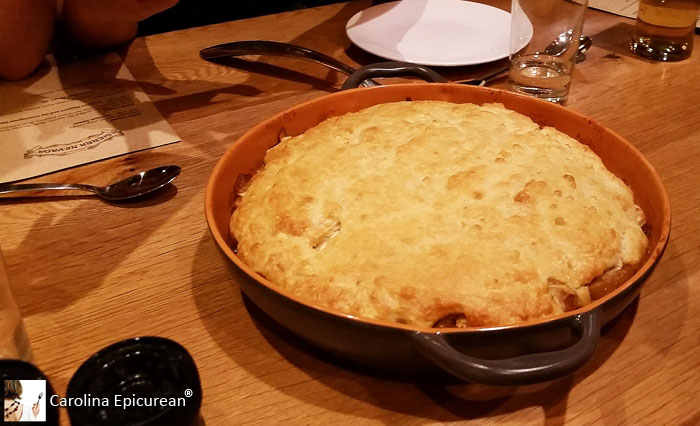 You may be wondering at the heavy nature of our dinner. The weather hadn't turned warm yet so it was perfect for a chilly night. See all current menus* here. *Remember that online menus sometimes aren't updated, so using them as a reference is best.
Epicurean Notes:
Note the care, detail, and quality along the approach the main gate.
Prepare yourself for something unexpected and special when you go through the main gate the first time and see the brewery. The first time I saw it, I was reminded of a huge California winery estate.
Take time to walk through the garden or play Corn Hole out back.
Lve music can sometimes be found out back on the outdoor stage.
Sierra Nevada Brewery
100 Sierra Nevada Way
Mills River, NC 28732
Phone: (828) 708-6176