Garland – ". . . folks in the South know that breaking bread with others is the time-honored approach to cultivating new friendships and deepening old ones." ~ Southern Living
That southern tradition is what Southern Smoke BBQ owner Matthew Register adopted when he began his South Supper Series in 2015. He wanted to "start an event where people from various places and walks of life could gather together in a relaxed, backyard atmosphere." Where folks sit at long community tables, enjoy local food prepared by Matthew, guest chefs, and his kitchen team while hanging out with new and old friends.
PIC and I had a May trip planned to visit family in Southport and Oak Island. Lucky for us, the timing worked perfectly to stop in the Garland area for a couple days on our way to the coast. That meant we could accept Matthew's gracious invitation to his May 20th South Supper, themed "Taste and Color".
Southern Smoke BBQ is a small affair in a small southern town on a side street behind a gas station. As we parked in the grass lot across the street, we could see folks lining up. We joined the smart group standing in the shade of SSB's food truck.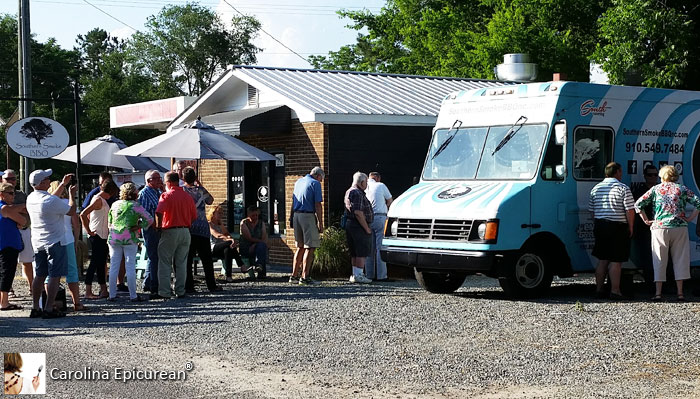 These dinners are BYOB affairs. Coolers on wheels gave away the veterans.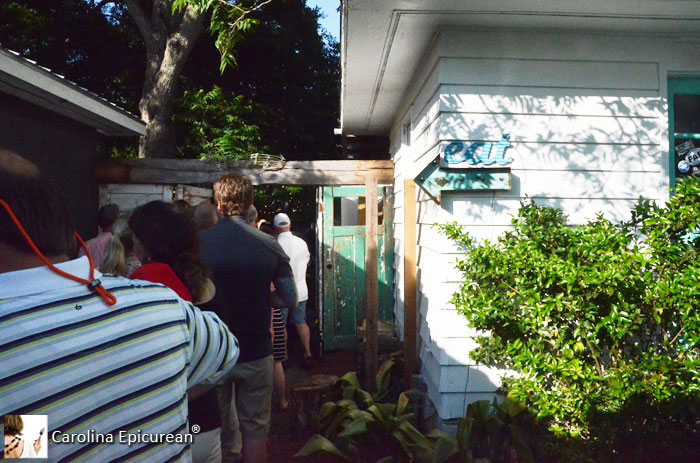 A magical space strung with lights, and fences hung with local art greet those who pass under an old beam and through four weathered reclaimed doors.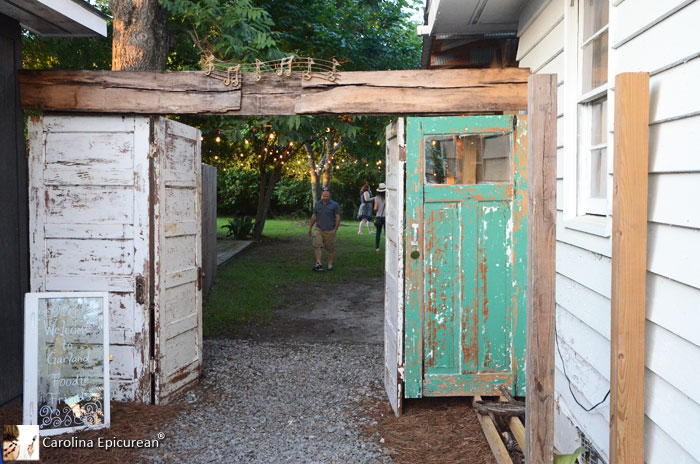 After mingling a bit and getting self-serve drinks of iced tea or water, we chose seats and settled in. Introductions were easy and comfortable.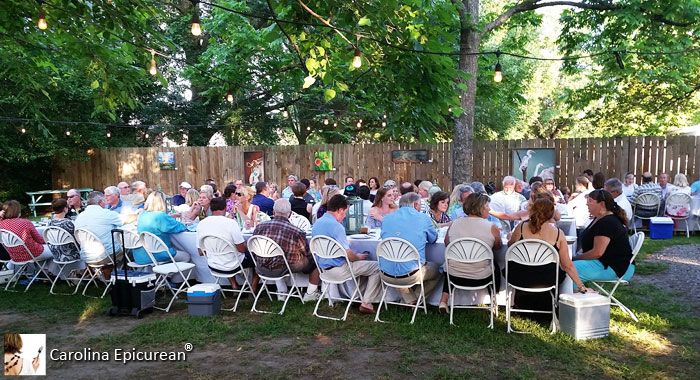 Starters were served buffet style. Hate to say this, but if you go and you're hungry, get in line quickly so you're toward the front of what can be a long wait.
Starters:
"Heritage Farms Cheshire Pork" Porchetta
Grilled Ramps with preserved lemon vinaigrette and creamed parmesan in gougers
Pickled Summer Squash
Baked Harker's Island Oysters with roasted shrimp butter, chili's, panko, and palm oil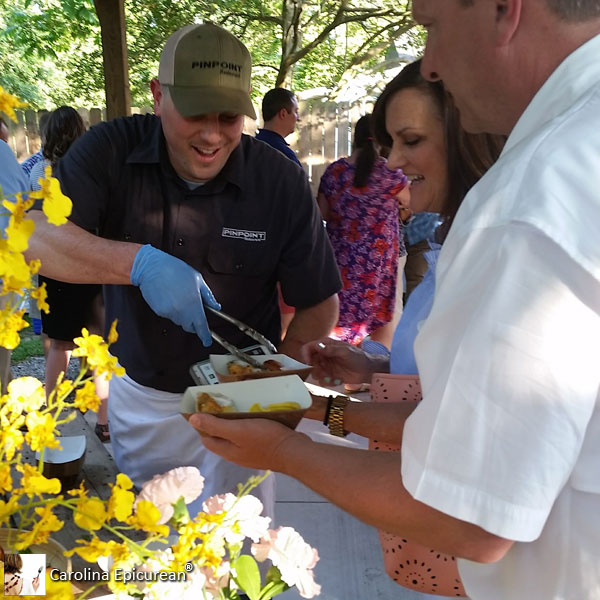 Supper (also via buffet line):
"Heritage Farms Cheshire Pork" whole hog (pulled meat served from a tray)
Shrimp and Okra with sungold tomatoes, corn, and dark roux
"Carolina Gold" Rice and squash pudding
Grilled Spring Asparagus and Wild Mushrooms over garlic leek-creamed grits and a coddled farm egg
Photos of all the food didn't happen. There was just too much going on and my plate piled with all that food wouldn't have photographed well. See lots of great pics in the slide show at the bottom of this page.
Desserts were served at each table. The one half way decent food pic I got was of the Strawberry Tarts as they arrived. There were also Blueberry Tarts.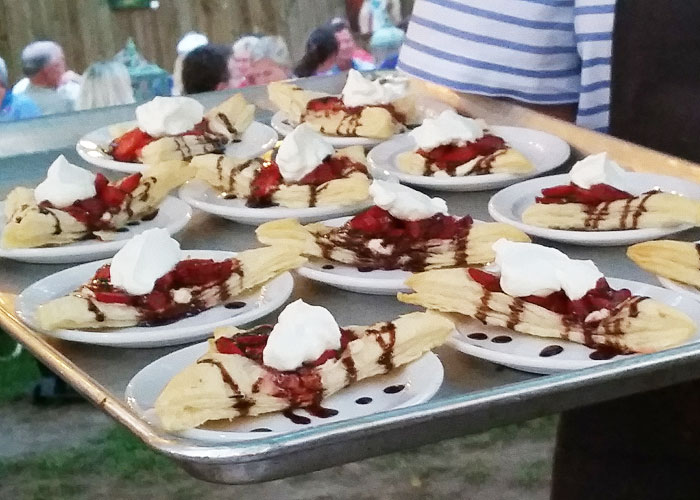 During dessert, Chef Register thanked everyone, including his mom and dad who helped all evening. He talked about the food we'd enjoyed that evening and a little of what happens behind the scenes in the kitchen during a dinner like this.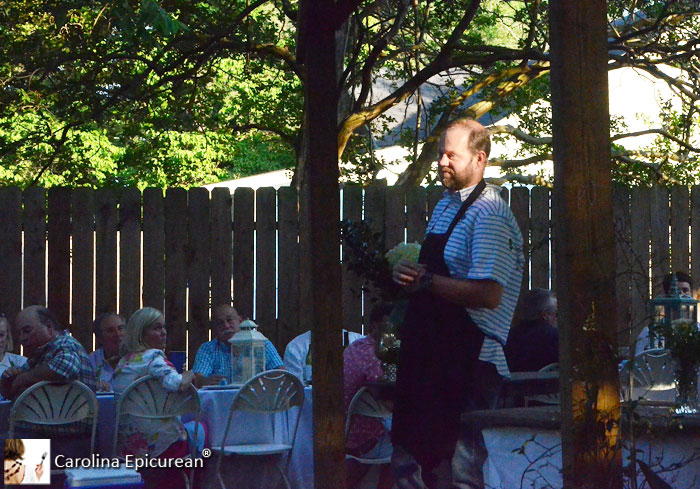 Guest Chef this evening was the talented Dean Neff, Executive Chef and Owner of Pinpoint Restaurant in Wilmington. He described his dishes in detail. Of particular interest to me was the cooking method he used to create the "coddled eggs" – a very long cooking time at low heat. And amazingly enough, he cracked and served each and every egg himself, placing them gently on plates held out by diners as they reached his buffet station! That's dedication to the experience!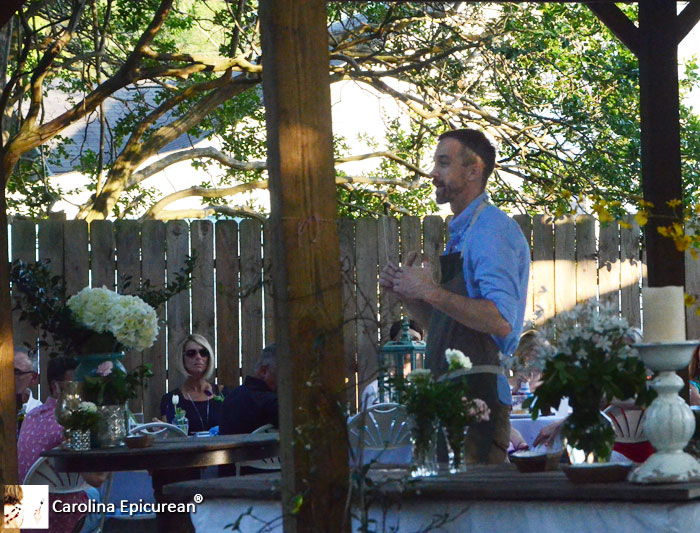 I can't help but think that this is a prime example of "build it and they will come". There were locals as well as those that had come in from out of town.
We decided to spend a couple nights at Cape Fear Vineyard and Winery in nearby Elizabethtown before heading to the coast. Watch for details soon on our stay at the winery, breakfast in Elizabethtown, and the White Lake Water Festival.
Epicurean Notes:
If you're interested in attending a future South Supper Series, send an e-mail to [email protected] and you will be notified when the next series has been planned.
Tickets for this dinner were $60
Not sure what happens if it rains? You might want to ask if you're are planning on going to one of the dinners.
Southern Smoke BBQ
29 Warren St.
Garland, NC 28441
(910) 549-7484