Tryon – Even if you're not a "horse person", get yourself over to the Tryon International Equestrian Center (TIEC) for lunch, dinner, shopping, cocktails, and family friendly fun!
Four of us gal-pals decided to head over to TIEC, get some lunch, and check the place out. Two had already been and two of us were "newbies".
It's summer. It's hot. Especially in the sun. Good thing there's plenty of shade throughout the property. And watch from the shade is what we did before lunch. Each horse and rider entered the arena from the tunnel before tackling the course for points. It was fascinating watching the horses go around the circuit and over the jumps.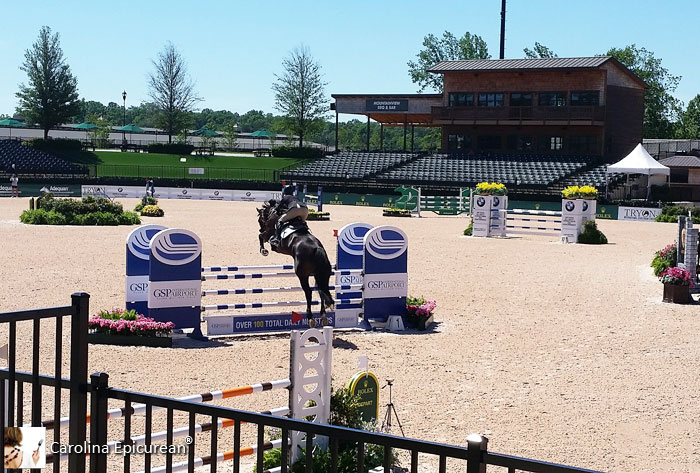 After we'd watched the action for a while, we headed over to Blue Ginger Sushi & Noodles. If Sushi isn't your thing, or your just not in the mood, there are multiple eateries on site.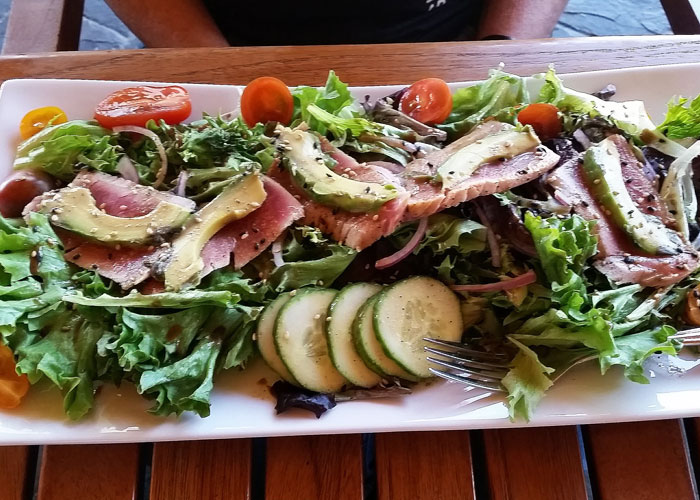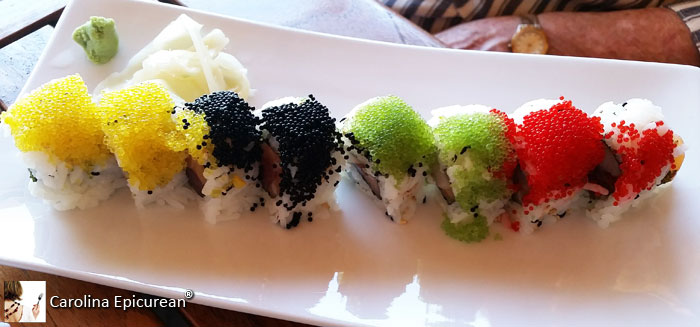 A few of the rolls are actually set on fire at your table. Nancy got the Pyro Roll. We all thought it was fun to hear the roll sizzling as it cooked, but the flames would be more dramatic in the evening when it's a dark. The roll is wrapped in foil and placed in a shallow pool of "151" alcohol. The fire goes out when there's no more alcohol to burn.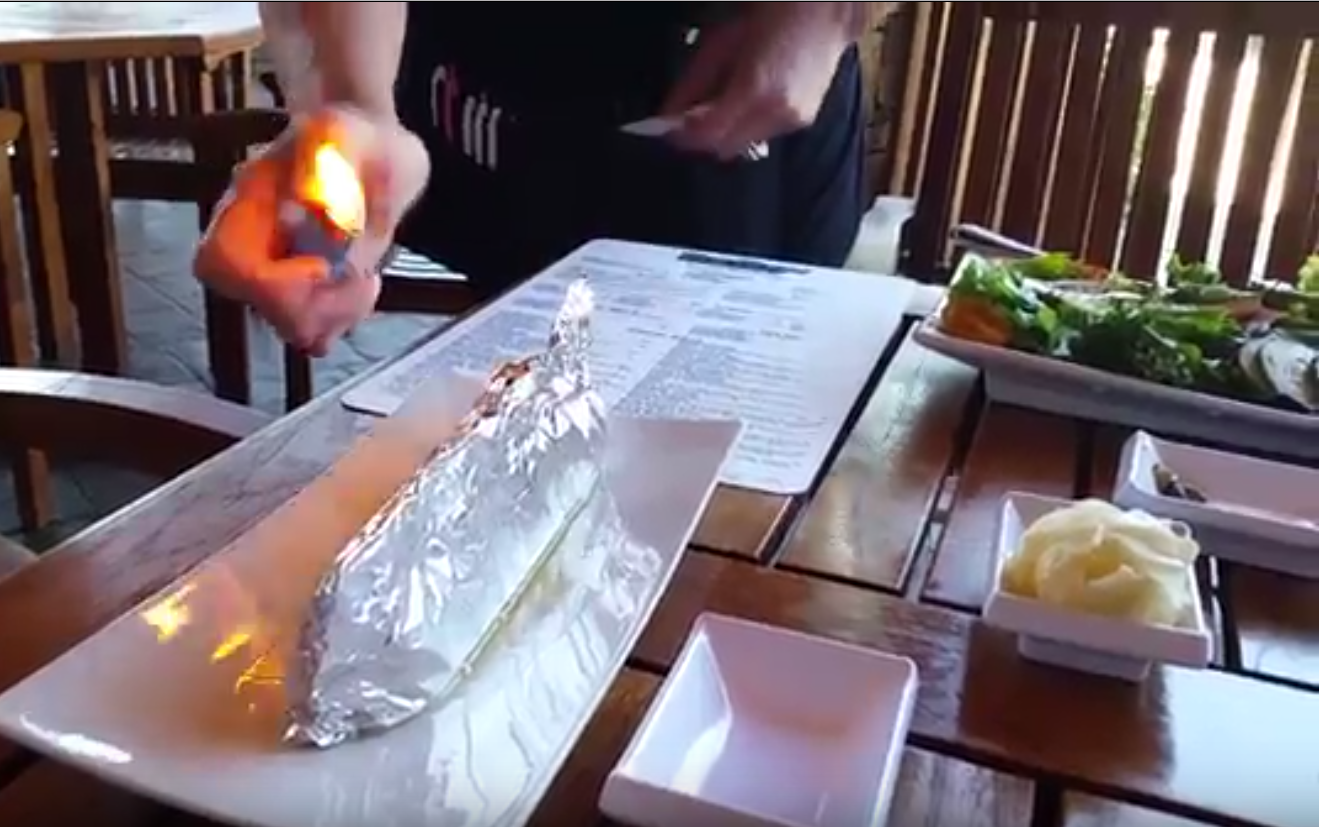 If a drink is what you're looking for, definitely check out Legends Grille. The bar area had a good vibe. Of course, they serve great food, too.
As we walked around the property, we came across this very cool Silo Bar! Check out the hammock chairs under the arbor. LOVE it! I can just picture hanging out in those chairs or around the fire pit with friends on a summer evening, cocktail in hand.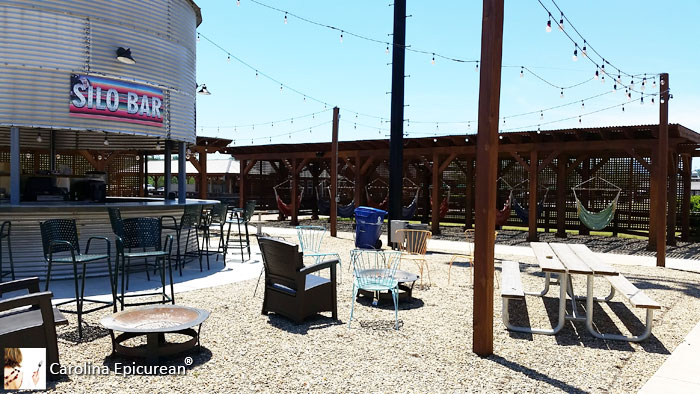 Besides dining, there are a ton of other things to see and do at TIEC! Watch "Gladiator Polo" (June 24th) and the "Hobby Horse Series" (yes, it's a thing), and for family fun, check out Saturday Night Lights Grand Prix. At past Saturday Night Lights, there have been fire twirlers, acrobats, magicians, free pony rides, mechanical bull riding, sand-castle building, shag dancing competitions, vintage car shows and craft beer festivals. See what fun they're planning on their Facebook page.
Need more to keep you busy? There's a market/small grocery store and coffee shop, and they've ingeniously brought in modular log cabins and set them up as a variety of, albeit high-end, retail shops.
I was even thinking that TIEC might be a fun place for a weekend get away. There's quite a selection of lodging on site (1 – 7 bedroom homes and log cabins), RV pads, and more options coming quickly: a 5-star hotel/spa, a 4-star hotel, and more. Go to the "Lodging" link in their website's main menu for details and prices.
One of my favorite spots is a large riverside gazebo with seating and grills right next to a cluster of log homes. There's even a sandy area next to the water.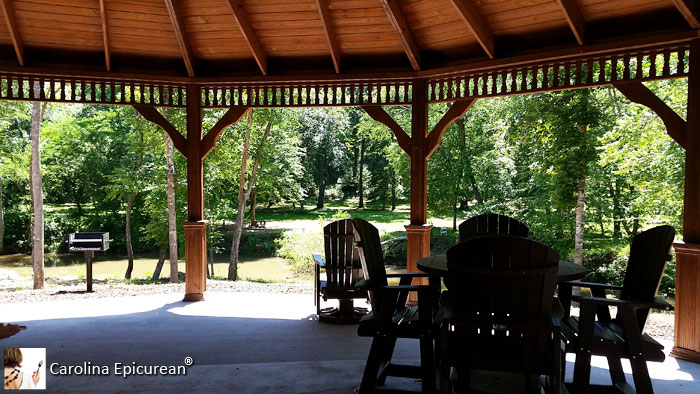 Gosh! I think I've covered everything . . . TIEC is just incredible. They are working furiously on infrastructure and more additions to the complex because they won the World Equestrian Games 2018 (think winning as the city that will host the Olympics). Over 600,000 visitors and participants are expected!
Regional tourism boards, lodging associations, and other groups in NC and Upstate SC have been working together to plan and be prepared for this event.
This is a WORLD CLASS destination in our region that has a few minor kinks to work out regarding speed of service at the restaurants, but I only see it getting better. And in my opinion, the food was worth waiting for.
Epicurean Notes:
It's usually FREE ADMISSION at TIEC. During certain (WEG) events that happen infrequently, there may be an entry fee.
There are nice spaces you can book for private events
Dining tables overlooking the main arena are available to rent
TIEC is a year round venue, but horse shows do not typically run in the winter.
Check for special winter events like the Christmas Craft Markets/Shows and the New Year's Eve party