Flat Rock – Four of us went to Flat Rock Wood Room for dinner a few weeks ago. I really had no intention of reviewing the place. Didn't bring my "big girl" camera. Only my phone for pics, if I felt so inclined. Just wanted to enjoy a meal with friends.
They knew who I was, but the meal wasn't comped or anything. We had excellent service, but as I watched the packed room throughout the evening, everyone else seemed to be getting good service, too. The Owner and the Chef did come over to our table to say hello, which we appreciated.
Speaking of the owner, I hadn't realized that the couple who opened FRWR, Wayne and Kim Blessing, are in the process of transferring ownership to a friend, colleague, and dynamo named Jamie Guay. He's considered the owner, but I think a few details need completing.
I say "ascending" because Wayne and Kim were able to create a top notch restaurant while at the same time competing in BBQ competitions in multiple states across the country. After meeting Jamie, I feel pretty sure he's going to take the Wood Room to the next level. He's a guy you should know if you get the chance.
One of the things I really like about FRWR is their commitment to community. They fed an awful lot of fire fighters and others during the WNC wildfires. And if I'm not mistaken, they helped in other ways, too.
For snacking before our entrees arrived, we ordered the Rib Teaser ($10.25): 4 St Louis Ribs served over a bed of onion straws. We put it in the middle of the table so we could all reach in for a rib. After I took the picture below, we each cut our entree into 4 parts and shared all around.
This is their "Famous Flame Broiled Pisgah Pork Burger ($13.99): hand pattied 7 oz. pork burger piled high with creamy apple slaw, and tangy BBQ sauce served on a grilled brioche bun." It does have a little kick.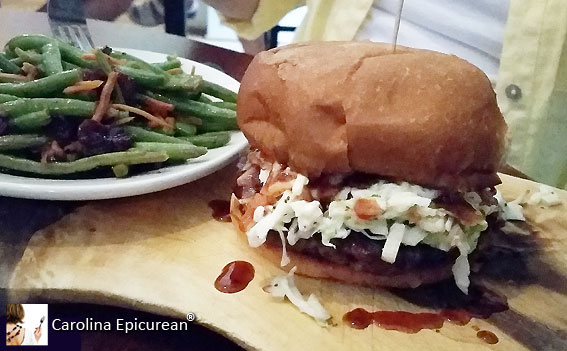 And served hot, right out of the imported wood-fired oven, Pepperoni Pizza with mushrooms. I'm not sure of the price with the added mushrooms. It's on the menu as mozzarella cheese and pepperoni for $13.75.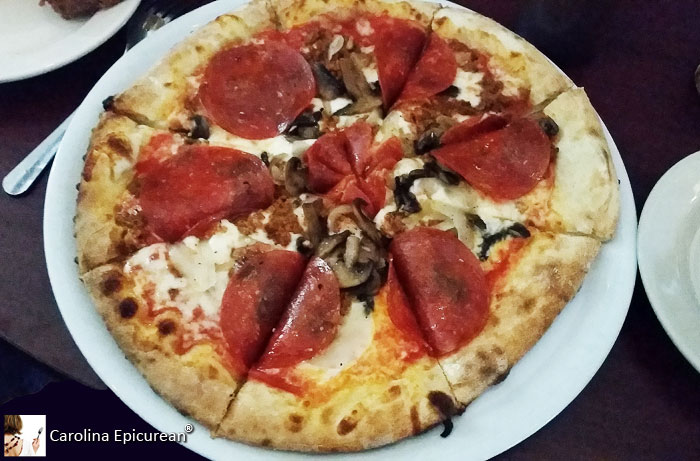 All four of us thought the Brisket Stack Brioche Sandwich was the absolute best! It's "1/3 lb of shaved marbled brisket point covered with sauce and grilled with melted provolone cheese then piled on a buttered grilled brioche' roll topped with a generous stack of fried onion rings and covered with competition bbq sauce. Ohhhhhh yeaaaaaa" ~ Jamie Guay. PIC and I will be heading back soon so we can each have our own.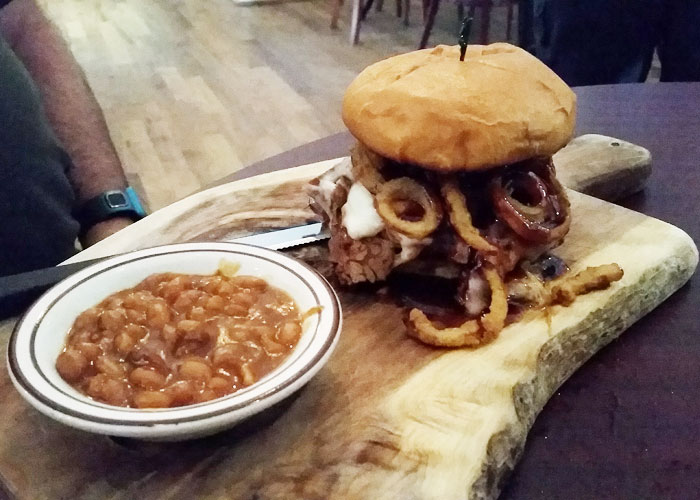 After listening to Jamie describe the Buckboard Bacon Melt, I had to order it.
"Buckboard bacon is bacon made from pork shoulder instead of pork belly. We debone pork shoulder and butterfly it out flat like pork belly. Then we use a mixture of seasonings and pink salt along with brown sugar and maple syrup brining it for 10 days. After this curing process we smoke it to 160 degrees and cool it down over night. Next day its shaved thin When the buckboard bacon melt is ordered We make a Sriracha, honey mayonnaise sauce and layer it on the top and bottom of a Cuban roll. Sliced provolone is then placed on it and a pile of shaved buckboard bacon. We then place our famous southern greens on the bacon and sweet and house brined sweet and sassy pickles. The sandwich is buttered and wrapped very tight with foil and pressed till crisp and hot on the outside and hot and melty-gooey on the inside. The salty sweet delicate flavors enhanced by the collar greens with the crispy texture of the Cuban bread is not found anywhere but the Flat Rock Wood room."
If you're looking for something a little different and delicious, ask your server if this is available.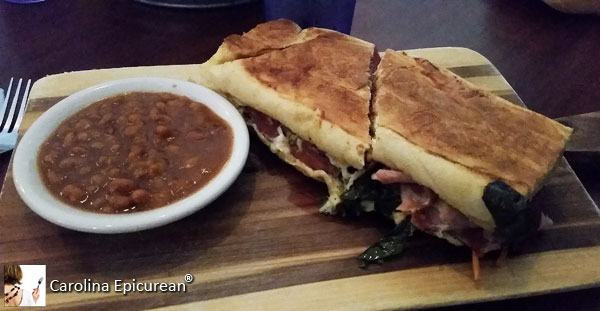 The other thing to know is that Flat Rock Wood Room desserts are AMAZING! Kim had previously done the baking, but has since trained a staff member. She's definitely rockin' it!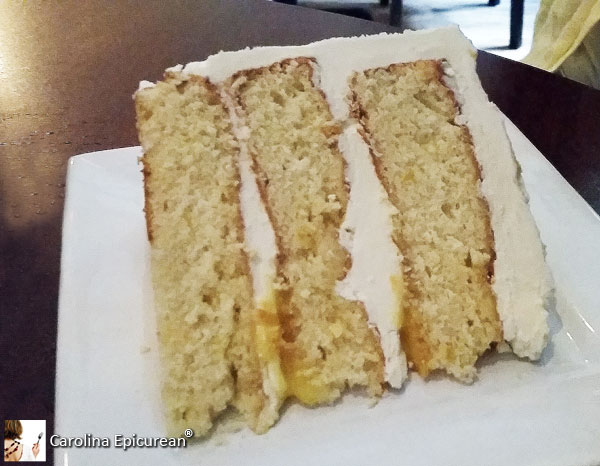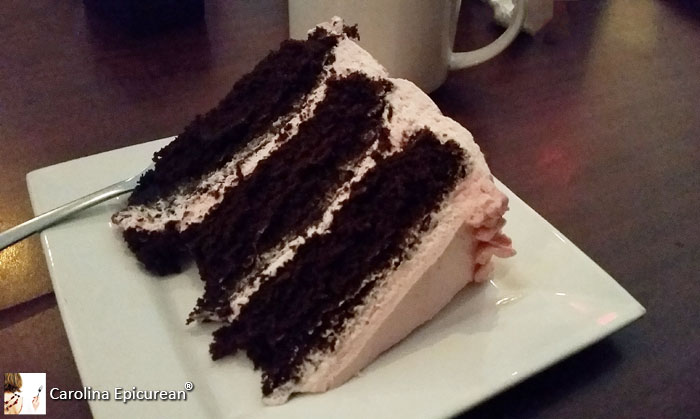 Flat Rock Wood Room
1501 Greenville Hwy
Hendersonville, NC 28792
Phone: (828) 435-1391