Asheville – Waking up to an email yesterday from friends saying they were in town and asking if I could meet for dinner was perfect!
They chose Sovereign Remedies, which was great because I'd been meaning to go for a while now. Friends have been raving about their food program as well as their cocktails.
Every one of our cocktails was superb!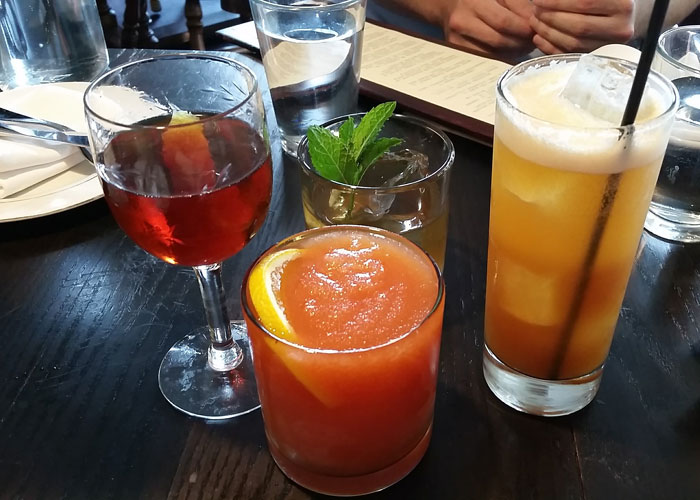 Sovereign Remedies has managed to create an amazing food program considering the size of their kitchen. When I told another friend that a group of us were going, she said, "focus on vegetables" and "I've had their chicken, and it was good".
So we went "veggie". And sharing is SOP (standard operating procedure) with this group.
Between the four of us we ordered:
Chickpea Fries ($7) – fermented pepper, harissa, and dill yogurt. I didn't actually taste the fries, but I'll just say they were gone in no time.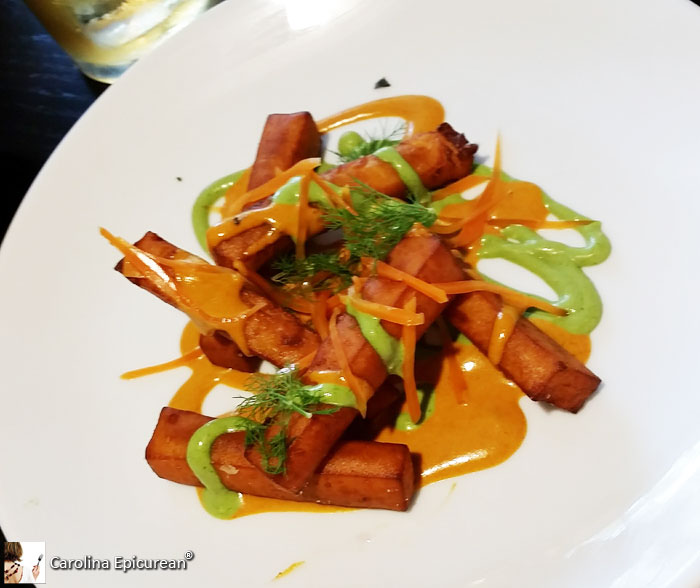 Perfect New Potatoes ($10) – corn stuffed squash blossom, blackberry, red onion marmalade, and brown butter. This creative combination was definitely a hit. Love it when fresh fruit like berries are added to vegetable and meat dishes.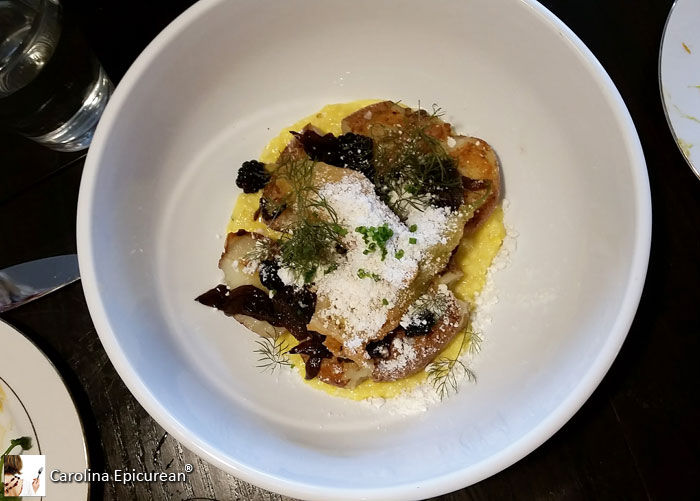 Two dishes tied as my personal favorites. The Summer Plum and Nectarine Salad ($10) – sorrel cucumber gel(!), blistered Padrón peppers, sunflower seed, holy basil, and pedro ximénez, a white Spanish wine.
I wasn't familiar with Padrón peppers. I learned they're usually mild, but a small percentage can be really hot depending on the amount of sun, heat, and water they get when growing. These were mild, tasting somewhere between a green and red Bell pepper. The gentle blistering left them crunchy inside. Perfect.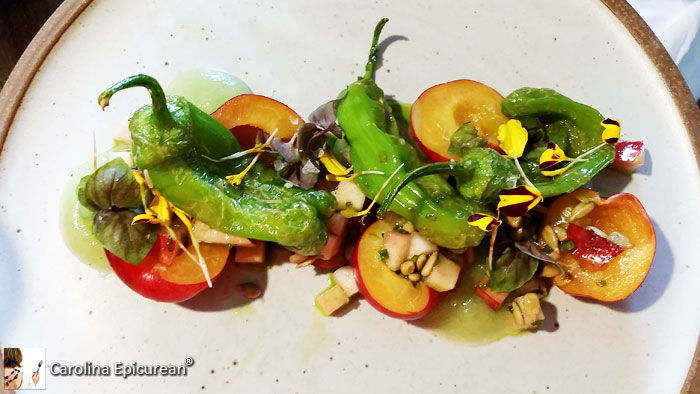 And the Tomato & Gherkin ($10) – fried okra, lavage oil, New Zealand spinach, and pickled pepper. You really should get this dish, even if you aren't sure about fried okra – light and crunchy on the outside, creamy inside.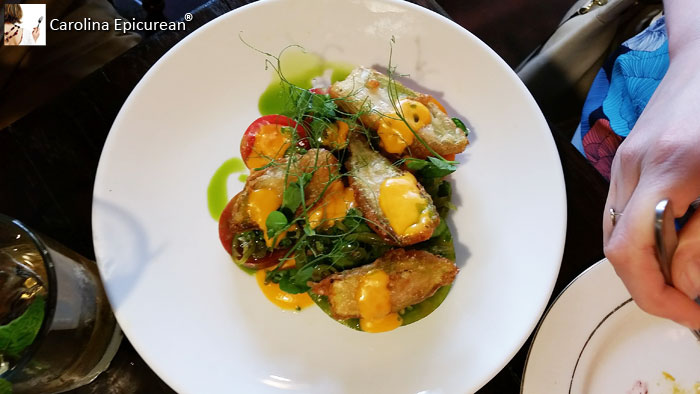 Sovereign Remedies is knocking it out of the park when it comes to creatively conceived and executed dishes. They're in a small corner location one block off Broadway. Make sure you include a meal and cocktails here on your "Asheville Must Visit" list.
Food is available downstairs where there's definitely a cool cocktail bar ambiance and somewhat limited seating. A small dining room is upstairs that can be more comfortable for small to medium groups. If you have a large group, give them a call. You might be able to book the upstairs room.
Sovereign Remedies
29 N Market St #105
Asheville, NC 28801
Phone: (828) 919-9518