Asheville, NC – FYI network, known for producing hit series Food Porn and Tiny House Nation, among others, is releasing a brand new series: The Know it All Guide To… It's a fast-paced, fun, fact-filled series about the world's most popular foods that debuts on July 31. Find out what was the largest cheese ever made, or how beer is produced on the moon. The program delivers the best places to eat, and stuffs you full of great facts, hacks, and tricks for a food journey that will leave you feeling, well, stuffed.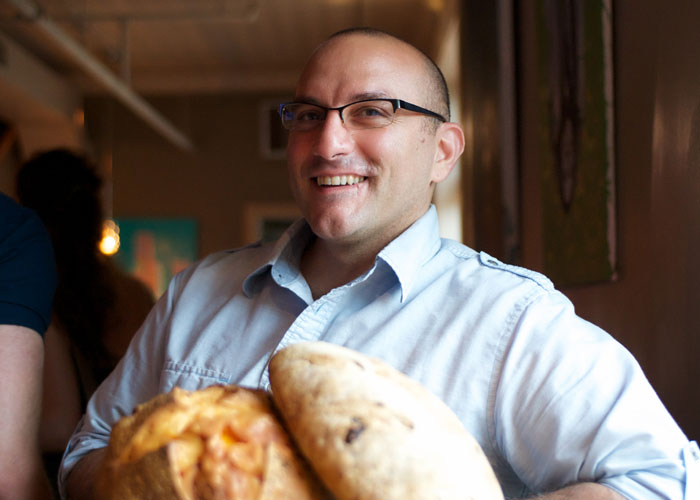 On August 13 at 10 p.m. EST on FYI, check on The Know it All Guide To…Bread, when Asheville's own Chef Anthony Cerrato of Strada Italiano appears on the episode, sharing the accolades of gluten-free breads.
After discovering an allergy to gluten, Cerrato went gluten free in 2011, and, in turn, caters to those with food allergies at his restaurant. Guests can opt to order all but three pastas sans gluten as well as bread, allowing a true Italian dinner experience to those with gluten intolerance. The program's episode featuring Strada centers around Cerrato's signature (and delicious) gluten-free bread recipe as well as his views on Italian cooking and catering to guests with gluten allergies.
"If you have a food allergy, you should be able to come into my house and get what you need," says Cerrato. "That's what real Italian hospitality is."
In regards to being on the show, "It was super intense but a great experience," he explains. "I love that I was given the opportunity to share what I know about gluten-free cooking."
If you miss Chef Cerrato's episode on August 14, it will be available on the website FYI.tv and the FYI app approximately 24 hours after it airs on cable.
About Strada Italiano
Strada, meaning street or boulevard in Italian, is located at 27 Broadway in downtown Asheville and calls to mind a traditional Italian neighborhood trattoria. The menu includes dishes representing all regions of Italy, including owner and Chef Anthony Cerrato's traditional family recipes. Hand-tossed pizzas, savory pastas, grilled or sautéed meats and seafood, house-made desserts, as well as gluten-free and vegetarian options are all made to order and feature locally sourced ingredients. The drink selection includes local brews on tap, biodynamic and organically produced Italian wines, as well as a host of fine liquors and cocktails. Strada adjoins Cerrato's other restaurant the Social Lounge, a craft cocktail bar with a rooftop patio and light fare. On request, the full Strada menu is available next door. Catering and private dining are available. Lunch hours are daily, 11 a.m.-3 p.m.; dinner is 4:30-9:30 p.m., Sunday-Thursday, and 4:30-10:30 p.m., Friday and Saturday. Both restaurants serve brunch on Saturday and Sunday. StradaAsheville.com and SocialLoungeAsheville.com.
About FYI
For your inspiration, for your imagination or for your innovation, FYI™ takes a modern spin on traditional lifestyle genres by embracing an adventurous and personalized approach to peoples' taste, space, look, story and more. FYI covers a range of stories and experiences that reflect how people live their lives today, not defined by just one passion or interest. FYI has launched all-new genres, including trendsetting and brand-definitional series, such as Married at First Sight, Arranged, Seven Year Switch, Tiny House Nation, Unplugged Nation, He Shed She Shed and Food Porn hosted by Michael Chernow. FYI is a division of A+E Networks, a joint venture of the Disney-ABC Television Group and Hearst. The network is available in nearly 70 million U.S. homes and is one of the most upscale entertainment brands in the media landscape. The FYI website is located at fyi.tv, Twitter at twitter.com/fyi and Facebook at facebook.com/fyi. For additional press information and photography, please visit press.aenetworks.com.
About The Know it All Guide To…Bread
From the world's biggest bagel to a decadent $200 gold-plated sandwich, the program visits the best places to eat and shows you the best hacks, how-tos, and mind-blowing facts in this fun and fast-paced food show. It debuts July 31, 2017 on FYI. Running a total of 13 30-minute episodes, the show airs on Monday nights at 10 and 10:30 p.m., with two back-to-back episodes.
Release