Looking for an easy day trip from Asheville or Hendersonville? We put together a scenic route that had interesting sights along the way and didn't require a lot of walking. One of us is recovering from a recent knee injury.
And we intentionally chose a route that wasn't the most direct. See a map of our route at the end of this article.
Our first stop was the Fred W. Symmes Chapel, also known as "Pretty Place". It's part of YMCA Camp Greenville and at the end of a windy road you'll need to backtrack to continue to the next stop. Click the link above for more pictures of the Chapel.
Take Hwy 64 West out of Hendersonville to Penrose, turn left onto Crab Creek Rd. then right onto Dupont Rd. Dupont becomes Staton Rd. Take Staton to it's end and turn left onto Cascade Lake Rd. When Cascade Lake Rd ends at a "T", turn left onto Greenville Hwy (US 276). Finally, turn left onto YMCA Camp Rd and take it to the end where you'll find the Chapel. NOTE: Check the Chapel Schedule to see when it's booked for private events.
If you have the time, the Blue Moon Gallery at the intersection of Cascade Lake Rd and Greenville Hwy looked promising. I'm planning on going back to check it out.
When we got to Pretty Place, there was a group of bikers hanging out, taking in the view. Made sense since the roads on this route are perfect for sports cars, convertibles, and motorcycles.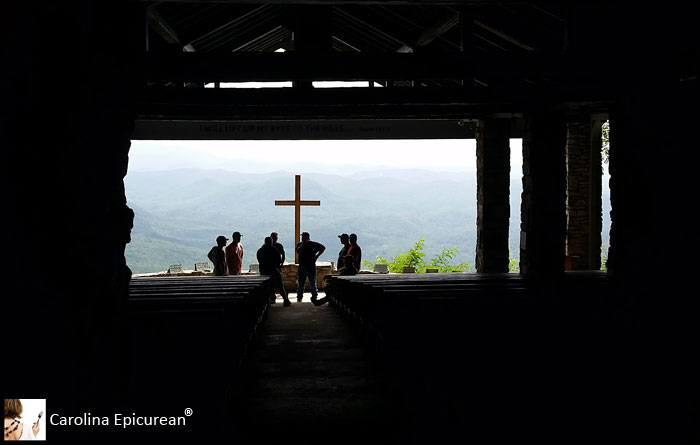 Memorial plaques are placed on Pretty Place's wall. A number of them seem to be for young men who were lost during WWII.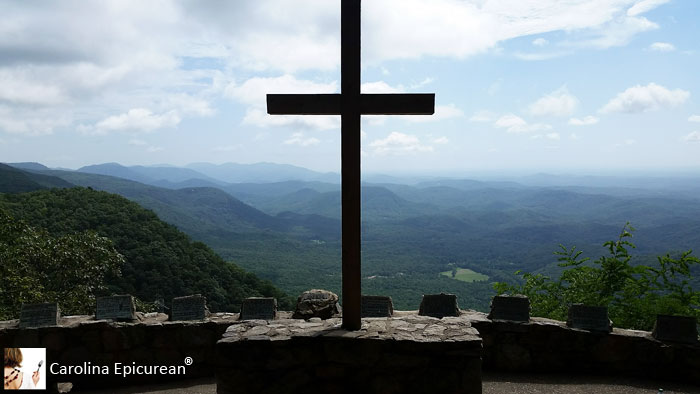 From Pretty Place, head back out to Greenville Hwy (US 276). Keep your eyes open for one of South Carolina's many natural springs, Ceasar's Head Spring. It will be on your right. There's very little space to pull over if you'd like to taste the water or fill up a bottle, so be prepared. As far as I know, the water is fine to drink.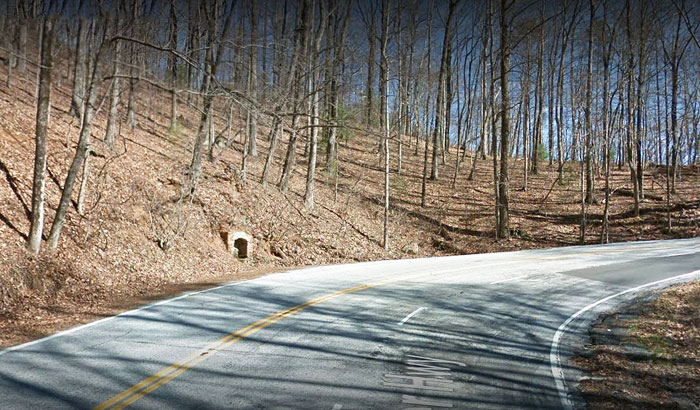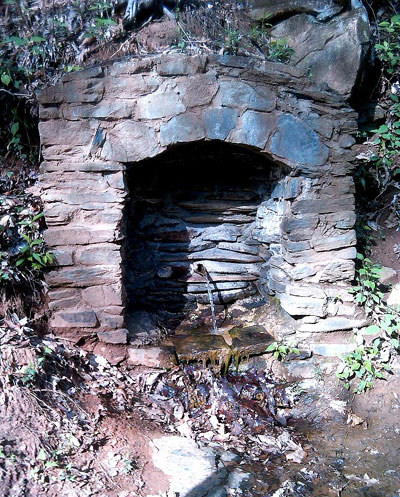 Continue on US 276 until you spot a gravel parking lot and peek-a-boo view on your left. You've arrived at Bald Rock Heritage Preserve. if you don't see it in time to pull over, there are a couple easy turn-around spots right down the road.
Graffiti is normally a bad thing, but there are some places that it's not only okay, it's actually kind of cool. Take Austin's Graffiti Park at Castle Hill. Of course, Bald Rock would be beautiful without the graffiti, but we didn't have a problem with it.
It's a short walk across a wooden bridge and onto the rock. You can move around easily, getting as close to the edge as you like. Careful, now.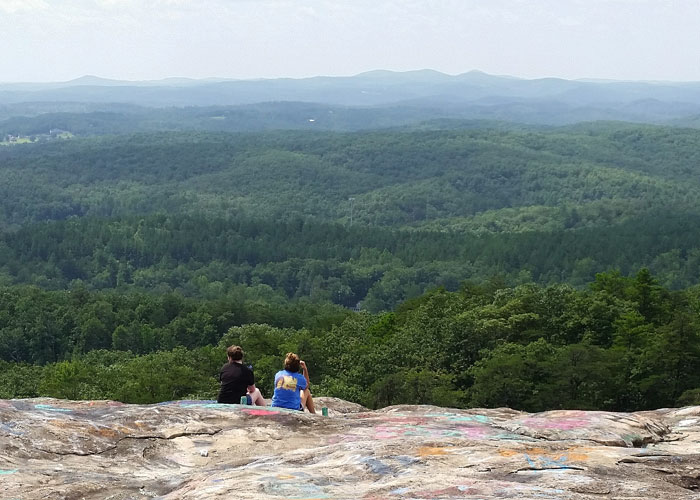 Continue on US 276 into the Cleveland area where you turn left onto Hwy 11 – Cherokee Foothills National Scenic Byway. The link takes you to what looks like the official Scenic Byway website. it's a horrible website – not intuitive at all and hard to find usable information, but there it is. Look around online if you want more detailed information on the entire Scenic Byway. Here's one site we found helpful: Our Upstate SC.
Turn left onto Callahan Mountain Rd, traveling a short distance until you see a crosswalk, black railing, and stairs on the right. A "loop" parking lot is on your left. You've arrived at Poinsett Bridge (video) in the 120 acre Poinsett Bridge Heritage Preserve. Believe it or not, this bridge was built in 1820 as part of the State Road from Greenville to Asheville. Can't you picture wagons and carriages crossing this narrow bridge, working their way up or down the mountains between those two cities? Wonder how long the trip took?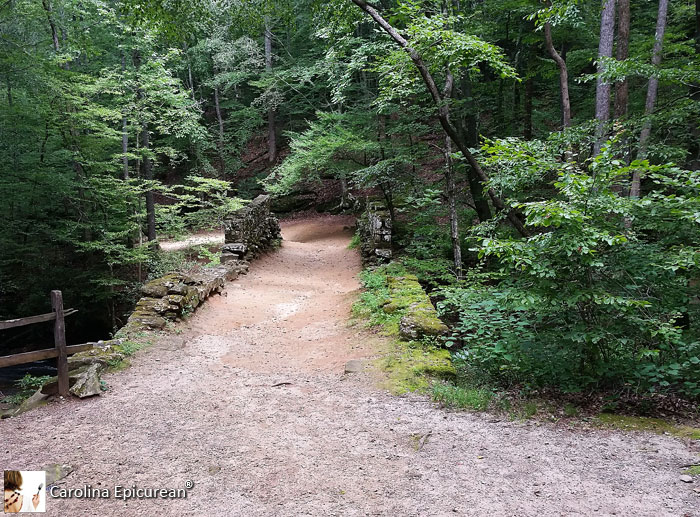 Take time to walk down to the creek below where you'll see the unusual and fantastic Gothic Arch.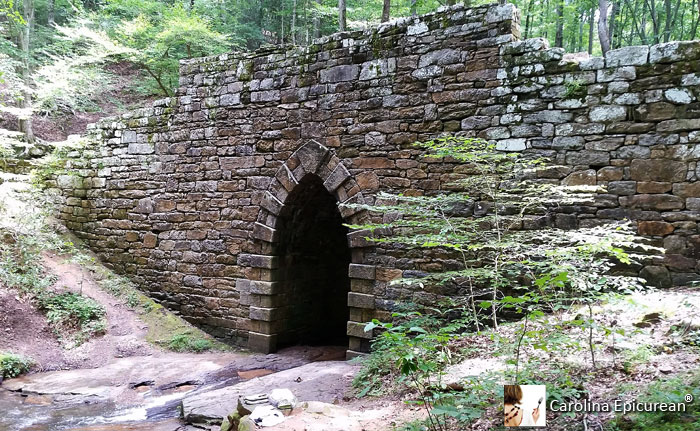 The creek spills over what looks like a mini Sliding Rock. This day there was a family with young children picnicking at the creek. They couldn't keep the kids out of the water. It's not too deep and not especially fast flowing.
From here we dropped down into Greenville for lunch. It was rather disappointing, so no lunch review.
Any GPS or paper map will easily be able to get you back to Hendersonville or Asheville.
Epicurean Notes:
Remember that "getting there" is part of the journey. Enjoy the winding, wooded roads.
Car trip conversations are some of the best.
Play good music and don't be afraid to sing along out loud. Head banging is allowed if it's Queen, or any group that moves you.
If you decide to take this drive, let me know what you think!