You heard me right. I had Shine (aka Moonshine) for breakfast today and it was over-the-top delicious!
Okay, getting real here. What I had was Peach 'Shine Jam – Moonshine & Vanilla Bean Jam on my toast as companion to my husband's famous mushroom, tomato, red pepper, onion, and sausage omelette.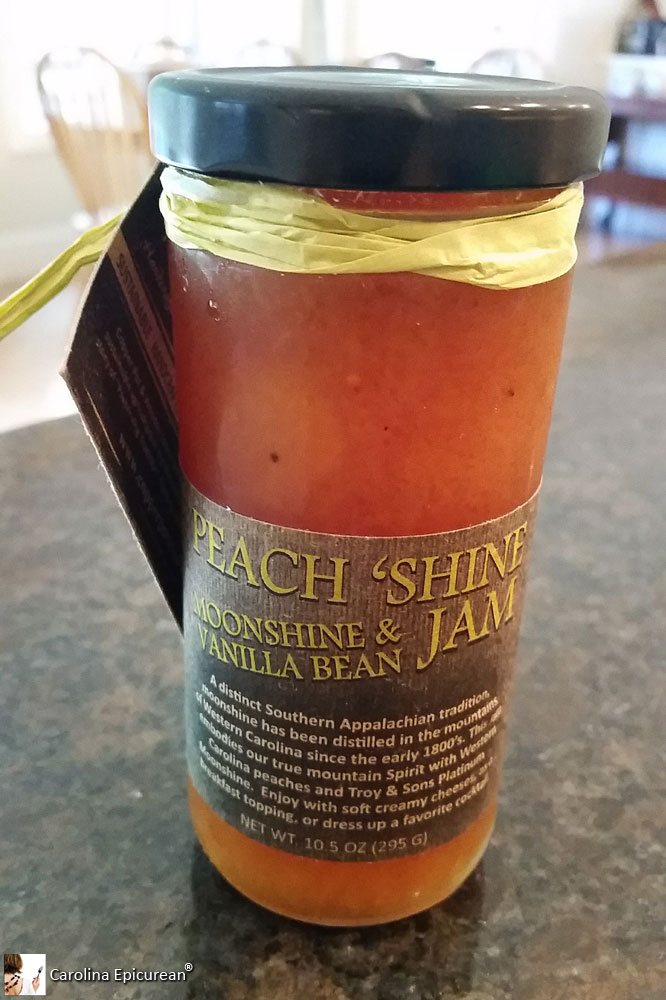 UPDATE: Hey everyone! I just got a discount code for Carolina Epicurean readers when they shop online at Copper Pot and Wooden Spoon through August 31, 2017! Use this code at checkout: EPICUREAN30. https://shop.copperpottraditions.com/
It's a local product, made in Waynesville, NC by Copper Pot & Wooden Spoon. Being pretty busy these days, the samples they sent me have been in the fridge for a couple weeks.
Oh, how I regret waiting to taste this jam! After my first bite, I pulled the jar back out of the fridge to check ingredients. A happy surprise. First and most prevalent, peaches. Followed by sugar (it's jam, after all), lemon juice, and moonshine (corn whiskey), and vanilla bean. The label also notes that ingredients are natural.
I like that ingredients are local, too. "Peaches [are] from the Western Carolinas and Troy & Sons Moonshine, distilled from locally grown corn, in Asheville NC."
It must be the moonshine that gives it that cool, light taste and mouth-feel? Just fantastic. I'm trying to decide just which summer cocktail(s) might be notched up a bit with a touch of this jam?
They suggest "Savoring the subtle layers of flavor with your favorite soft and creamy cheeses, serve atop thick cut French Toast, dress up your vanilla ice cream, or stir into a fruity cocktail for a true Southern delight!"
Another thing that struck me about the jam is that it's slightly runny – a good thing. You know how some store-bought jams are thick, almost too gelatinous? To me, a little runny is better. More like home made.
I have more of their products to try, and will either update this post or put information about them on my Facebook Page. See that Whole Wheat Beer Bread Mix below? The Oven Roasted Tomato and Spiced Apple Beer Jams? That's right, their sealed shelf time in the fridge is limited! Note: the bread mix isn't in the fridge.
You can order Copper Pot & Wooden Spoon products in their store and other brick and mortar locations, or online.