Probably my all time favorite media tour to date, the three days spent learning about North Carolina seafood, caught, grown, or processed in-state, were eye opening.
There's knowing about NC seafood . . . and then there's immersing yourself in the reality of life for commercial fishermen, shrimpers, their families, fish farms, clam & oyster farms, processing facilities, and more.
Dinner our first evening was at the landmark Beaufort Grocery Co. We were joined by two commercial shrimpers who graciously spent hours talking to us about what life is like today for commercial fishermen. Read about our conversation HERE.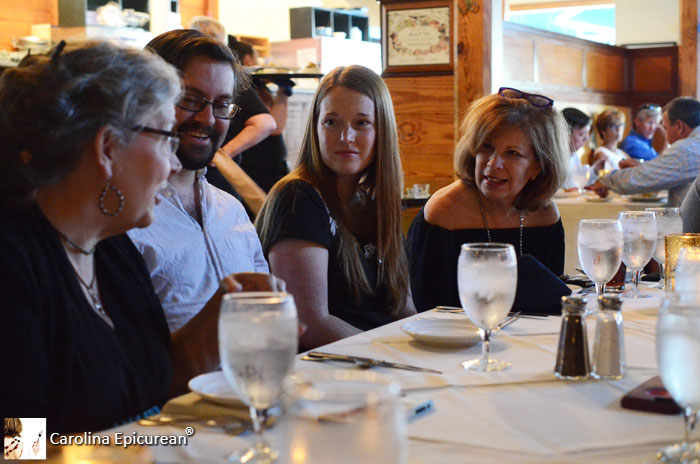 When we media folks (bloggers, journalists, culinary event producers) get together there's almost constant talking, along with laughter and comparing of notes on NC Foodways, social media best practices, latest/greatest restaurants, farmers' markets, and anything else you can think of that has to do with food.
Our dinner began with these tasty Stuffed Squash Blossoms that had been dipped in a light batter and fried gently until golden and crunchy.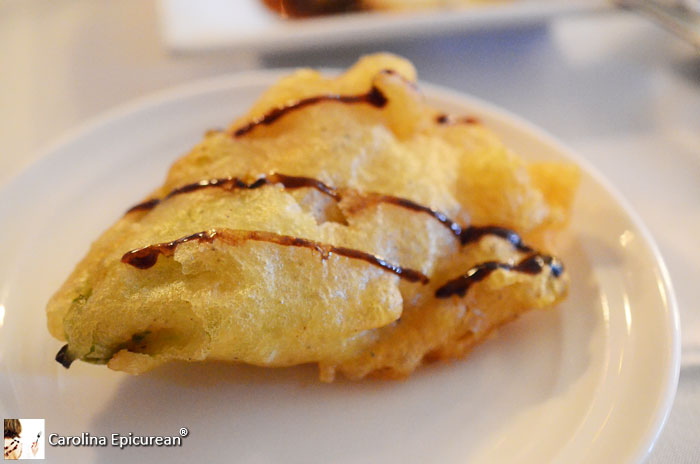 After the squash blossoms it was nothing but NC seafood. First up was this two to three bite Asian inspired Tuna Napolean. The tuna was sourced from Morehead City's Blue Ocean Market.
The rest of our meal was served family style. Beaufort's Fishtowne Seafood supplied the crab meat for these deliciously cute Miniature Carolina Crab Cakes. I'm talkin' lots of meat, not filler. So good.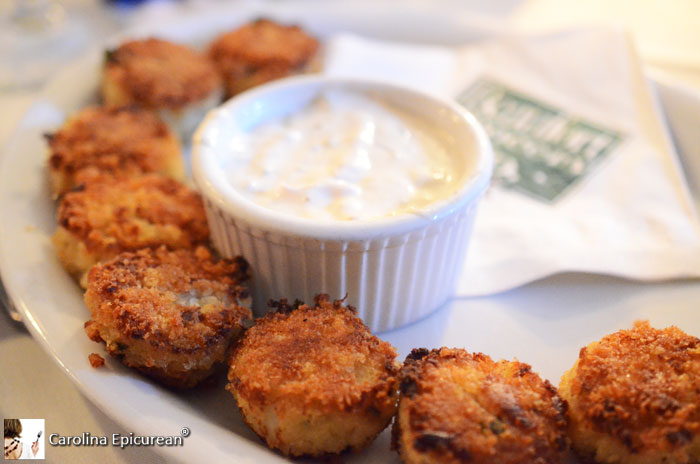 Believe it or not, I had never had Flounder before. The closest thing to fish we had growing up was frozen fish sticks. Over the years I've developed a love of most seafood, but am still a little hesitant when it comes to unfamiliar fish. You realize this is a big public confession for a food writer, don't you?
Scored and flash fried, this flounder was absolutely delicious! Loved it! It was also sourced from Blue Ocean Market, Morehead City. Since this dinner, I've been seeing flounder everywhere. I chalk it up to selective attention and confirmation bias – the interesting Baader-Meinhof phenomenon.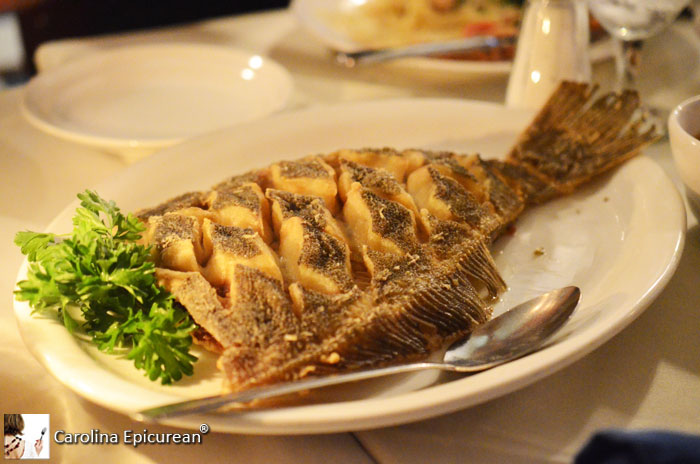 And finally Pan Seared Scallops and Shrimp in Champagne Cream Sauce on Cappelini, one of my favorites of the evening. I love scallops to begin with, but oh that sauce!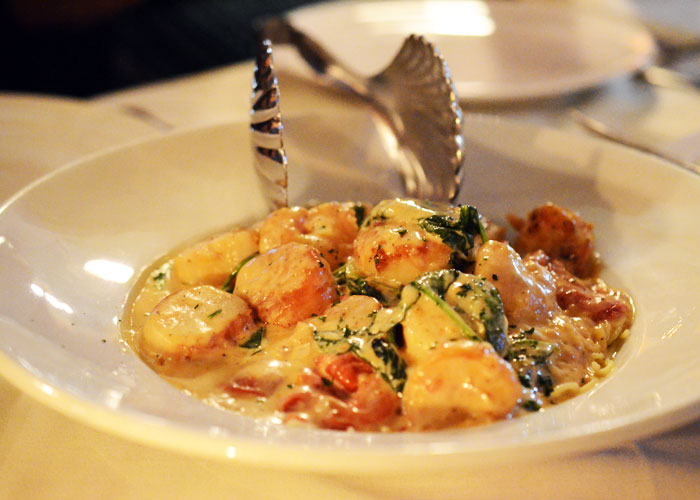 Want more? Read the short story behind Beaufort Grocery Co and its owners here. Even more interesting is the story of the Beaufort community.
A huge Thank You to the NC Department of Agriculture and Consumer Services for hosting us on this tour.
Epicurean Note: I'm confident the quality of any item on the menu at Beaufort Grocery will be just as good when you go in for lunch, brunch, or dinner.
Beaufort Grocery Company
117 Queen St
Beaufort, NC 28516
Phone: (252) 728-3899