Co-owners Katy and Joe Kindred of Kindred Restaurant and soon-to-open Hello, Sailor are excited to welcome Chef Craig Deihl to their restaurant family in North Carolina. Most recently Executive Chef of Cypress and Artisan Meat Share in Charleston, SC, Chef Craig brings his talents and seasoned leadership to Hello, Sailor as Chef de Cuisine. Joe Kindred continues to oversee culinary operations at both Kindred and Hello, Sailor. The two met participating in events, collaborated over recent years, and share similar values in consistently producing the best quality experience for guests.
More about Hello, Sailor HERE.
"Chef Craig and I became fast friends years ago when he was in town for an event in Charlotte. I always have admired and been inspired by his passion and commitment to his craft," shares Executive Chef and Co-owner Joe Kindred. "We were looking for like-minded, strong, creative leaders to join our growing team and Craig, also equally as important his family, were up for a new challenge. We are excited to welcome him to our close-knit community."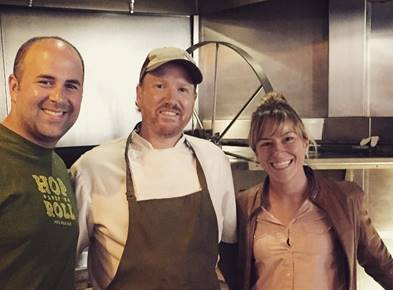 Chef Craig is a two-time James Beard Award finalist for Best Chef Southeast, a husband, and father to two young children. A graduate from Johnson and Wales University in Charleston, SC, Chef Craig trained under Chef Donald Barickman of Magnolias and the two opened Cypress in 2001, where he was promoted to Executive Chef after six months. In 2007, Chef Craig composed Cypress, a cookbook of his traditional low country cuisine combined with flavors from around the globe.
Located on Lake Norman in Cornelius, NC, Hello, Sailor will offer dockside dining and cocktails with a vibe inspired by mid-century Palm Springs, complete with outdoor tiki bar on the deck. Katy Kindred, who designed Kindred, has taken full design control of this space. The menu will feature well-sourced seafood with a "modern fish camp" feel. Chef Joe grew up on Lake Norman and spent his summers going to a small fish camp called Jack's, which is the location of Hello, Sailor.
The restaurant is slated to open in December 2017.
About Kindred:
Conceptualized by husband and wife duo Joe and Katy Kindred, seasonally inspired Kindred showcases contemporary chef-driven American cuisine in Davidson, NC. Opened in February 2015, the restaurant is in a historic building on the main stretch of downtown Davidson, about 20 miles outside of Charlotte. North Carolina native Joe serves as chef, while Katy manages the front of the house at their first restaurant, a dream-come-true scenario for the husband-wife duo who have spent the better part of a decade fine-tuning this concept. Kindred was named one of Bon Appetit's Hot 10 Best New Restaurants for 2015 and received a four star review for all categories from The Charlotte Observer. For more information please visit the website or find Kindred on Facebook, Twitter, or Instagram.
Release