Asheville – North Carolina's first True Cider Bar experiences sizable growth and plans second location in Asheville's South Slope.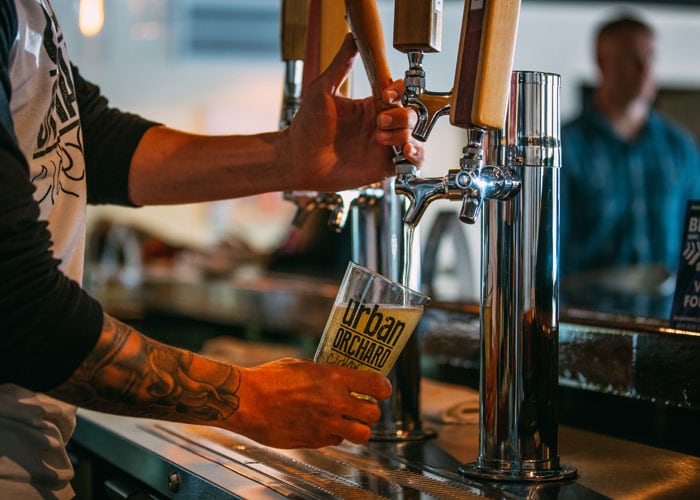 Construction is scheduled to begin immediately. Urban Orchard Cider Co. expects to begin production of its cider at the downtown location in February 2018.
Their projected soft opening of the South Slope tasting room will be in Spring 2018.
The new South Slope 17,500 sq. ft. Production and Tasting Room is located at 24 Buxton Avenue, Asheville NC 28801 (formally Eagles Nest Outfitters).
Urban Orchard's original and current 4,000 sq. ft. location opened October 30, 2013 at 210 Haywood Rd, Asheville NC 28806 and will continue to operate normally with an additional 2,500 sq. ft. off-site cellaring space. This West Asheville tasting room and production facility will remain in operation.
There's good reason for the expansion. In the first phase of growth, projected production for 2018 is more than double current production, up from 30,000 gallons in 2017 to 75,000 gallons in 2018. The second phase of growth in the new space will take production to 120,000 gallons per year, making Urban Orchard Cider Co. the largest craft cider producer in Asheville.
Product packaging will be one benefit of the much larger production facility and will take place in the second phase. A solid year of operation in the second tasting room is necessary to gauge in-house cider needs and adjust for greater distribution.
The good news for locals looking for work is that Urban Orchard is expecting 10-15 additional production and service staff will be hired in 2018.
And the good news for everyone is that a full kitchen will be included in the tasting room that will be available for lease by an outside restaurateur, yet to be determined.
About Urban Orchard:
Urban Orchard is family owned and operated
Sources apples from Hendersonville, NC
Rotating styles are driven from seasonal local ingredients
Gluten-free
More than 80 styles and counting
Dedicated to giving back to the community through sponsorships (Eliada Homes, Homeward Bound and more) and various community focused fundraisers (Brewing for Greenways, Pisgah Legal Services, Our Voice to name a few)
Seasonally produced product
Ciders are unfiltered and aged from eight months to one year
Find Urban Orchard Online:
Website
Facebook
Instagram
Twitter
Urban Orchard Cider Co.
210 Haywood Rd.
Asheville, NC 28806
828.774.5151
Release