Asheville – Slightly off the beaten path – meaning just outside Asheville's downtown core, but easy to get to – is a new-ish company called White Labs.
"What began as home brewers searching for higher quality yeast, quickly grew into a team of dedicated biochemists exploring new ways to advance brewing altogether."
Their primary focus is yeast research. And what better place to set up labs for yeast research than Beer City?
They also happen to have a pretty hip little "boutique restaurant and tasting room that showcases the delicious art of beer-infused and fermented foods." in the adjoining building. They call it White Labs Kitchen & Tap. In nice weather, the patio out front would be the place to be. Hope they have umbrellas for those tables, though.
I wanted to see if I could taste the difference between four Pasteur Coffee Porters, each made with different yeast so I ordered a flight. They include a lot of information on the menu:
White Labs • Pasteur Coffee Porter – WLP004 Irish Ale Yeast • Porter – Other • San Diego, CA • 5.05% ABV • 35 IBU • 152 CAL
White Labs • Pasteur Coffee Porter – WLP006 Bedford British Ale Yeast • Porter – Other • San Diego, CA • 4.94% ABV • 36 IBU • 148 CAL
White Labs • Pasteur Coffee Porter – WLP059 Melbourne Ale Yeast • Porter – Other • San Diego, CA • 5.07% ABV • 39 IBU • 152 CAL
White Labs • Pasteur Coffee Porter – WLP810 San Francisco Lager Yeast • Porter – Other • San Diego, CA • 5% ABV • 39 IBU • 150 CAL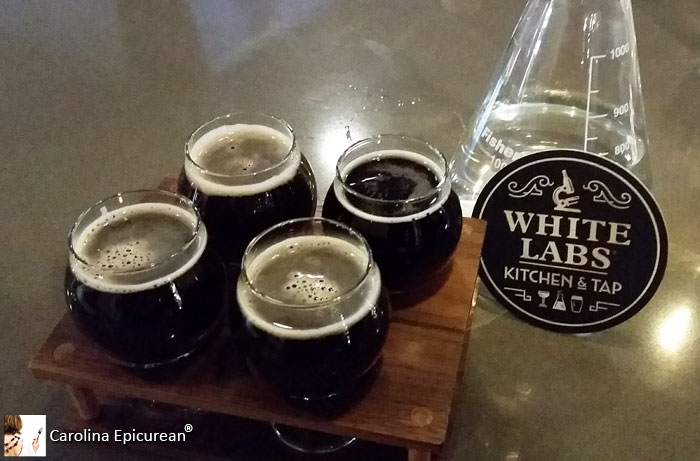 Verdict? There were definite differences in taste. I preferred the one with the Irish Ale Yeast over the other three. The beaker in back is their water delivery system, aka water for cleansing your palate and refilling your water glass. Cute way to subtly remind you about the whole lab thing.
"Featured dishes include woodfired pizzas made with White Labs pure liquid yeast, fermented sauces, farm-fresh salads and other beer-infused dishes and desserts. Enjoy cocktails, wine and 28 rotating taps of White Labs and guest beers."
My friend Nancy and I split a Hansen's Ferment Board ($14) listed on the menu as served with "local cheeses, fermented vegetables, Old World cured meats, and bread made with White Labs yeast cultures".
It was that and so much more: house made pickles, mozzerella (a little chewy), and pâté; "swooshes" of tangy mustard & fruit chutney/jam; and a lovely salmon spread topped with roe. And oh man, that bread! I ate it plain, foregoing any topping, including the herb butter. We both thought this board was well worth the price.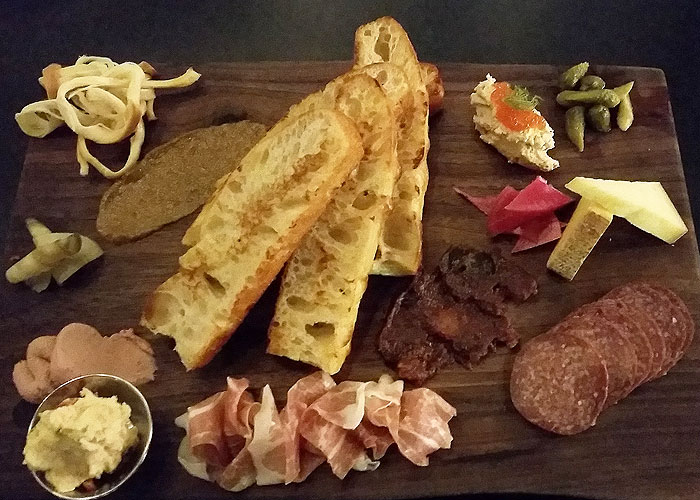 We also shared a Brisket Woodfired Pizza ($18 / one size) – "smoked brisket, provolone, house-made mozzarella, salted onions, Calabrian chiles, barley miso, White Labs Pasteur Porter barbecue sauce, and dill pickles" top "72-hour dough fermented with White Labs yeast cultures". Gluten Free dough is available.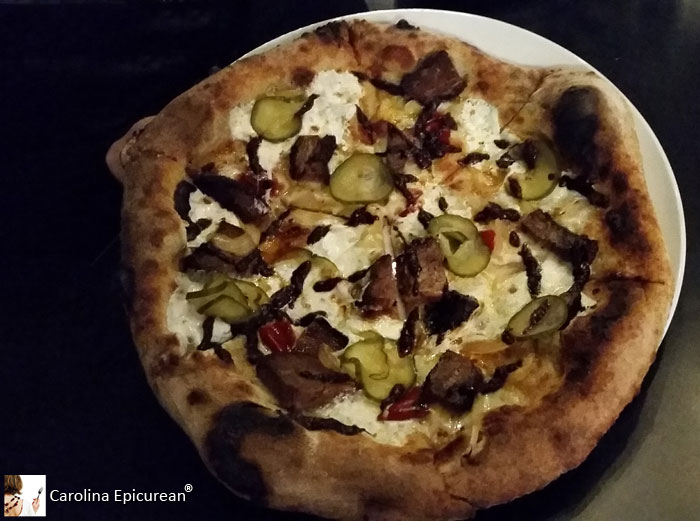 I was intrigued by the idea of brisket on a pizza. I like chicken and non-standard proteins on pizzas, so why not brisket? Sad to say, neither of us were thrilled. The meat was tender and tasty, but overall, my enthusiasm fizzled.
Those Calabrian chile peppers bring heat as well as flavor. If you don't like heat, take them off. But beware, oil from the peppers remains and still imparts a little kick.
The good news is that when Nancy went back for a second go with some other friends, they all thought the Scampi Pizza was great. See White Labs full menu HERE.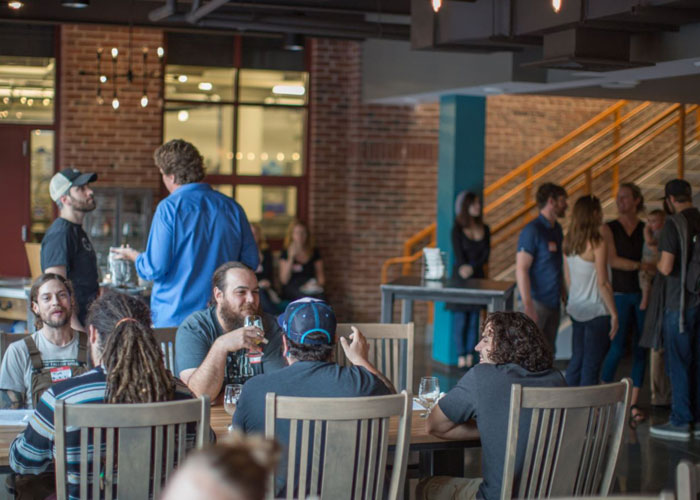 Epicurean Notes:
There are nothing but hard surfaces here, so expect it to be noisy when crowded.
BONUS! Park in the FREE lot that runs from the front to further back on the right side of the building.
A limited (snacks) bar menu is served from 3:30pm to 5pm.
Wine, beer, and cocktails are served.
White Labs Kitchen & Tap
172 S Charlotte St
Asheville, NC 28801
Phone: (828) 974-3868