Asheville – Looking for a fresh new way to show your sweetie how much you love them? Asheville chocolatier, The Chocolate Fetish, has the perfect solution with their innovative hand crafted chocolate art. Some of their creations will have you wondering if they can really be made out of chocolate. One delicious bite and you'll answer yes!
So how do they make their delicious chocolate art? Most popular for Valentine's Day are their chocolate high heel shoes. These begin with carefully decorating a plastic mold with colored chocolates. Next, the chocolatier fills the mold with melted chocolate which is allowed to cool. Then the shoe is removed from the mold and finishing touches are added. You will find shoes adorned with chocolate hearts and cameos, decorated with edible chains and buckles, and boasting hand sculpted chocolate roses.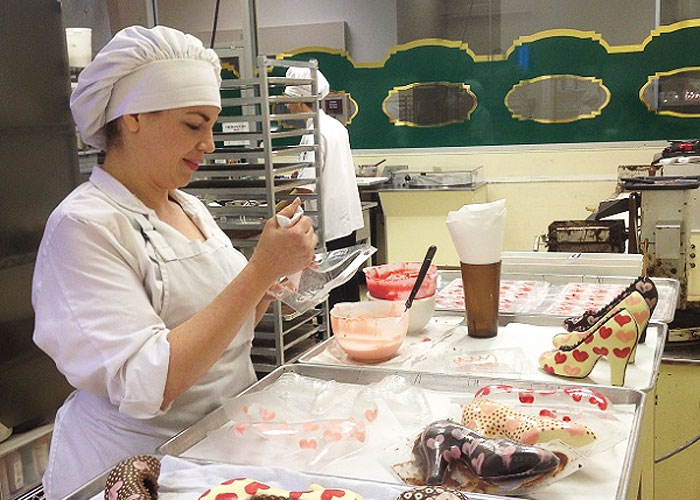 Other chocolate art you can discover at The Chocolate Fetish includes chocolate polar bears, heart shaped boxes, and champagne bottles. The chocolate champagne bottles, which are the same size as a real champagne bottle, are made hollow and filled with "bubbles" of Belgian chocolate. Break the bottle open and enjoy the delicious morsels of chocolate inside.
If traditional is more your style The Chocolate Fetish has that too with the region's largest selection of heart shaped boxes. You can get a heart shaped box that holds anywhere from one to more than 100 pieces!
There is no shortage of chocolate art to fill your box with. Featured for Valentine's Day are Dark Desires Truffles and Hand Decorated Chocolate Hearts. Dark Desires truffles are filled with a decadent 65% dark chocolate ganache and topped with a vibrant LOVE pattern. This pattern is created using an edible transfer sheet that has been printed with edible colored cocoa butter.
The Chocolate Fetish is located at 36 Haywood Street in downtown Asheville. Their award winning handcrafted artisan chocolates have been made on site since 1986. They ship nationwide and orders can be placed on their website at www.chocolatefetish.com.
Enjoy and give the best!
Release