Fairview – Bear Wallow, made by Looking Glass Creamery of Fairview, NC, has been selected as a 2018 Good Food Award winner. The Good Food Awards, based out of San Francisco, CA, recognize responsible producers nationally who handcraft exceptional foods in various categories including beer, cheese, charcuterie, preserves, chocolates and confections. There were 199 winners selected from a field of 2,000 entries.10 of those winners were North Carolina companies. This is the third time Looking Glass Creamery has been awarded in its 9-year history but a first for Bear Wallow, their take on a raw milk, Alpine Style cow cheese.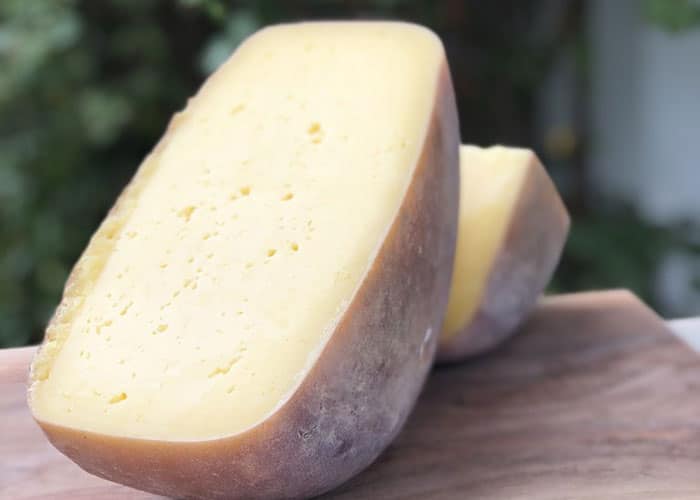 The recognition comes at a special time when the company is undertaking an ambitious expansion and building a new cheesemaking facility with underground aging caves on the dairy farm that has been the companies milk supply for several years. The company will take over operation of the dairy once the creamery construction is complete. Bear Wallow is made by cutting the curd very small, cooking to a high temperature before pressing overnight. It ages 6 to 18 months with more depth of character developing over time. "We are proud that Bear Wallow was selected for recognition because it really captures the quality of the milk, the lush pastures of the farm, and the taste of place that only a raw milk cheese can give you." Says co-owner Jennifer Perkins. The cheese is being produced in small batches of 8-12 wheels at a time, with limited space to age it at their current facility. In the new facility they will be able to make 30 wheels at a time and have 900 more square feet of space to properly age each cheese until it reaches peak ripeness.
The new creamery in Polk County is slated for completion in the spring of 2018. While the farm is still in North Carolina, it is an easy 20 minutes from Spartanburg, SC and 45 minutes from Greenville, SC. "We plan on developing into an agritourism destination for the local community but also nearby towns and cities who want to enjoy a day trip to the country, learn more about farming, and enjoy some good cheese and ice cream when they get here." Says co-owner Andy Perkins. The company is looking forward to welcoming people onto the farm in Columbus, NC beginning in the summer of 2018. The first opportunity will be May 12, 2018 when the farm will be hosting Grofest, a music festival to benefit local farms, farming, and farmland preservation put on by the local non-profit GRO or Growing Rural Opportunities. For tickets and more information go to Grofest.org. Look for more events to be held on the farm in the near future.
Bear Wallow can be sampled and purchased at the cheese shop in Fairview or ordered and shipped via the company's website at www.ashevillecheese.com. The original location will remain open after the production and aging of the cheese moves to the farm. For Sales and Distribution of Bear Wallow and other Looking Glass Cheeses, contact Andy Perkins at 828-458-4715 or [email protected] .
Looking Glass Creamery is a small, family cheesemaking operation that opened its doors in January of 2009. They craft handmade cheese using traditional techniques from cow's milk. In 2017, they acquired the dairy farm that has been their milk supply and are busy building a new creamery and underground aging caves on the farm which is slated to open in 2018. All this was made possible by the hard work of the LGC crew and the support and faith of a lot of people including the original owners of the farm, Doug and Alan Harmon. For more on the farm transition, check out https://soundcloud.com/growinglocal/the-future-of-harmon-dairy. Looking Glass Creamery has been recognized and featured by numerous publications and organizations including the American Cheese Society, Williams-Sonoma, Garden and Gun, Cooking Light, Traditional Home, NY Times, USA Today and many others. The company is owned and operated by Jennifer & Andy Perkins.
Release