Time for some Asheville street food – French style.
Bouchon Street Food is a child of Bouchon (the restaurant). It lives in the alley next door, but in no way is it treated as a "stepchild".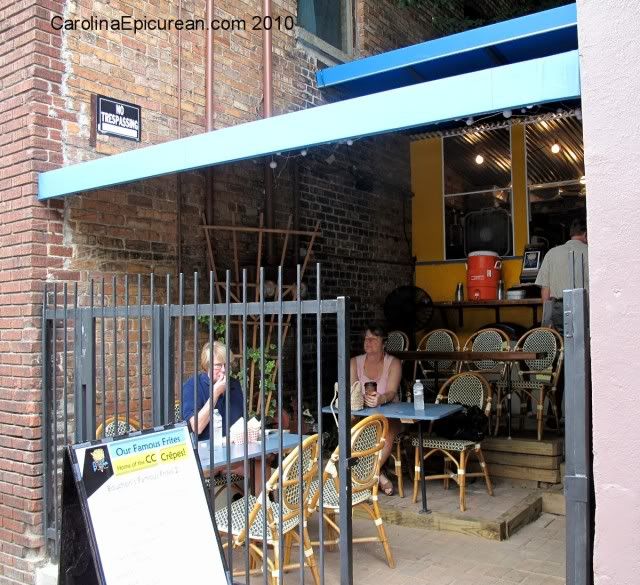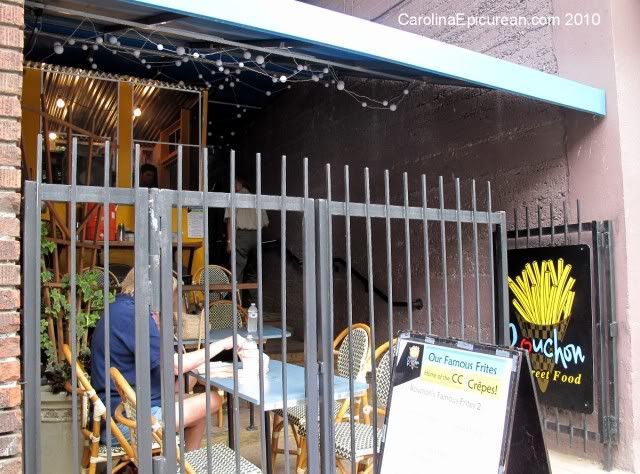 Craig Peters, Mr. Crepe himself, mans the one-person booth, turning out some of the most delicious crepes in town. They're light, airy and filled with deliciousness, both savory and sweet.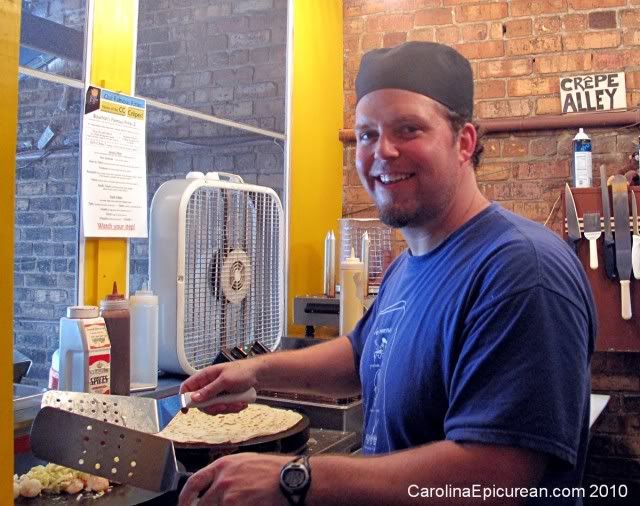 Step up to the window to order from the posted menu or take a menu and sit for a few minutes to decide what you'd like. Choose your drink from a cute little fridge inset into the wall next to the order window or from a nearby cooler. Just a few minutes later, Craig lets you know your food is ready for pick-up back at the same window.
So what are the holes in the tables all about? They're custom holders of all things conical, such as Pommes Frites ($2) and other dishes like Chien Chaud (I think) – a "French hot dog stuffed into a small baguette called a "picelle"" – served in paper cones.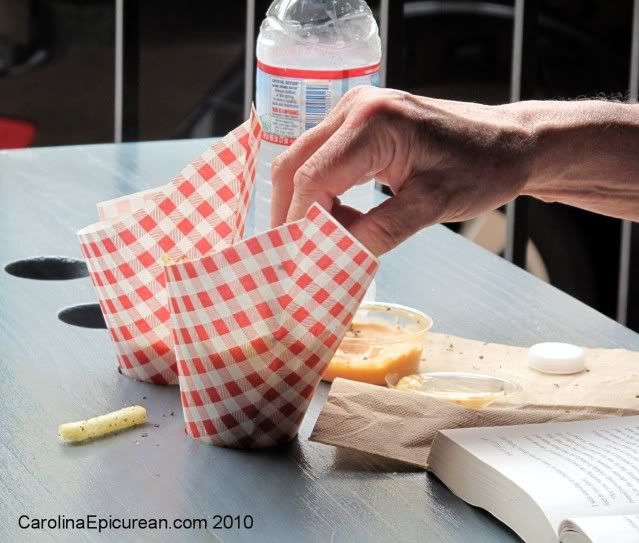 This was an investigative crepe excursion. Sweet Tooth and I planned on savory crepes at Bouchon, followed by a walk down N. Lexington, up Woodfin to Broadway and then up Broadway to the new fountains in Pack Square, capping it all off with sweet crepes at the Twisted Crepe just a few blocks away.
Sweet Tooth had the Farm to Table ($6) – filled with caramelized onion, fresh mushrooms and goat cheese. Talk about comfort food! The way the goat cheese melted into the other ingredients, creating a sauce effect – delicious!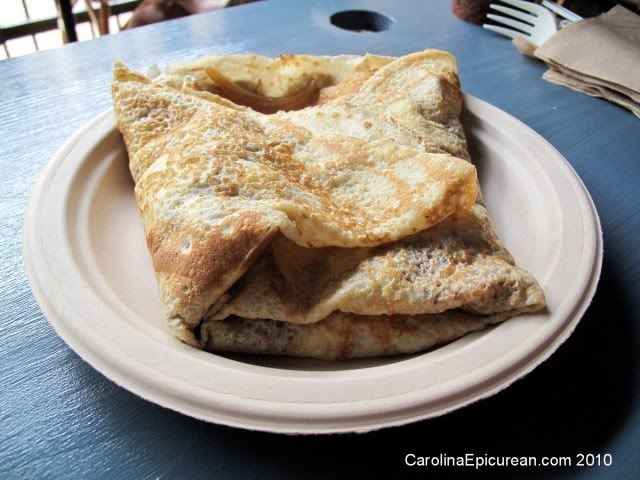 My choice was an item making its debut today, featuring shrimp and cabbage ($7). Afraid I wouldn't have room for this and the dessert crepe and not wanting to waste food, I asked Craig to make me a 1/2 size crepe and charge me full price. This isn't something they normally do, but he was gracious enough to accommodate my wishes (he charged me less than full price, too). Thanks Craig!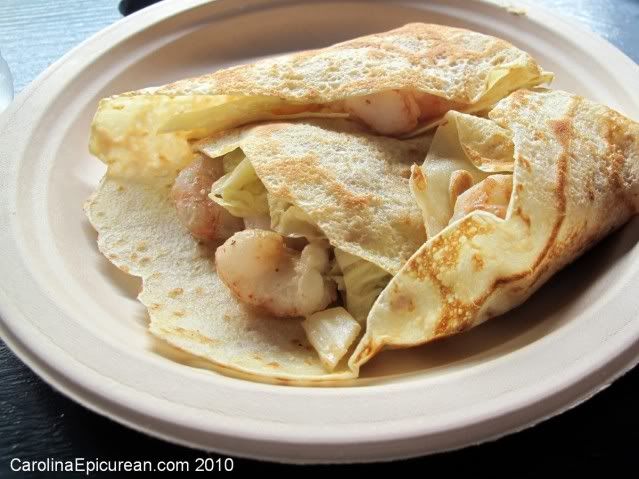 So completely different from the Farm to Table Sweet Tooth ordered, this crepe was light, but filling and had a little kick. The flavor was terrific and I'd order it again, but I'd like the shrimp and cabbage in more of a sauce, so it's less like eating two separate ingredients that happen to be in a crepe together. Try this crepe and let me know your thoughts. Am I off base?
So after leaving Bouchon Street Food, we made our way over to the new Pack Square fountains and watched the action: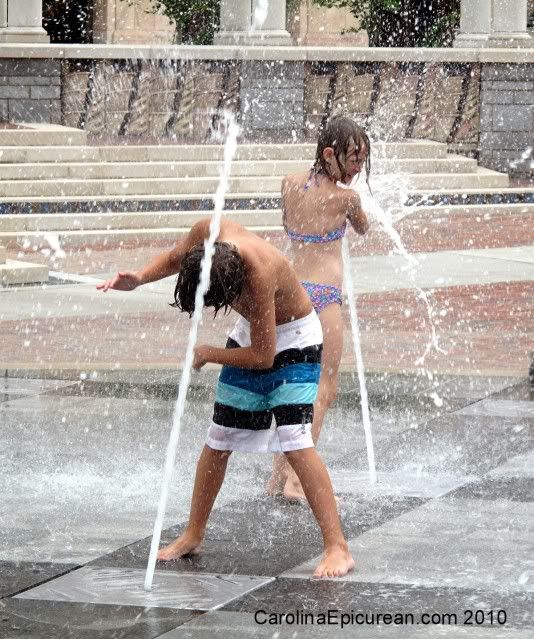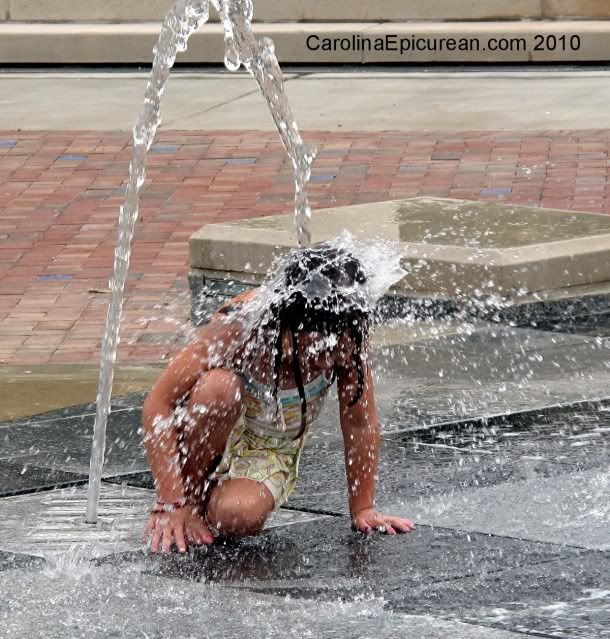 Next on the agenda, Twisted Crepe. That was the original plan, right? Plan revised: hot day, working up a thirst walking around town, Packs Tavern in front of us . . . time for a festive beverage!
We did make it to the Twisted Crepe for very good dessert crepes after our festive beverages.
Sweet Tooth had a Dirty Banana ($4.99) filled with Nutella, bananas and caramel. She topped it off with added whipped cream. Simple and delicious!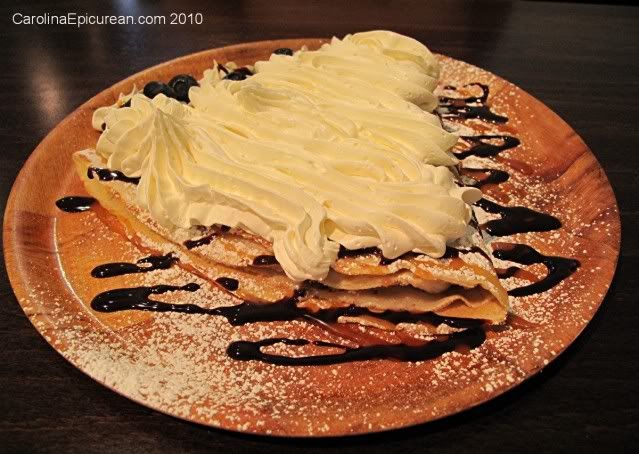 Now, I don't know if it was the festive beverage, or just plain idiocy, but I got so confused looking at the "Create Your Own" menu option, it was ridiculous. "May I add this? What would the price be if I add that? How about if I add this other filling?" Sweet Tooth kept telling me to read the menu – all the answers were right there. The poor girl at the counter must have thought I was a bit off.
Giving up, I settled on The Beckett ($5.99). It's filled with strawberries, bananas, white chocolate, Nutella and topped with whipped cream. They were out of white chocolate, so I asked them to go ahead and use regular chocolate instead.
This is when the owner stepped in (he obviously wanted to help a "less fortunate") and offered to include one of the fillings (pineapple) I'd been fumbling over when considering a "Create Your Own", at no additional cost. Thank you.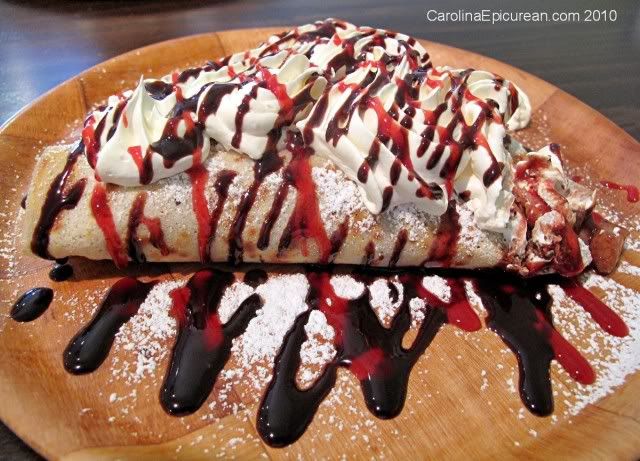 Eating this crepe was like eating a Banana Split. Yum!!
Both crepes were large. If I'd had a full lunch or dinner beforehand, I'd want to share my crepe with someone. And, the only suggestion I'd make to the Twisted folks would be to make their crepes much thinner so they're easier to cut and less chewy.
See pictures of Twisted Crepe's interior on their Facebook Page.
Bouchon Street Food
(In the alley next door)
62 N. Lexington Ave
Asheville, NC 28801
828-350-1140
Twisted Crepe
62 Haywood St.
Asheville, NC 28801
828-505-3855