Elizabethtown – Desperately seeking lodging. That's what was going through my mind as I planned for a trip to Southern Smoke BBQ's special South Supper in Garland, NC. You can read about the Southern Smoke BBQ Southern Supper here.
There was nowhere to stay in Garland. After expanding the search area, we discovered Cape Fear Vineyard & Winery in Elizabethtown, about half an hour away from Garland.
Whaaaat? A winery? Creatively and impeccably landscaped, wandering peacocks, a restaurant/bar, gorgeous event space, a distillery about to go online, an incredible art collection on display (everywhere), and . . . lakeside lodging in the form of seven cottages!?!
Thanks to owner Alex Munroe's generosity, we spent two nights in the Jazz Cabin. That meant we could get to town a day early and take in the annual White Lake Water Festival. Nothing better than an all-American small town parade with lots of fire trucks. Where they still throw wrapped candy to kids (and some adults).
Would you be surprised if I told you as soon as we pulled into the winery property we headed to the bar to do a tasting? You know we had to a little tasting so we could choose which bottle to buy and take to our cabin for a little R&R after driving for hours.
Each cabin has a deck overlooking the lake. Didn't check all the cabins, but I'm assuming they all have nice rockers on their back decks like ours did. We loved hanging out there, especially after dark. You would not believe the noise insects, owls, and who-knows-what-critters make after dark!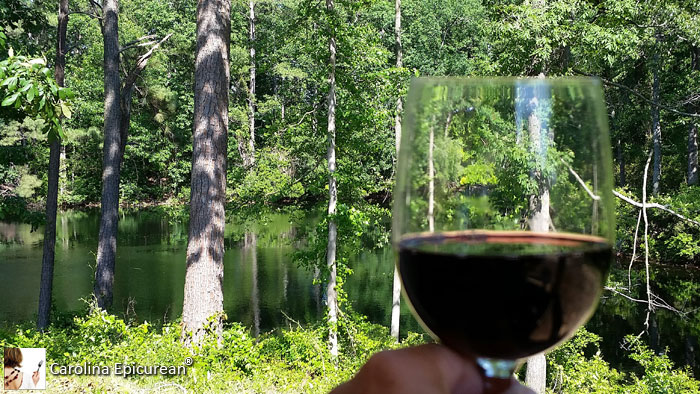 After our stay, I had a conversation with Judith Scott, Lodging Director, about Cape Fear's goals. She described all the things they have done, and will be doing going forward, to create a luxury lodging experience. Attention to detail, including top quality linens and cabin features are paramount.
Cape Fear's on-site restaurant/bar, The Cork Room, is lovely! It's one of those places that manages a casual-elegant atmosphere where you're expected to have fun and enjoy yourself. A completely eclectic and wonderful art collection hangs on every wall. I believe original art is in the cabins, also. There appeared to be an original Woodstock ticket in ours, but I didn't actually verify.
Not sure if there is live music every Friday evening, but there was this Friday. A keyboard player and an exceptionally good female singer.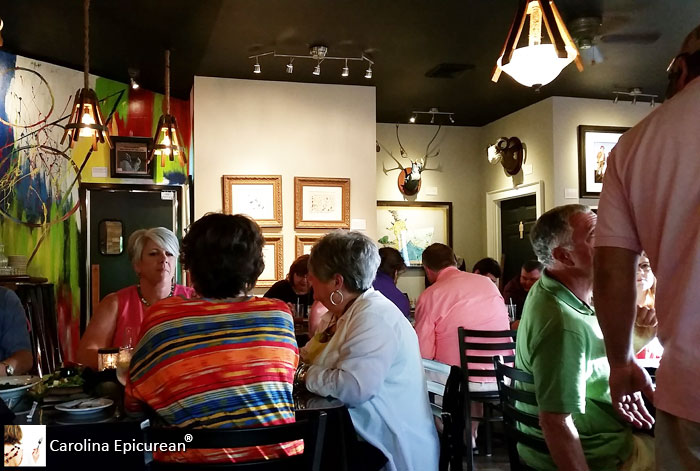 Both of us ordered the Peppercorn Filet entree: a 6oz "Certified Angus Beef® center cut beef tenderloin filet char-grilled and topped with sauteed cremini mushrooms, onions, and whiskey peppercorn sauce. The filet was served with a baked potato and broccolini ($21). We both asked for our filets to be cooked medium-rare. See their menu here.
We were happy with dinner, but the steaks and veggies all could have been cooked just a little longer. I'm guessing Chef was pretty busy in the kitchen, what with a packed restaurant and prepping for an on-site wedding the following day. Regardless, it's not a deal breaker. We'd go back in a heartbeat!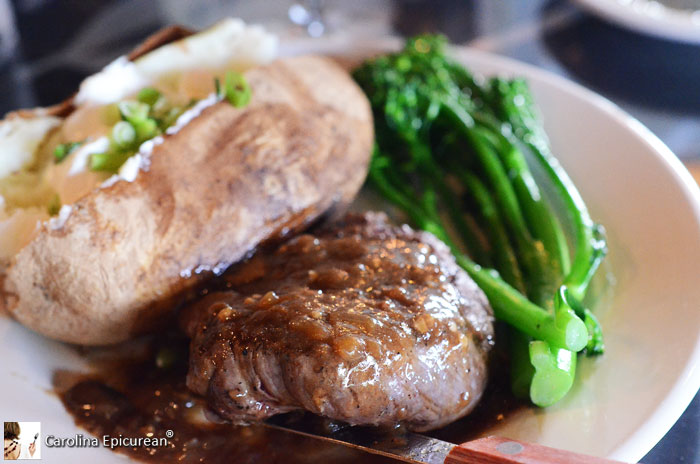 Impressive wine glass chandeliers had been hung just a couple days before in Cape Fear's event venue. It was in the process of being set up for a wedding the next day. We took a peek later in the evening. With all the finishing touches the room was gorgeous.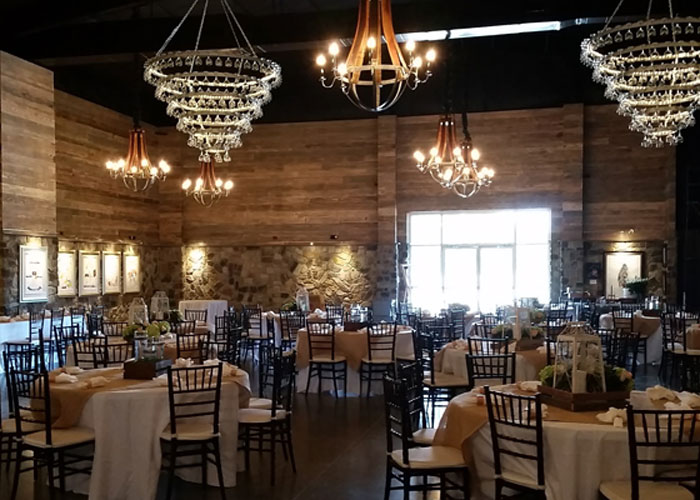 Considering this place didn't exist before 2014, they've accomplished amazing things: landscaping much if not all of the "compound", building seven lovely cabins, building expansive multi-level decking overlooking the lake, and never mind a functioning winery.
Epicurean Notes:
Owner Alex is a huge supporter of "Got to be NC" Agriculture and Wine.
Bee hives were installed at the edge of the vineyard just before we arrived.
One of their goals is to turn the Cape Fear compound into an agritourism site.
Check out the horse, mini horses, donkeys, and mini donkeys.
Also, be sure to watch for the two peacocks wandering the property.
The interesting characters kickin' back on the side of the main building used to live in Michael Jackson's Neverland and were purchased from his estate.
I'm thinking we'll be hearing more about their distillery soon.
Cape Fear Vineyard & Winery
195 Vineyard Dr
Elizabethtown, NC 28337
Phone: (844) 846-3386