Greenville, SC – Exciting 10th Anniversary Announcements from John Nolan, owner of Greenville History Tours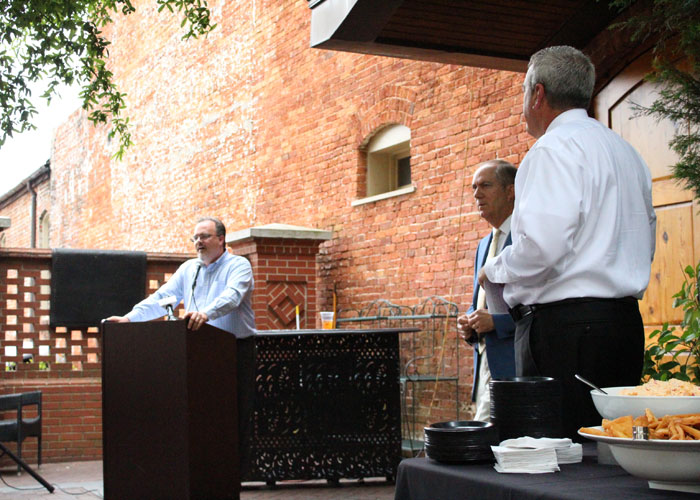 New Tours
1. The Greenville Breakfast Tour | $39 pp; Tuesdays and Thursdays 7:30-9:15 am. Guests will enjoy unique food and drinks at Famous Toastery, Biscuit Head, and LeGrand Bakery. This driving tour will be offered year-round.
2. The International Coffee Discovery Class | $45 pp, Saturdays 2:30-4:15 pm Guests will learn all about coffee from the places it's grown to characteristics of bean varieties. You will see the roasting process first-hand and how to fashion your favorite cup. You'll also taste a variety of world coffees from two brewing methods: Italian moka pot and French press.
Guests will take home freshly roasted beans of their choice. This course will be offered year-round.
3. Downtown Public Art & Architecture Tour | $20 pp; year-round, by appointment
This driving tour will take you to most of the 71 public works of art scattered throughout down town. You'll learn about the artists, insights into the commision and meaning of each work, and see lots of interesting pictures of details, other works by these artists, and the artists themselves. You'll even discover works that you didn't even know about!
New Greenville Book
Lost Restaurants of Greenville | GHT owner John Nolan published A Guide to Historic
Greenville SC (History Press, 2008) and is now working on a book (Arcadia Press, fall, 2018) that captures the great nostalgic eateries of Greenville's past, ranging from earlier times like Boston Lunch and Ye Olde Fireplace to more recent ones such as Bistro Europa and American Grocery.
New service
Shuttle Service | $100/hr., year round by appointment
Enjoy the convenience of a comfortable 15-passenger Ford Transit van with high roof, aisle seating, and a computer screen for optional viewing of historic Greenville photos.
For more information, contact:
John M. Nolan, Owner
Greenville History Tours
864.567.3940
[email protected] www.greenvillehistorytours.com @gvilletours
Complete list of services
West End historic walking tour | $12
South Main historic walking tour | $12
At the Chef's Table culinary tour | $49
Greenville BBQ Trail tour | $39
Greenville Breakfast tour | $39
World Coffee Course | $45
Historic Neighborhood & Architecture tour: Northwest | $20
Downtown Driving Tour | $15 Shuttle Service | $100/hr.
Thematic Powerpoint lectures about Greenville | $100/hr
Customized culinary/history tours with various restaurants throughout Greenville
*All prices are per person unless otherwise stated; prices do not include tax or gratuity
Restaurant partners for customized tours
Roost • Kilwin's Ice Cream • Dark Corner Distillery • Sip • Tupelo Honey Café • Southern Pressed Juicery • Luna Rosa Gelato • Poppington's Popcorn • The Nose Dive • Soby's New South Cuisine • Soby's on the Side • Grill Marks • The Lazy Goat • Papi's Tacos • Passerelle Bistro • Smoke on the Water • Mac's Speed Shop • Stax Original • Pickwick Pharmacy & Soda Fountain • Mike & Jeff's BBQ • Henry's Smokehouse • Bucky's BBQ • Ink n' Ivy • 101 Espresso Bar • The Local Cue • Rick Erwin's West End Grille • Nantucket Seafood Grille • Rick's Deli, Le Petit Croissant
Release