Rooftop bars are now a "thing" in Asheville.
Yes, they existed prior to the "big build" going on in town, but new, higher-end hotels have taken it to the next level – up.
So now, when you fancy sipping a cocktail, glass of wine, or local craft brew on an Asheville rooftop, you have more choices. Want to gaze over downtown buildings to distant vistas of multiple mountain ridges on the horizon as they go from green to purple in the setting sun? Rather do some people watching from one or two floors above main drags through downtown? Asheville has it all, mostly within walking distance.
It's tough to compare the various rooftop bars, but I'm going to talk about type of view, decor, and ambiance. As far as drink prices, it's become somewhat homogeneous lately, with little difference between various bars.
If you're looking for cheap drinks, basic watering holes, or dive bars, subscribe to my Newsletter so you won't miss my upcoming article on where to find them in Asheville.
Find the best rooftop bar for you, or try them all!
Parking: All city owned garages are free the first hour and $1.25 per hour after that, with a daily maximum of $10. Garages do charge a fixed price of $9 for parking during a single day and $7 for multi day parking when special events are going on. For live info on parking garage spaces available at any given time, go HERE. You can also download the Passport app to pay for meters online (never search for quarters again!)
In alphabetical order:
Capella on 9
10 Broadway
Asheville, NC 28801
Phone: (828) 258-2522
Asheville's newest rooftop bar, Capella on 9 is on AC Hotel's 9th floor. Number one comment from most folks on first look is, "Wow". The next thing is, "It's so sleek, minimalist, and modern. Nothing else like it in town". Think Charlotte or Raleigh without the dress code.
As you exit the elevator on the 9th floor, you'll see a variety of seating/table options. To the right is a small outdoor area with a few tables. Central are the bar and seating areas with semi-transparent chain-like curtains hung from the ceiling. Farther to the left is the prize. The large, gorgeous rooftop bar.
They're "serving up locally curated dishes, handcrafted cocktails and mountain views". Things like Charcuterie Board, Iberico Ham Flauta, and Capella Hamburguesa (grass fed pork and beef sliders) are on the menu. Prices are not listed online.
View: cityscape and nice long range views. The rooftop seating on the other side of the building is good for sunset viewing.
Parking: street or either the Buncombe County or Rankin Ave garages are a few block walk away.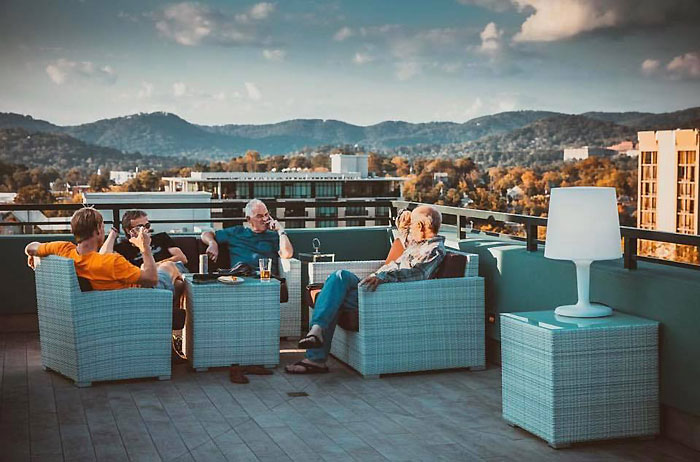 Hemingway's Cuba
15 Page Ave
Asheville, NC 28801
Phone: (828) 252-0218
Hemingway's Cuba will be on the 4th floor of the still under construction Cambria Hotel. Owners Tony and Isabel Fraga & son Alex Fraga, also own Isa's Bistro at the other end of the block.
"Hemingway's Cuba represents more than a restaurant. It's a culmination of a lifetime goal to share an authentic Cuban restaurant experience with the people of Asheville. Havana native and Founder of Hemingway's Cuba, Tony Fraga, grew up enjoying exquisite meals with his father at El Floridita in Havana. The restaurant was not only known to be a favorite of Ernest Hemingway, it earned the honor of serving "The Best Daiquiri in the World," according to Hemingway himself." ~ The Fragas
I have it from a source close to the action that we can expect Cuban-esq vibrant colors, perhaps in a mural, a combination of tables/chairs, loungy chairs and couches, and fire pits. The menu will feature Cuban small plates and main dishes. Check out their Facebook Page for some menu previews. Drinks will include Cuban inspired cocktails like daiquiris and mohitos, as well as classics.
They're shooting for a November opening, but the hotel's website says the hotel will be taking reservations beginning December 1, 2017. As of this writing, Hemingway's kitchen is done and they're building the bar. Knowing how construction goes, Hemingway's will open as soon as they can, possibly November?
You can be one of the first to hear their latest news by liking their Facebook Page or by subscribing to their mailing list (scroll to bottom of the page).
View: overlooks outdoor seating and action at the historic Grove Arcade, and Battery Park Avenue.
Parking: street or Wall Street Garage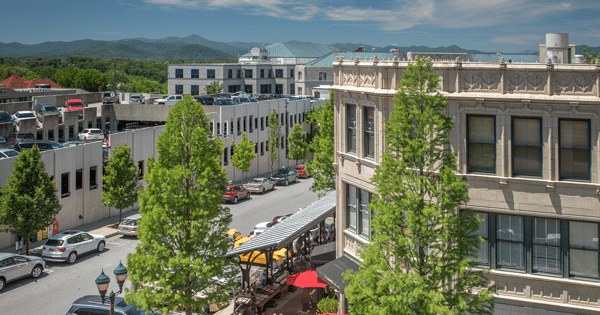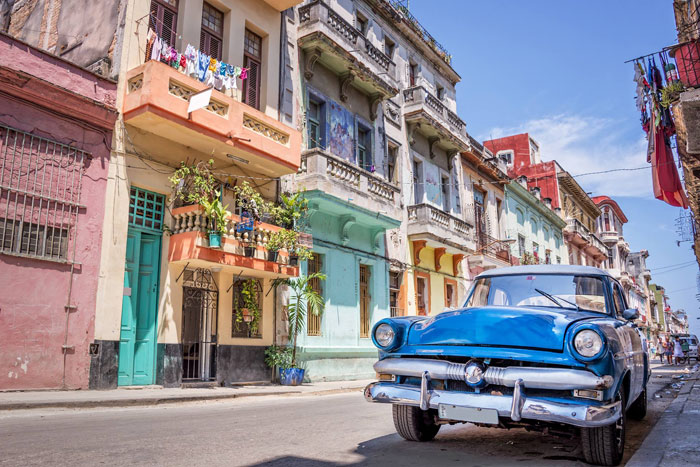 The Montford Rooftop Bar
199 Haywood Street
Asheville, NC
Phone: (828) 505-8750
The Montford Rooftop Bar is on the 8th floor of the new-ish Hyatt Place hotel. They describe themselves as "a contemporary rustic speakeasy offering drinks and light fare with spectacular views!"
There seems to be a recurring theme from a fair number of people who've been, that the small plate portions were very small and prices for plates and drinks were both on the high side.
Go early and you'll be all set by the time sunset views show up.
View: overlooks busy I 240 and low-rise buildings to a beautiful long range view. Great sunset experience here.
Parking: street or FREE Valet! Just inform the valet that you are going to The Montford Rooftop. Or, the Wall Street Garage is a few block walk.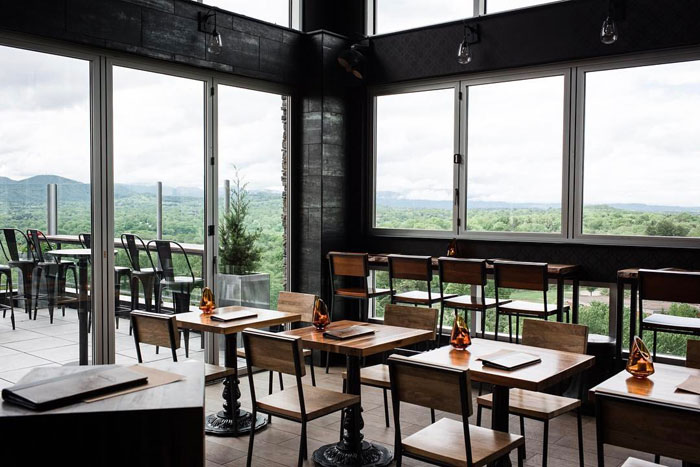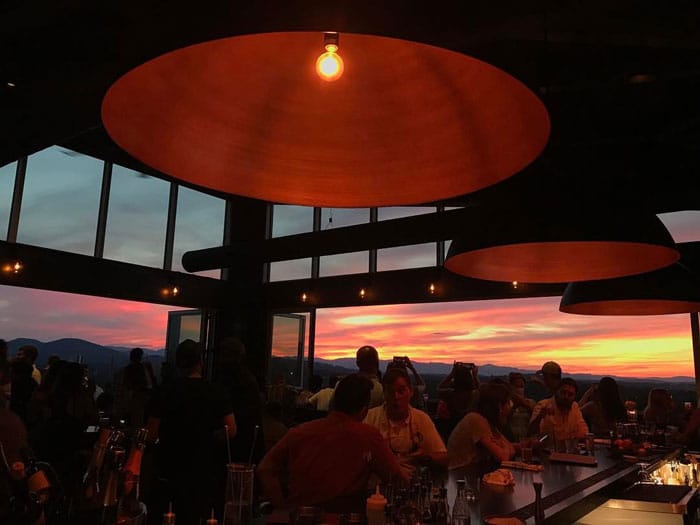 Pillar Rooftop Bar
309 College Street, 6th Floor
Asheville, NC 28801
Phone: (828) 575-1188
To me, Pillar feels a little more intimate than some of the other hotel rooftop bars. A large indoor space with table/chair and sofa seating opens up to the rooftop. On the rooftop, you'll find a "living wall" filled with green and flowering plants and plenty of seating for dinner service offered.
"Pillar Bar is focused on creating an experience you remember, from our [farm to table] southern fusion small plates from Pillar Kitchen, well-crafted cocktails, small batch spirits, local brews, sustainable wine selections, and unparalleled views of the Asheville skyline."
I "tested" Pillar's bartender after getting a less than stellar cocktail somewhere else and he passed with flying colors, making a beautiful drink for me to nurse (I admit to stretching) as I took in the view. I'm thinking you'll get a well made cocktail, whatever you order.
Now that it's getting cooler, I love that Pillar offers hot drinks, heated blankets, and has a fire pit and outdoor heater.
View: Pillar is on the 6th floor of the Hilton Garden Inn, offering close-in cityscape and distant mountain range views.
Parking: There is a paid lot on property. Look for street parking, or the Buncombe County Garage is a few blocks away.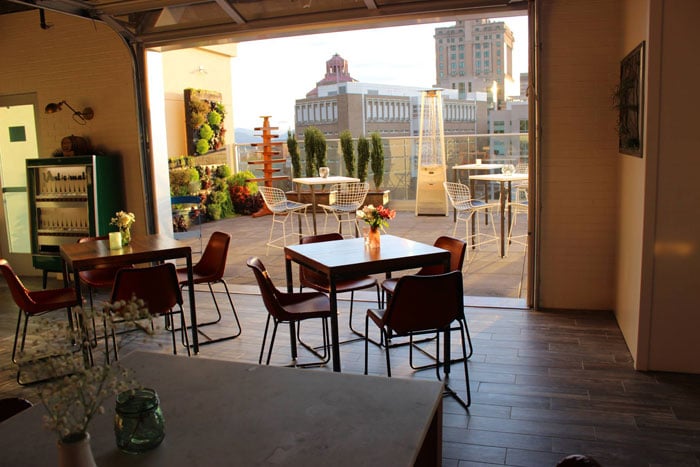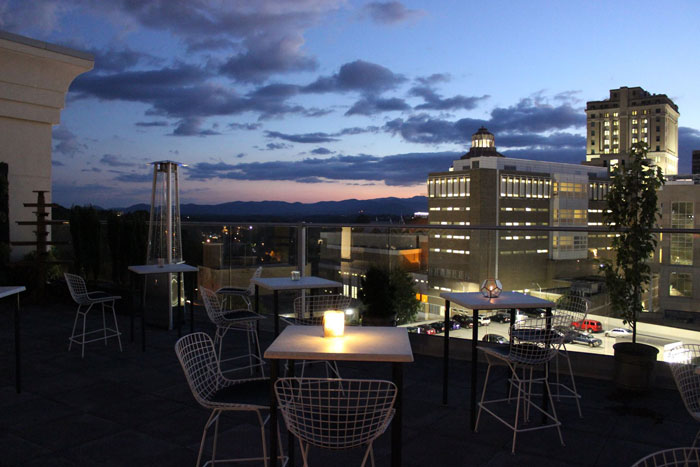 SkyBar
18 Battery Park Ave
Asheville, NC 28801
Phone: (828) 258-1058
So Asheville. The SkyBar is actually a reinforced fire escape spanning floors six, seven, and eight of the Flat Iron Building. Ride up to SkyBar in a small, vintage (safe, but feels a little rickety) elevator, complete with an attendant.
Owned and operated by the folks at World Coffee, the ground (intended) level, very cool coffee shop. Take time to get coffee and a snack here when you can, and be sure to explore the seemingly never ending rooms in the back.
Back to the SkyBar. For a long time, the SkyBar was only known to locals. There was no advertising, website, Facebook Page. Nothing but word of mouth. In the beginning, there were only a few small tables, but now there's more bistro seating.
They serve "creative cocktails" and craft beers.
And don't tell anyone, but you can call ahead (828-258-1058) and reserve a table on any night except Friday or Saturday.
One problem I had with the SkyBar was that it was always packed with smokers, especially at sunset. Not sure if that's still the case, though. It can be crowded on nice evenings, so get there early and claim a spot at the rail facing the mountains.
View: Nice long range view that's especially good at sunset on clear evenings. We usually go for a drink at sunset and then head out for dinner.
Parking: street or Wall Street Garage. The Rankin Ave garages aren't too far away if the Wall Street Garage is full.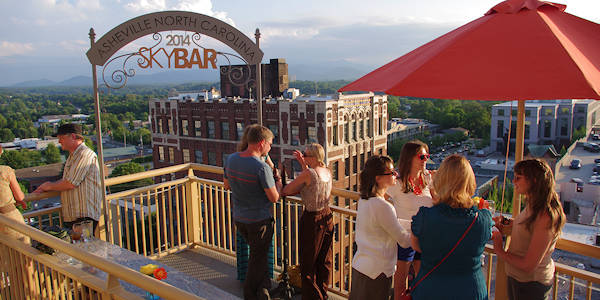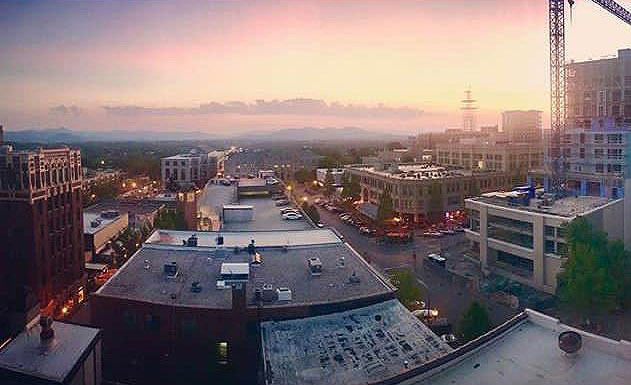 Social Lounge
29 Broadway
Asheville, NC 28801
Phone: (828) 575-9005
This rooftop is one floor up from street level right in the thick of things downtown on Biltmore Ave.
Upstairs from a sweet cocktail bar serving classics and creative craft drinks, the rooftop is cozy and intimate. Comfortable, not glitzy. A small bar is inside, just off the rooftop. Evenings are lit with strings of lights and during the day, "shade sails" offer relief from the sun.
Menu items as well as drinks are served on the rooftop. This is one of my favorite places to go for really tasty plates shared with friends. And it's quiet enough for good conversation.
View: Cityscape best seen standing up.
Parking: street or Rankin Ave Garages. The Buncombe County Garage is a good backup if the Rankin garages are full, but it's a few blocks away.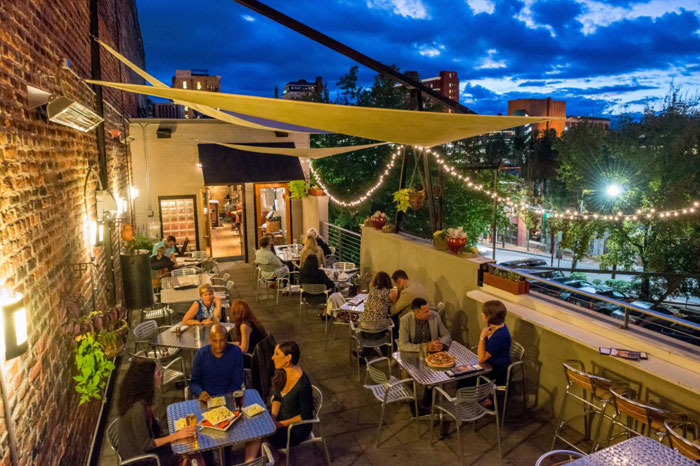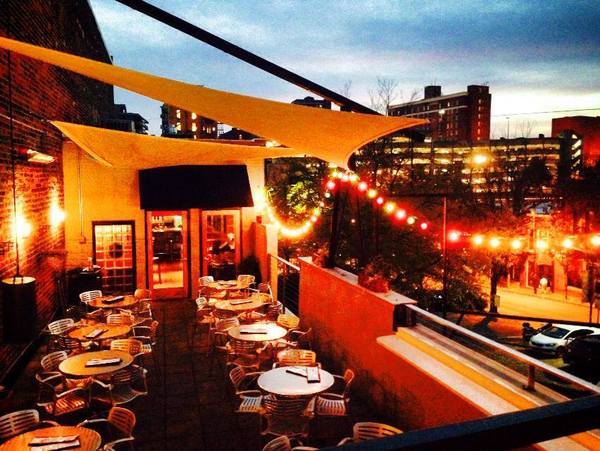 Top of the Monk
92 Patton Ave
Asheville, NC 28801
Phone: (828) 254-5470
Top of the Monk is one floor up from street level and is the only place at Thirsty Monk that serves cocktails instead of beer. They make everything, I mean everything, in house.
"We take pride in serving the finest classic cocktails, and in continually honing and learning our craft in order to give you the best experience and drinks possible.
To that end, we use freshly squeezed juices and we create our own bitters, tinctures, infusions, drams, flavored syrups, and shrubs. We use appropriate ice, glassware and our mixers don't come from soda guns."
Top of the Monk is just down the block from Pritchard Park, so know that Friday is when drum circles happen in the park and I'm guessing the music caries.
Keep in mind they have some house rules that I actually like:
No parties of 7 or more people after 7pm on Friday and Saturday.
Leave the party accessories at the door – we'd be glad to look after your sashes, feather boas, noisemakers, etc. at the door while you enjoy a relaxed drink upstairs, and you can pick them up on your way out.
No hootin n' hollerin! We like to keep things low key so everyone can enjoy their conversations.
View: Cityscape and some long range views of mountains.
Parking: street or Wall Street Garage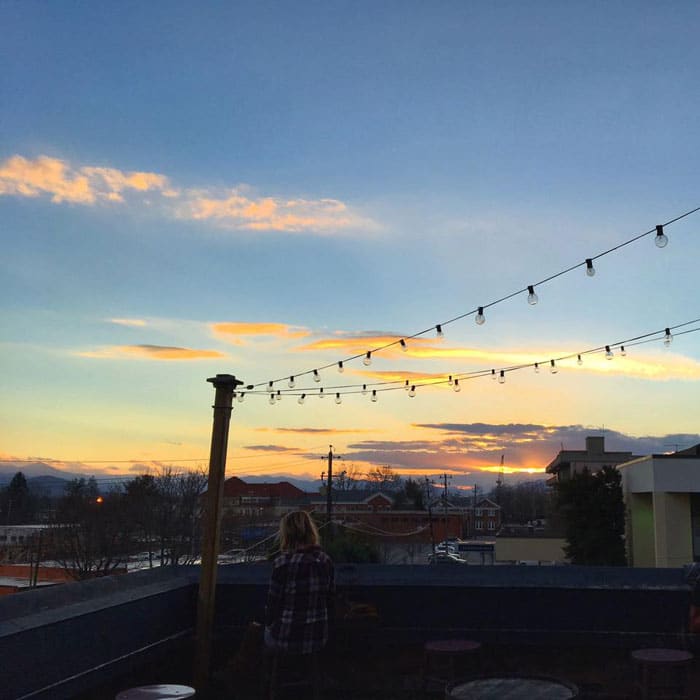 WXYZ at Aloft Hotel and The Ledge
51 Biltmore Ave
Asheville, NC 28801
Phone: (828) 232-2838
Watch the action on Biltmore Avenue, the main drag downtown sporting restaurants, bars, shops, and an Art Theater, from The Ledge, the outdoor portion of Aloft Hotel's second story WXYZ bar.
The Ledge is one of the smaller "rooftop bars" in town. It's intimate and the perfect spot for people watching. A "bites" menu is offered inside the bar and out on The Ledge.
The overall vibe here is cool, hip, and modern, with bright colored furniture and even pink/purple felt on the bar pool table.
View: street view of Biltmore Ave and close-in hills.
Parking: Locals refer to it as the Aloft Garage, but it's official name is Biltmore Ave Garage. It's under the Aloft Hotel with access from Biltmore and S Lexington avenues. You can also check for street parking.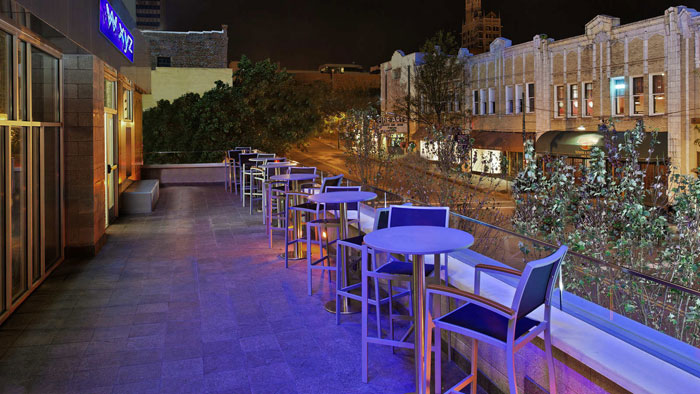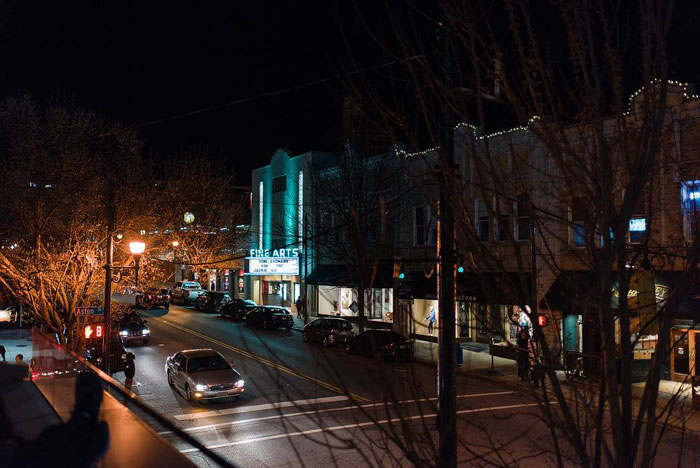 I wouldn't be surprised if more rooftop bars open in the next few years. Options are a good thing.
Epicurean Notes:
It's the perfect time to visit Asheville and WNC, taking in the Fall color.
Highland Brewing Company has a fantastic rooftop bar and event space if you're looking for beer and not wine or cocktails. They are located not too far outside of downtown.