Charlotte – From Nov. 1 – 20, celebrate The Palm Charlotte's 20th anniversary with exclusive, three-course lunch and dinner menus specially curated for the occasion. Serving previously-offered selections such as the Tomato and Onion Salad and Lobster Ravioli a la Vodka, The Palm's nostalgic menu items are sure to bring back warm memories with exceptional company.
In honor of the restaurant's opening year, The Palm Charlotte's 20th anniversary lunch menu is available for $19.97 and features guests' choice of Grilled Chicken Paillard with basil pesto, baby arugula, cherry tomatoes and grilled asparagus salad, Lobster Ravioli a la Vodka with a garlic crostini or Pan Seared Jumbo Scallops served with shaved, roasted fennel salad, tarragon buerre rouge and micro greens, in addition to a starter salad and dessert.
The three-course dinner menu, available for $69, offers guests their choice of Palm classics including a 14-ounce Prime New York Strip or 9-ounce Filet Mignon served Classic Oscar style, for an additional $12, or Lobster Oscar style topped with butter-poached Nova Scotia lobster meat, asparagus and béarnaise sauce, for an additional $15. The menu also includes a choice of starter, individual side and delectable dessert offerings.
The a la carte menus are also available for lunch and dinner. For more information and to make a reservation, please call The Palm Charlotte at (704) 552-7256 or visit thepalm.com.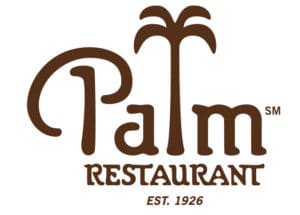 About The Palm
Known for their signature dishes including Prime Aged Steak and Whole Nova Scotia Lobsters, the menu also includes The Palm's renowned Italian fare including Chicken Parmigiana, Veal Martini and Baked Clams Casino and an award-winning wine list. The Palm's philosophy is simple: Treat guests like family, serve great food, and always exceed expectations. Owned and operated by members of the Bozzi and Ganzi families since the company's founding in 1926, The Palm serves as a second home for countless patrons across the United States and abroad. The Palm is still owned by the same two families. Celebrating its 90th year, The Palm continues its legacy as a favorite gathering place and dining destination for families, friends and business colleagues alike. For a virtual experience and to find a Palm Restaurant near you, please go to thepalm.com.
Release